In the last two months alone, Texas GOP Senator Ted Cruz has managed to assemble a chaotic grab bag of controversial moments that have put him in the outraged crosshairs of Democrats, constituents in his home state of Texas, military leaders, the Black community, the state of California, Marvel superhero fans, and even actor Seth Rogen.
The man has been BUSY.
That steady stream of PR blunders has left Cruz under a near-constant barrage of critical tweets. He's been on the business end of biting commentary from Democratic colleagues and even some Republicans.
One Texas party store even created a piñata in his likeness to allow angry Texans the chance to give him a whack after he abandoned the state for sunny Cancun, Mexico during last month's deadly winter storm.

And most recently, he refused to wear his mask during a press conference inside the Capitol Building. Then, when pressed, he fumbled his way through false claims about CDC mask guidelines.
The Cruz-inspired cringe began when one reporter asked the Senator to please put his mask on.
Cruz's response was as dismissive as it was condescending. It even included a light boast:
"Yeah, when I'm talking to the TV camera I'm not gonna wear a mask. And ALL of us have been immunized."
When the same reporter told Cruz it would make the press feel better, Cruz doubled down, wearing a sheepish grin all the while.
"You're welcome to step away if you like."
"The whole point of the vaccine--CDC guidance is what we're following."
Cruz's claims were incorrect.

According to the CDC's most recent update from March 8 regarding post-vaccine behavior guidelines, fully vaccinated people still must take precautions, including wearing face coverings.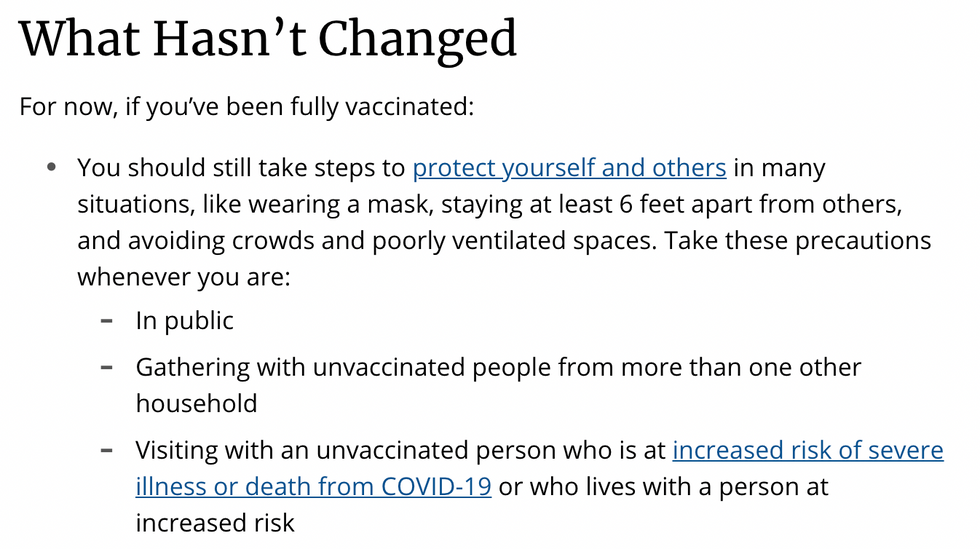 cdc.gov
Cruz's tenuous relationship with facts and reality was not lost on Twitter users who came across the clip.
Others got a bit more creative with their criticisms.

Stay tuned for the next Ted Cruz controversy, whatever it may be. If history is any indication, it shouldn't be long until another one comes along.