It's been a long-time practice for entertainment writers to include contemporary references. It's part of "keeping up with the times."
But should these references be at an entertainment figure's expense?
"Willow" and "Love Story" singer and songwriter, Taylor Swift, gave an emphatic no after her name was used in a dialogue sequence in one of Netflix's latest, Ginny & Georgia. The show focuses on the flighty living style of one single mother of two, reminiscent of The Gilmore Girls and even Little Fires Everywhere, though meant to be a much lighter, funnier take.
In the offending scene, one character says to another:
"You go through men faster than Taylor Swift."
Upon discovering the scene, Swift took to Twitter, where she called out Ginny & Georgia for criticizing her.
"Hey 'Ginny & Georgia,' 2010 called, and it wants its lazy, deeply sexist joke back."
"How about we stop degrading hard-working women by defining this horse sh*t as FuNnY."
She also called out Netflix for their inconsistent work, going from Swift's documentary, Miss Americana, to this.
"Also, Netflix, after 'Miss Americana,' this outfit doesn't look cute on you."
"Happy Women's History Month, I guess."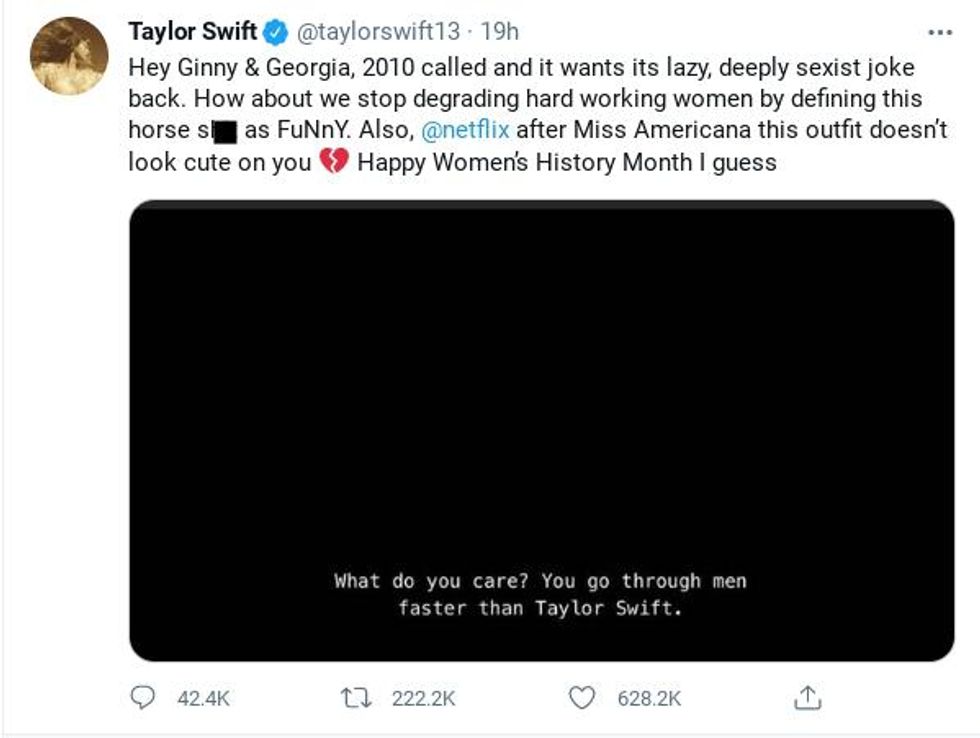 @taylorswift13/Twitter
This is hardly the first time Taylor Swift has been laughed at for her love life, but she's clearly had enough of it.
In an interview with Vogue, Swift explored how she felt she was targeted once she became "a woman" and sexy figure.
"It's fine to infantilize a girl's success and say, 'How cute that she's having some hit songs,' or 'How cute that she's writing songs."
"But the second it becomes formidable? As soon as I started playing stadiums, when I started to look like a woman, that wasn't as cool anymore."
Swift specifically spoke on her love life in her interview, and how some of those relationships have appeared in her songs.
"People would act like it was a weapon I was using. Like a cheap, dirty trick."
"'Be careful, bro,' they'd say, 'she'll write a song about you. Don't stand near her.'"
"First of all, that's not how it works."
"Second of all, find me a time when they say that about a male artist: 'Be careful, girl, he'll use his experience with you to get, God formid, inspiration to make art.'"
Fans of Swift were quick to comment on the situation, but their views were strongly divided.

Some sided with Swift and thought it was gross to use a woman's love life as the butt of a joke.
Some gave examples of what a good joke involving Taylor Swift could look like.

Others found Swift's call-out problematic, fearing that her voice would stifle "smaller" voices, like younger, emerging writers, and even some of those who are newer to the Netflix team.

The show is still young and has performed well so far. It's unclear if the show will renew for another season on Netflix, but hopefully, if there is, a common ground can be reached: where the show can be funny, but thoughtful about how it uses its contemporary references.