Among others, the pandemic has placed one fact in sharp relief: celebrities are not epidemiologists, no matter how large their online platform is.
Every star and influencer is a person reading and listening to the same news as everybody else and making their own subjective conclusions like everyone else.
Likewise, no amount of fame will protect your hot take from the fury of Sophie Turner.
---
Sophie Turner and Evangeline Lily mark two consecutive eras of hit television. Though their award-winning series Game of Thrones and Lost are both complete and off the air, Turner and Lily share a space in popular culture as two powerful feminine figures watched every week by millions.
They DO NOT share approaches to safety in the face of the global virus outbreak, however. And their mutual strength has made rants rip and sparks fly.
It all began when Evangeline Lily, known best for co-starring in NBC's Lost and her role as The Wasp in the Marvel Cinematic Universe, used her Instagram to publicly refuse to stay home, despite near unanimous agreement among health officials that staying home is the best way to stem the spread of the virus.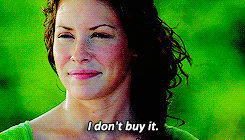 Giphy
On March 17, Lily boasted about dropping her children off at gymnastics class, leaving a "business as usual" hashtag. She then doubled down in a couple of comments, saying:

"Some people value their lives over freedom, some people value freedom over their lives."
"Where we are right now feels a lot too close to Marshall [sic] Law for my comfort already, all in the name of a respiratory flu."
Bring in the main event: Sophie Turner, the Queen of the North, Ranter of Rants, Breaker of Reputations, Sansa Stark in the Game of Thrones series.
She posted a video to her Instagram imploring people to stay home, implying that continuing to live life as usual is selfish and dangerous to public health.
Turner's particular words in the tirade make it clear that she took aim at Lily's reaction:

"I don't give a f*ck about your freedom. You could be infecting other vulnerable people."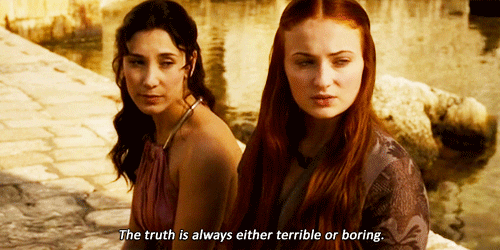 Giphy
Twitter LOVED the drama.

@itsjustanx/Twitter
@dicksgraysn QUEEN OF THE NORTH https://t.co/XipCzQGxrc

— Scott Pilgrim (@Scott Pilgrim) 1584777829.0
In an illustration of the internet's attention span, Turner's boo Joe Jonas' role in the video absolutely exploded and risked overshadowing the entire thing.
@dicksgraysn https://t.co/MFdUBz5mha

— rαcн ☠️ (@rαcн ☠️) 1584797264.0
Hot take: even though Sophie Turner's angry rant laid some truth on Lily's prior statements, listen to health officials before you listen to either of them or any other celebrity.