We've been in The Simpsons' living room since the series first aired on December 17, 1989.
So there's no doubt we can instantly recognize its configuration and color scheme.
---
But after 28 seasons as the longest running sitcom in American television history, maybe it's time for a makeover. But how would the show's cartoonish design translate itself into reality to get the job done?
Home Advisor – a digital marketplace that pairs homeowners with professional home improvement designers – reached out to NeoMam Studios to demonstrate how the Simpsons' design aesthetics would translate into various styles of home decorating.
Today showed what the duo came up with when they re-imagined the Simpson's iconic living room in six different styles. And they nailed it.
What follows are four of the looks rendered for this fantastic project.
If the precocious activist had her way, Lisa Simpson would transform the living space into a bohemian sanctum, complete with vintage furniture and lots of color. It may not be a streamline look for the rest of the family, but you can't deny the style's inviting nature.

Here's the bohemian themed living room redo: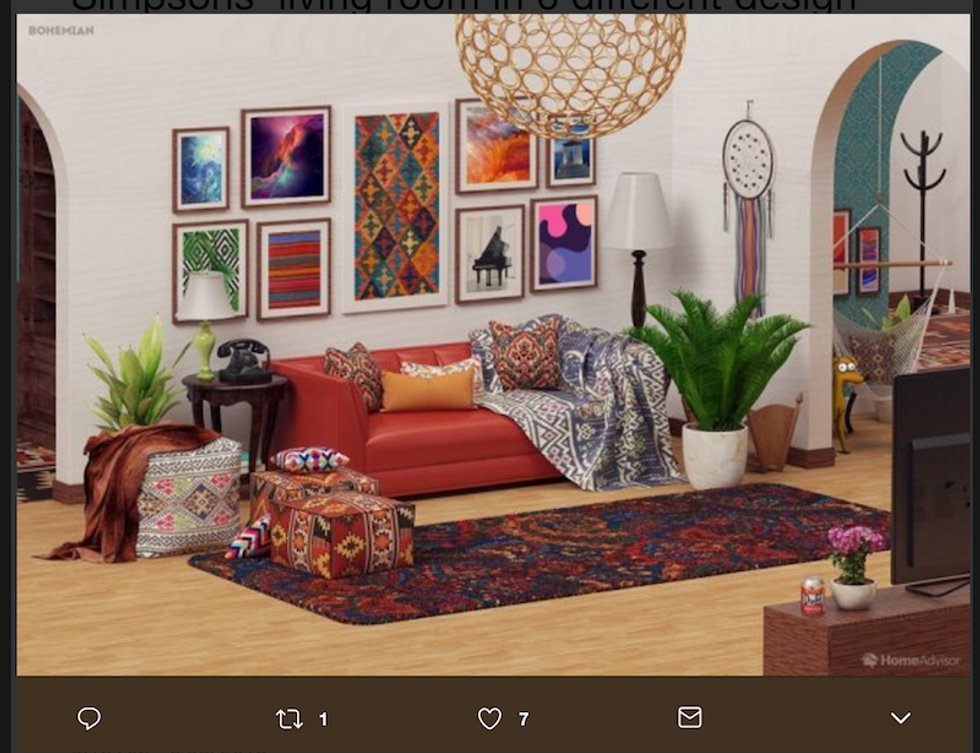 BoHo chic.(@scott_kerr/Twitter)

(Facebook)
HomeAdvisor calls this the "Hollywood regency living room redesign." With its elegance and opulence, it's everything the Simpsons are not, except for maybe Marge who really rocks her chic updo. If the family ever goes for the Hollywood chic route, this would be the way to go.

Here's the Hollywood chic redo: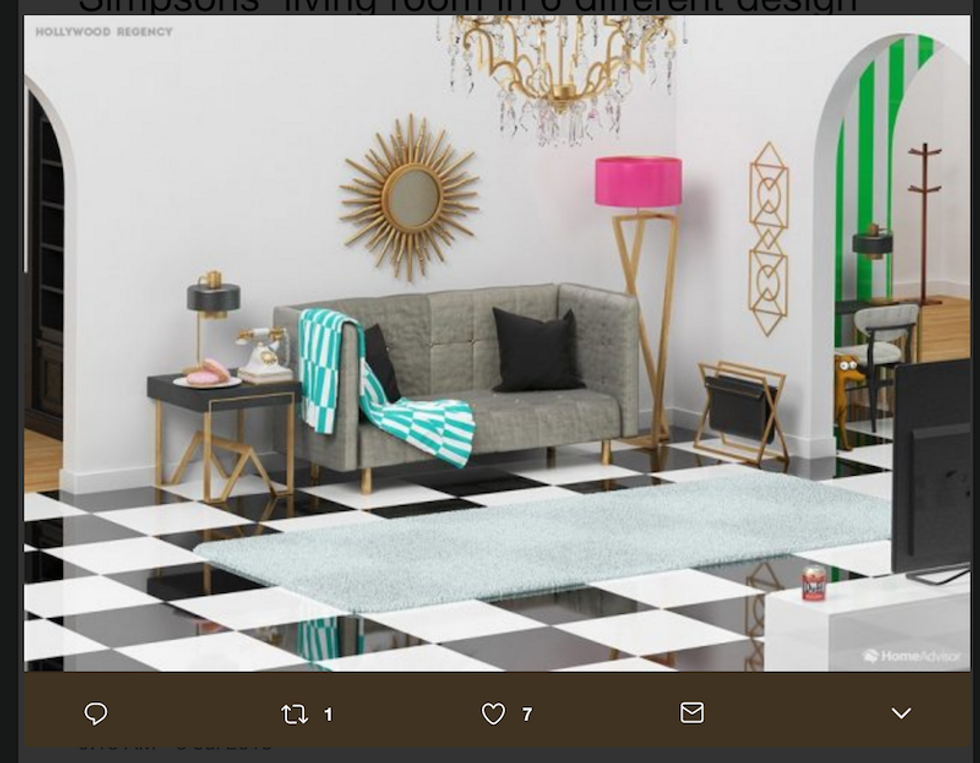 Hollywood elegance.(@scott_kerr/Twitter)
The mid-century modern style is something that probably hews closer to the aesthetic of the Simpsons' home, but here, it's a little more sophisticated with the minimalism getting a slight color boost. With its sleek design, Marge would give it a thumbs up.

Here's the mid-century modern redo: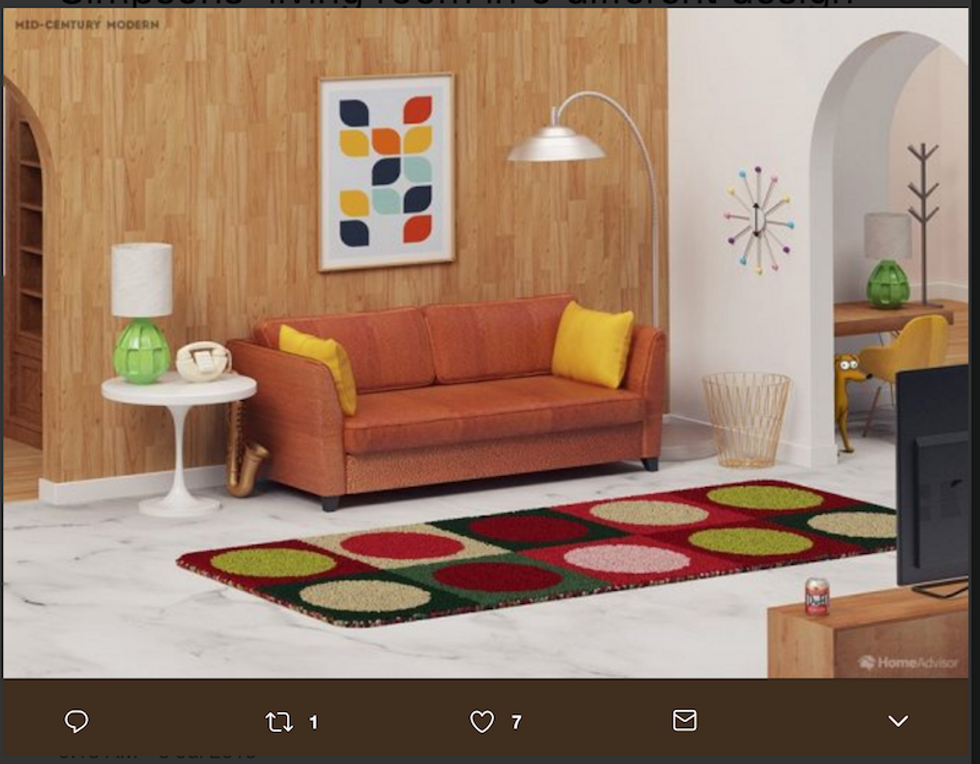 Mid-century modern.(@scott_kerr/Twitter)
HomeAdvisor said that Homer would feel right at home here in this industrial-inspired design, given his work at the nuclear power plant. Exposed brick and metal appliances? D'oh!

Here's the industrial aesthetic redo: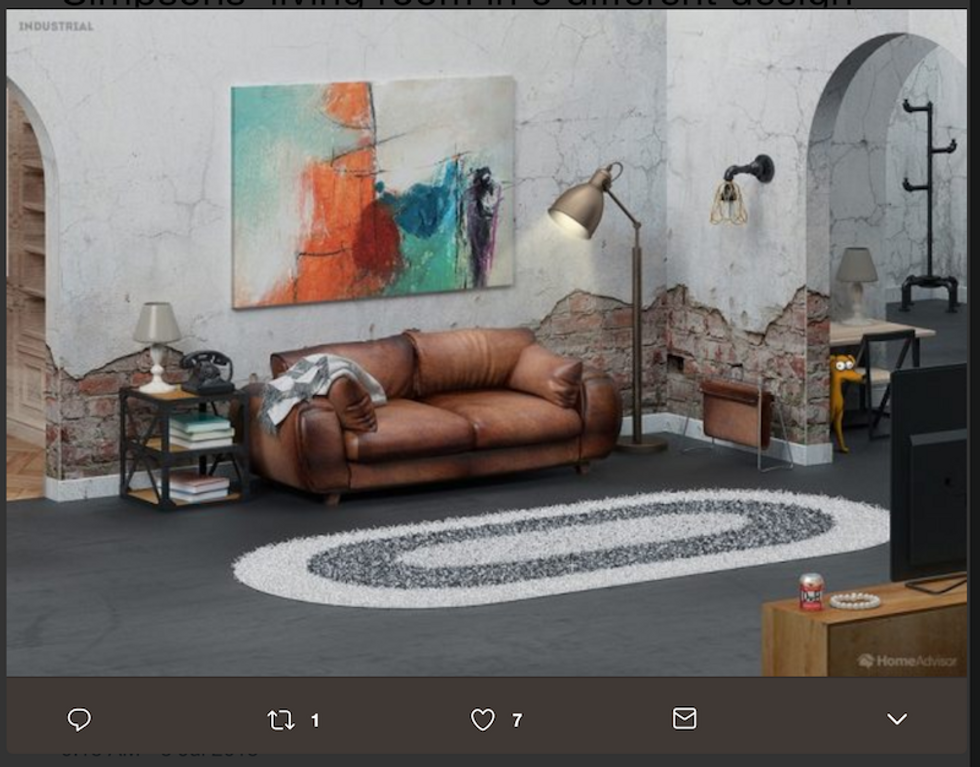 The Industrial look.(@scott_kerr/Twitter)
Back in 2017, creative agency NeoMam also played around with the exterior of the iconic house.

From Tudor: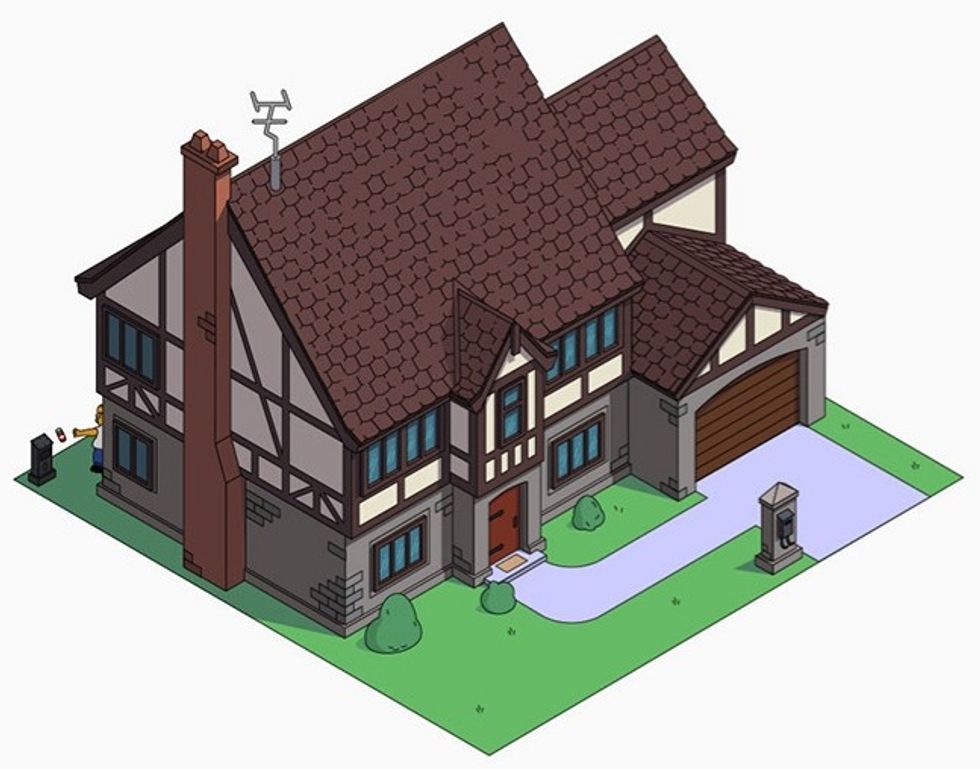 NeoMam Studios
To Victorian: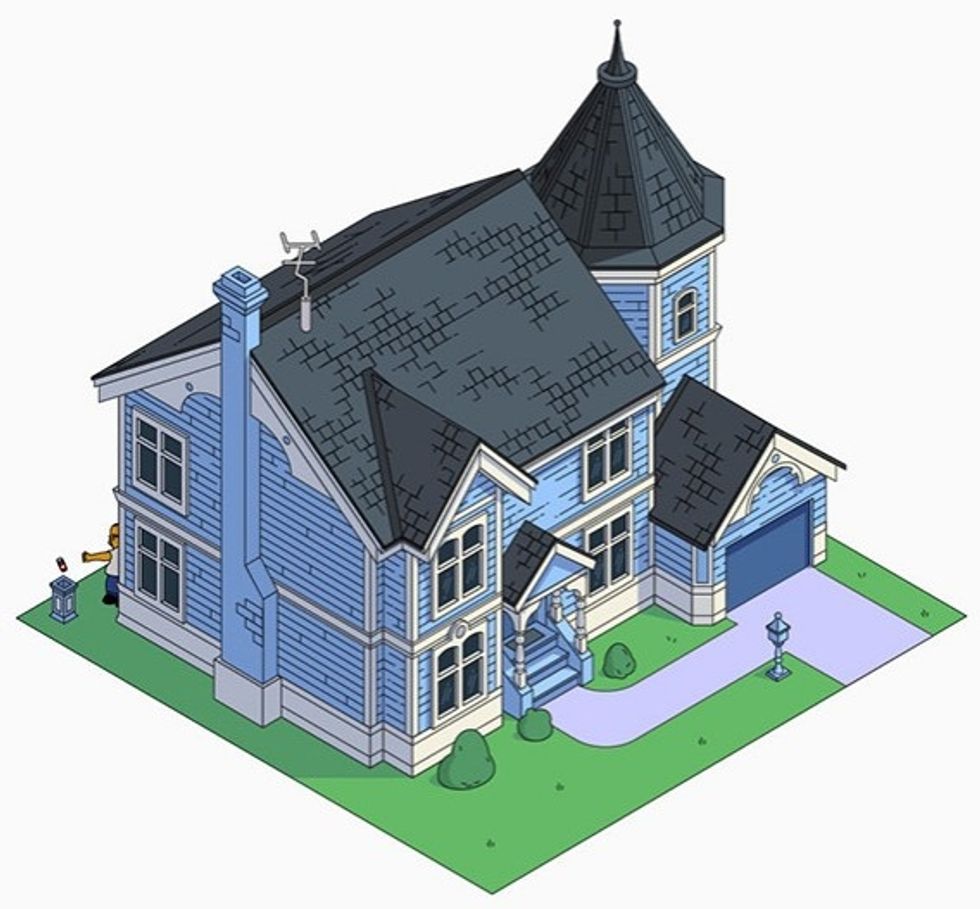 NeoMam Studios
Art Deco: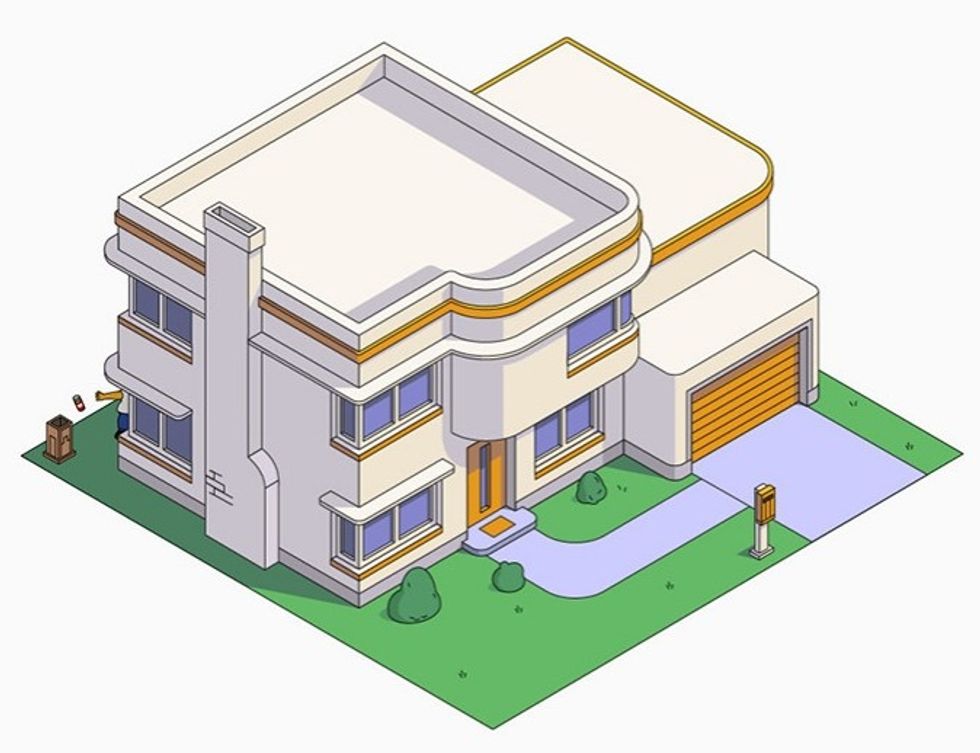 NeoMam Studios
Modern: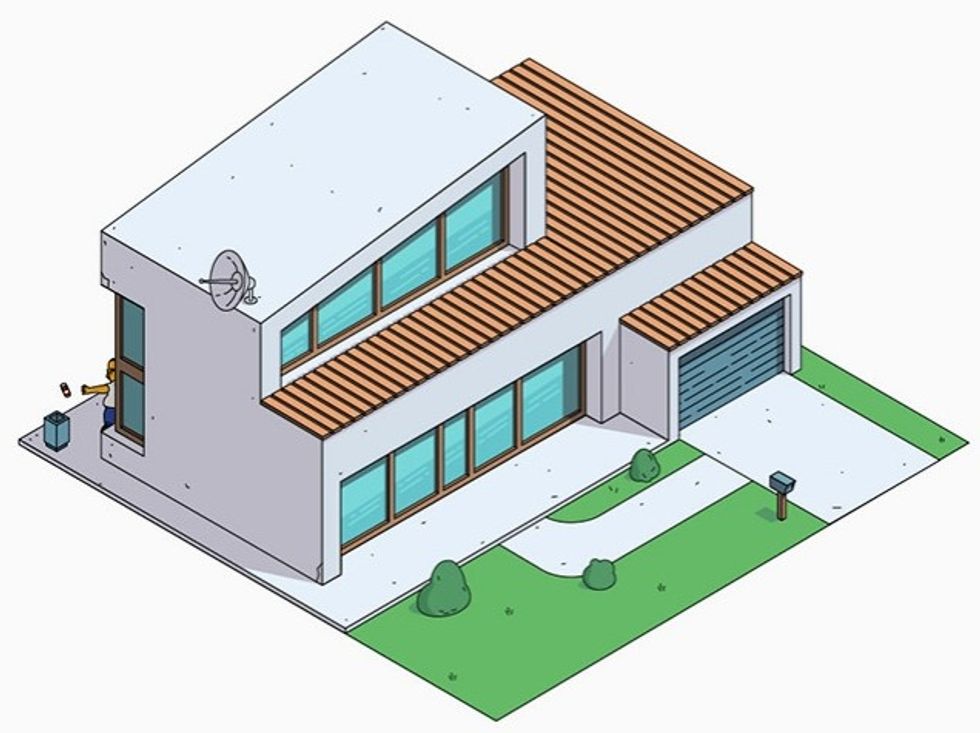 NeoMam Studios
And even a nod to the ubiquitous Lincoln Log with this Simpson's log cabin: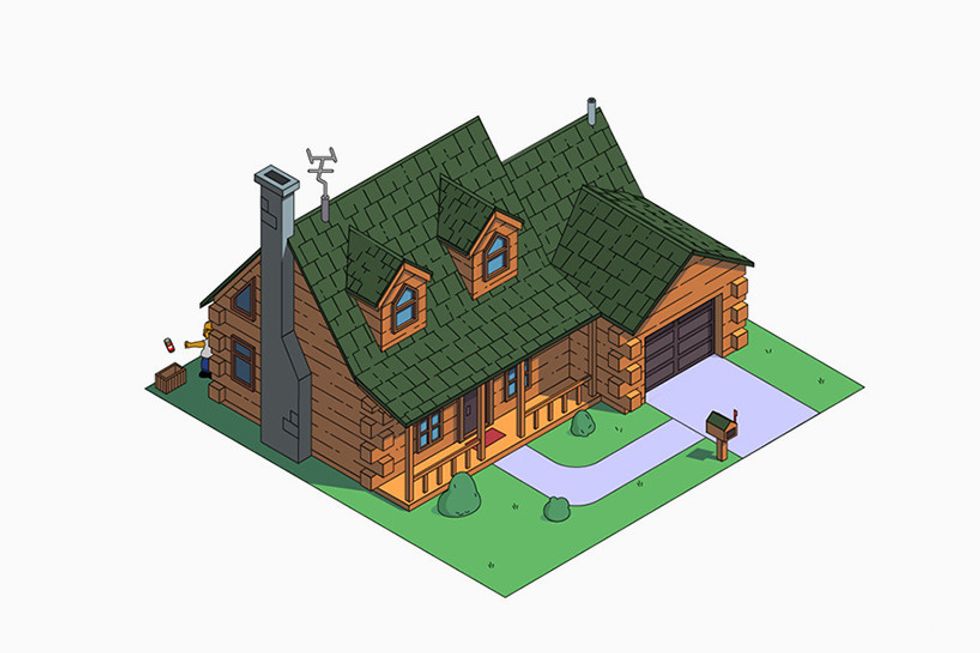 NeoMam Studios
After nearly 30 years of mischief and delighting audiences around the world, Homer, Marge, Bart, Lisa and Maggie could stay relevant with their living room makeover for another 30 years.
And they'll still manage to look exactly the same. Is it something about the Springfield water?