---
Late Night with Seth Meyers put a spin on the beloved yuletide tale of A Christmas Carol featuring a not-so-beloved antagonist.
The Dickensian holiday tale got a digital makeover with a 2017 twist that Americans would be all too familiar with. Supporting players include cartoon versions of Kim Jong-un, Vladimir Putin, and Betsy DeVos.
This version of the story begins when "Bob the Caddie" gets the boot from the White House after wishing his boss, "Happy Holidays!" and the scorned father asks to take the holidays off so he could be with his sick child.
"After Trump finished laughing over the idea of a sick child, he declined his caddie's request," the narrator says. "Not golfing on Christmas would mean having to spend it with the family, and both of his sons looked like a foot."
You had me at "his TWO sons" 😂😂😂 #LateNight @LateNightSeth @sethmeyers https://t.co/QEhMcSqcov

— S e h n C l e t (@S e h n C l e t) 1513963119.0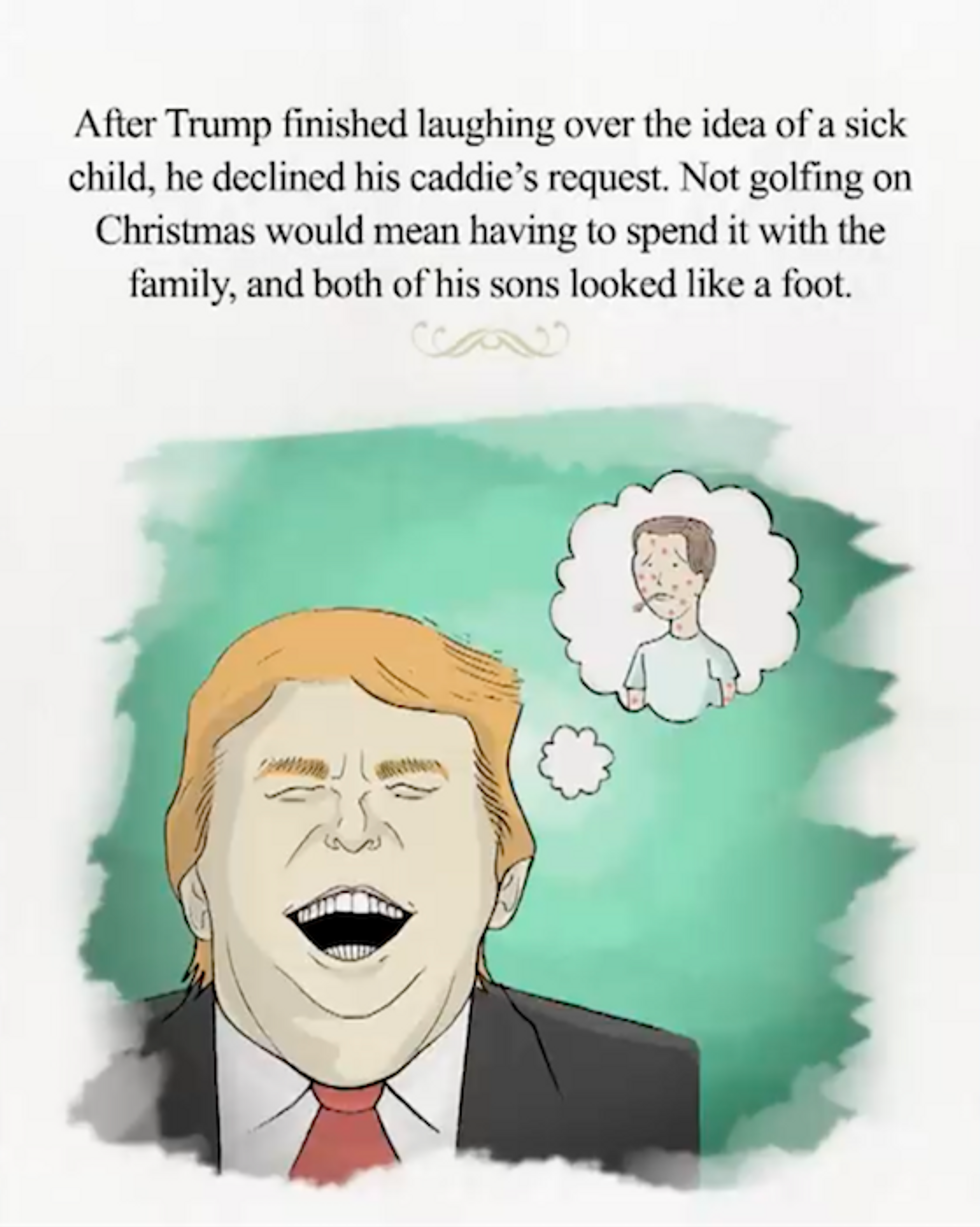 Vladimir Putin makes an appearance in the role of Jacob Marley. "This struck Trump as strange, as they hadn't shared a bed in almost a year now. Luckily, since Melania sleeps elsewhere, there was plenty of room." Trump is warned that he would be visited by three ghosts, "Four if you count Mike Pence."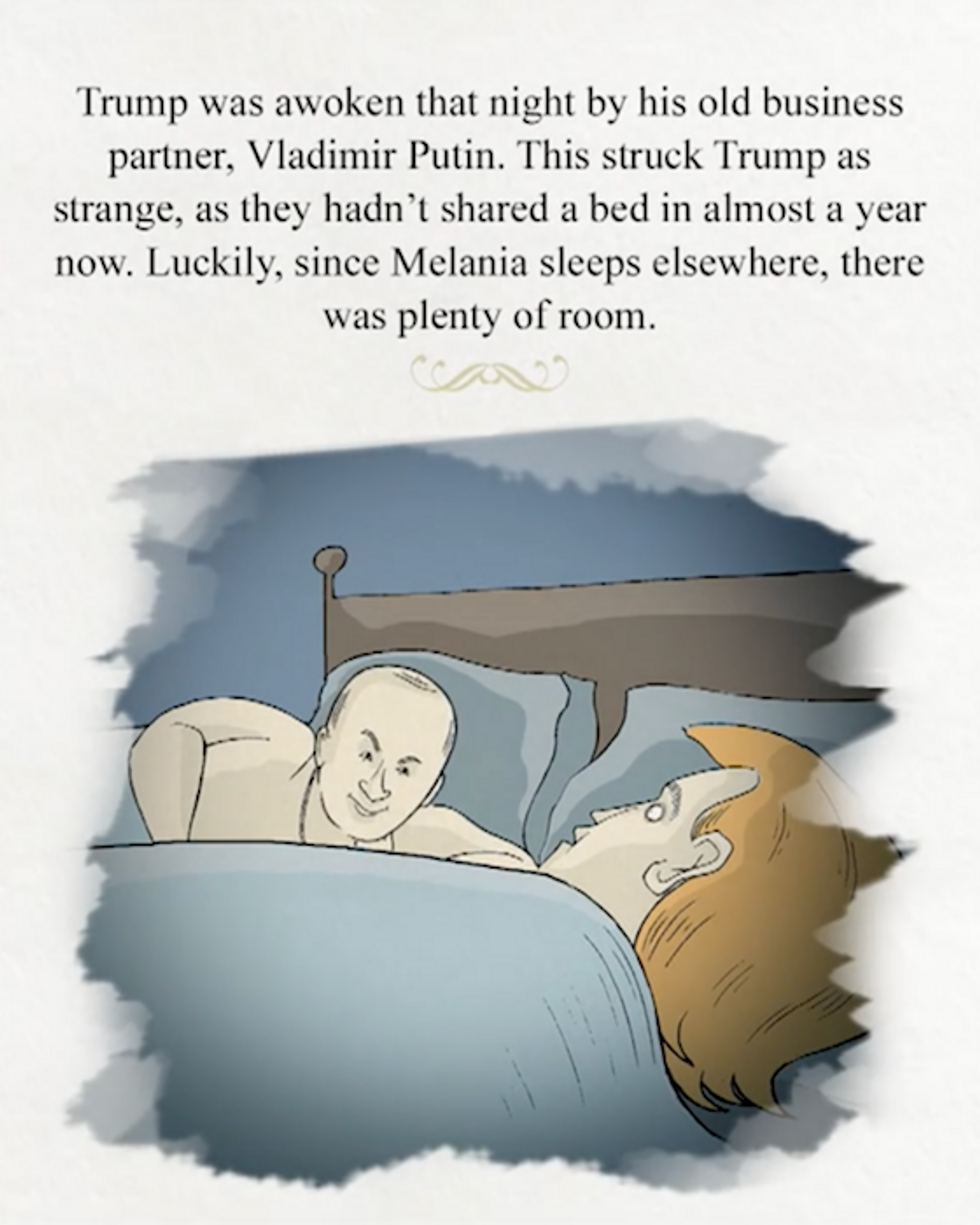 The spirits, however, are hardly able to get through to the president.
Trump, zonked out in his Access Hollywood trailer after a four-hour work week, snoozes past the Ghost of Christmas Past's cameo. The Ghost of Christmas Present doesn't fare any better in cautioning the president because Trump keeps asking, "If you don't have presents, why would you call yourself that?"
Even the Ghost of Christmas Future, who's barely from the future in February 2018, proves as ineffective as the prior spirits. But we're left with a depressing prognostication. "I guess that's as far as the future goes. I dunno, something about North Korea maybe?"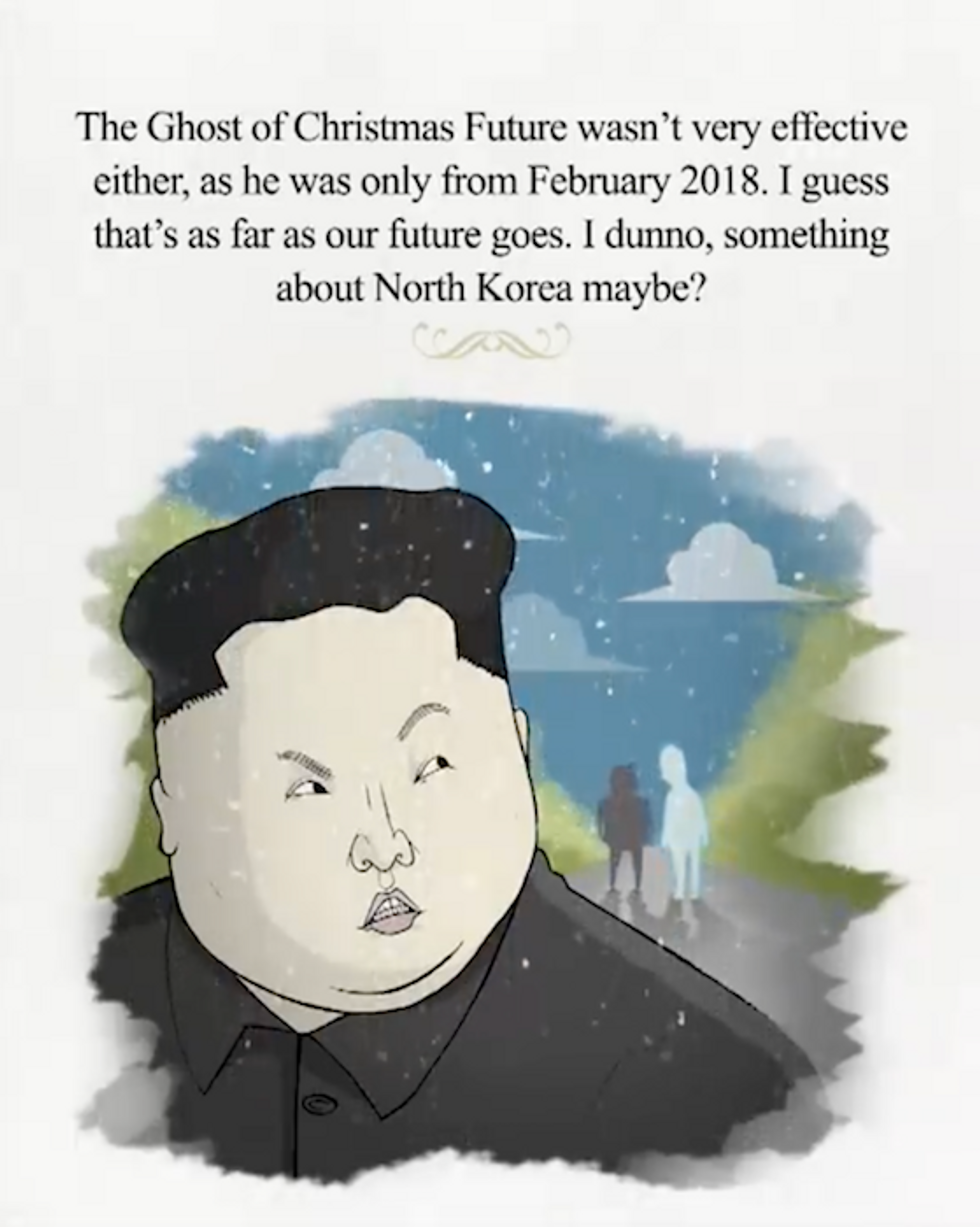 When the "festive sounds" of Fox & Friends praising our Scrooge incarnate wakes him up, the narrator calls the moment "a Christmas miracle." Ridiculous.
The ending lacks redemption unlike in the original tale because this Scrooge continues doing what he loves best on Christmas day, which is puttering around with Bob the Caddie, sadly forced to be by his boss's side.
One viewer on YouTube suggested an alternative ending to elevate the story, writing, "It would have been a happy ending if Trump had gotten ripped apart then eaten by hungry immigrants at the end."
Merry Christmas?
Could this be the precursor to a much larger-scale production?
@sethmeyers You guys have got to do a Trump "Christmas Carol" short- and have Jacob Marley's ghostly face on the do… https://t.co/BGD5Iia1Km

— Bloodwolf Reyman (@Bloodwolf Reyman) 1513404180.0
Please SHARE this with your friends and family.
H/T - HuffingtonPost, YouTube, Twitter