It was a glorious night at the 95th Academy Awards hosted with aplomb by the affable comedian Jimmy Kimmel–who brought plenty of humor including a reference to last year's infamous slap and an awkward acknowledgment of Andrew Garfield as Spider-Man.
But those clamoring for more of a snark fest with expletive-laden digs aimed at the Hollywood stars wanted British insult comedian Ricky Gervais to steer the awards ceremony.
Gervais is notorious for his brutal, no-nonsense delivery of opinions in contrast to many industry colleagues who play it safe.
If you don't have anything nice to say, Gervais will say it for you.
But in response to fans calling on him to host the Oscars, Gervais responded not so eloquently:
"F'k That!"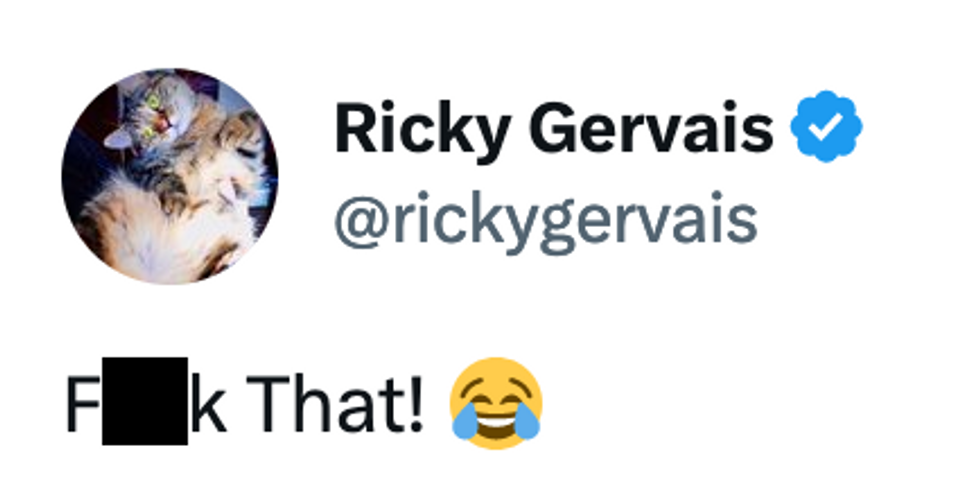 @rickygervais/Twitter
His controversial brand of humor was evidenced in the five times he hosted the Golden Globes in 2010, 2011, 2012, 2016 and 2020.

His two-word reaction was in response to Twitter user @Clark1995Clark who asked followers wanting to see Gervais as Oscars host to retweet a clip of him bulldozing his way through the 2020 Golden Globes' intro.

Below is a clip from his last time as the Golden Globes master of ceremonies in which none of Gervais' industry peers were spared from his unapologetic roasting.
You can watch some of your favorite celebrities either slinking into their seats or gritting their teeth to hide a visibly negative reaction as Gervais came for them one by one.

Fans were determined to keep persuading him to retract his middle finger.

They also said Gervais as host would be an incentive for them to watch the Academy Awards.

Well, there's always next year, right Ricky?