A viral video showed a TikToker from South Carolina being harassed by a White woman who called her a "damn Mexican" in a Walmart.

Samantha Lee Arriaga (@samanthaleearriaga) posted a 23 second clip of a woman yelling at her that reached over 525 thousand views and 52 thousand likes.
Arriaga was first heard saying:
"I'm sorry, say what?"
"What'd you call me?"
She asked seemingly in shock over what she just heard.
The woman responded:
"You heard what I called you."
Arriaga continues to ask what the woman said until she responded:
"I don't have to repeat it twice…"
"I called you a damn Mexican."
@samanthaleearriaga

This is still going on in 2021. #fyp #southcarolina #gaffney #puertorican #mexican #hispanic #welcometothesouth #africanamerican
Many of the comments were of people ready to defend Arriaga and saying she was too nice.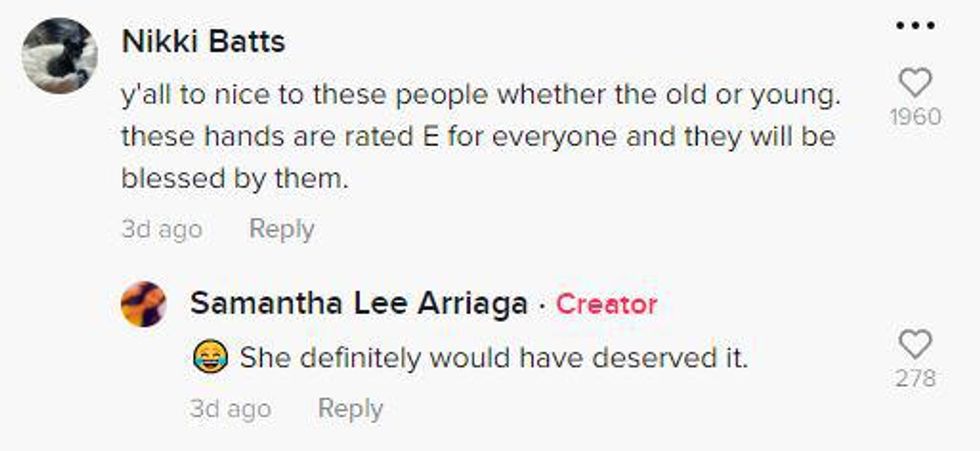 @bullsmom20/TikTok; @samantahleearriaga/TikTok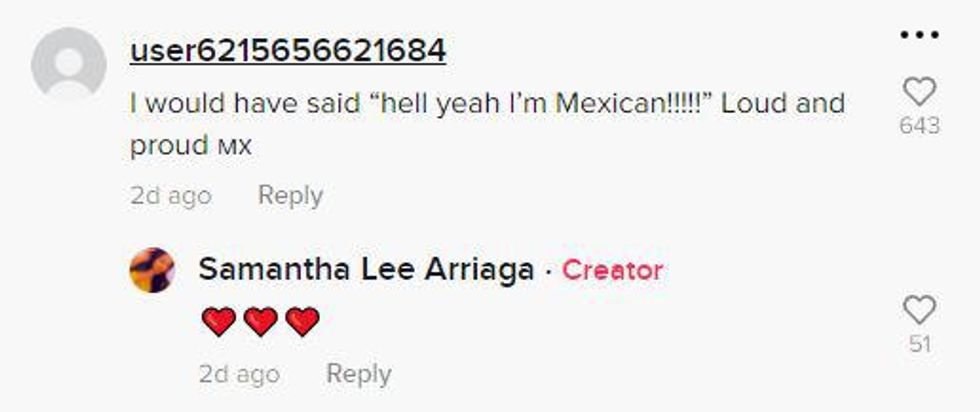 @user250774784/TikTok; @samantahleearriaga/TikTok

@celeste3202/TikTok

@ellasfbi/TikTok; @samantahleearriaga/TikTok
In a series of videos, Arriaga explained the situation leading up to the video.
At first, Arriaga thought the woman was upset she had put a rice milk product on a shelf instead of back into the refrigerator.
The woman had started saying, "You can't do that," claiming someone who picked up the product could get sick if it wasn't refrigerated properly.
However, it was shelf-stable rice milk and did not need to be refrigerated.
Though this woman didn't seem to care she put the product back where it belonged. So Arriaga tried to ignore her.
But that, Arriaga explained, is where it got racist.
The woman said:
"It's people like you who don't have any sense in the head."
Arriaga explained:
"Even though I knew who she was referring to in that moment, I was still like, 'People like who?'"

"That's when it took a racist turn."
"She went and said 'n-words and Mexicans'."
Arriaga continued:
"I was like, 'I have to keep my cool'."
"'If I become agressive, if I start yelling, everybody's going to think the problem is me'."
Arriaga posted a photo she took of the woman and the internet sleuths quickly found the woman's identity.
People began sharing their own racist experiences with this woman.
Arriaga began recording because she wanted to catch her saying the n-word again but of course she didn't repeat it.
Arriaga said in part four of the series she doesn't understand how being called "Mexican" is an insult.
"She sounds really uneducated."
"Out of all the Latin and Hispanic countries, that was the only one she came up with."
"And I told her that I'm Puerto Rican."
"Even if I were Mexican, that is nothing to be ashamed about. What is the problem?"
Aparently, after Arriaga asked why she wouldn't call her the n-word again, she threatened to report Arriaga. Then, went to three employees of color to complain.
Arriage gave kudos to them for handling the woman well, even though she was causing a scene.

@sneakersandtacos3/TikTok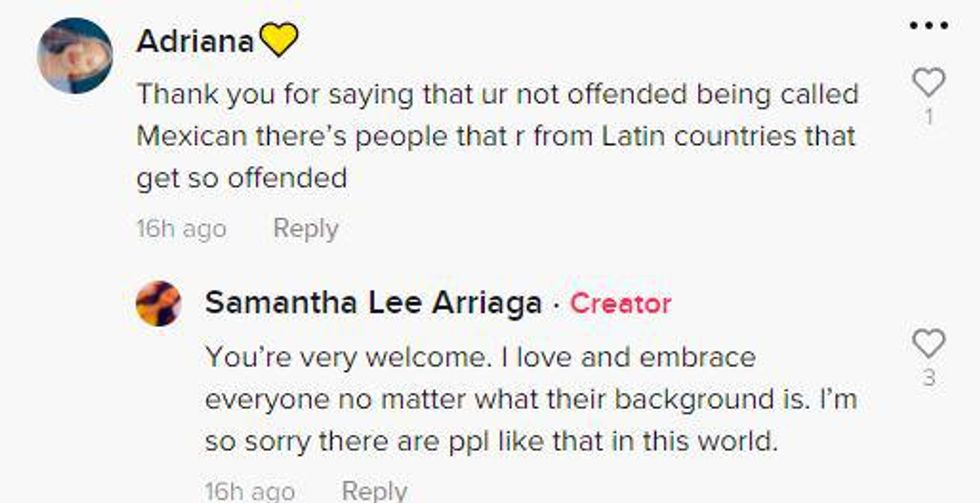 @adrianalope_13/TikTok; @samanthaleearriaga/TikTok
In another video she showed screenshots of the other people who have encountered the woman.

One even claimed she is taking her to court.
@samanthaleearriaga

Reply to @jeffreygoode #fyp #karen #gaffney #walmart #southcarolina #storytime #puertorican #sendhelp
Arriaga said she goes to that Walmart a lot because she has two kids, so hopefully she wont run into the woman again.