Ah, Vine, how we miss you.
The now-defunct platform spawned a whole genre of short videos, but also made for prime meme fodder creating some of the more widely used reaction gifs of the last decade.
The kid in one of the more popular ones, Dieunerst Collin, has grown up and spun childhood meme straw into football sponsorship gold.

As a refresher, this is the meme GIF: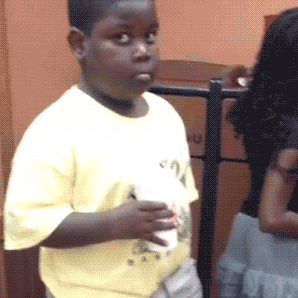 Giphy
That kid?
He's now a freshman offensive lineman at a Division-II college.
Jim Weber (@JimMWebter/Twitter) figured this out and started a social media campaign to get Popeyes to sign Collin to a NIL deal—the new type of sponsorship college athletes can get after recent NCAA rules changes.
Collin picked the campaign up quickly after it had started.
"I JUST WANNA TALK" Collin said in an Instagram post he later reposted to Twitter.
The Popeyes social media team responded on Twitter.
Collin held an Instagram live, thanking people for the campaign that got him the deal.
He said of all the support he received:
"I didn't know the internet was like that."
Other social media teams took a moment to comment, or blatantly try to recruit Collin.
Commenting on the possibilities of the NIL sponsorship, someone thought of a more innovate option than the usual cash payment.

Others were just reminded of the passage of time.
The decision to sign Collin already has worked out for Popeyes as many commenters said they were going to add a Popeyes' trip to their food plans.

Really what we learned here is sometimes, memes can really pay off.
Can't wait for the next meme-to-sponsorship deal to happen, now that companies have realized this is possible.