Before you think the United States is the only Western democracy having growing pains regarding LGBTQ equality, the United Kingdom steps up to dispel that belief.
No, we're not talking about newly appointed Prime Minister Boris Johnson.
This time.
---
Northern Ireland's Democratic Unionist Party (DUP) member Jim Wells appeared on the ITV morning talk show Good Morning Britain alongside hosts Piers Morgan, Susanna Reid and guest Robin Windsor of the BBC program Strictly Come Dancing (SCD). Also featuring judges Len Goodman and Bruno Tonioli, SCD is the precursor to the international Dancing With the Stars programs on networks worldwide.
The BBC original recently announced SCD was open to same sex pairings in the future. Previously having nixed the idea citing keeping the celebrity dancing competition show family friendly, the BBC announced:
"We are completely open to the prospect of including same-sex pairings between our celebrities and professional dancers in the future, should the opportunity arise."
SCD had already used same sex pairings in dance numbers featuring just the professionals.
But former Minister of Health Wells voiced objections to people of the same sex dancing together on a TV show.
Opening with the usual "think of the children line," Wells added:
"You've had a busy week, you sit down with the family and you watch pure entertainment. The last thing you want is to be challenged or to be asked deep intellectual questions."
Whenpressed on what time Wells thought gay people should appear on TV, Wells referenced the BBC's prior stance on same sex couples on SCD with:
"Exactly the same time as the BBC thought two years ago, 9pm."
However the Good Morning Britain hosts were not going to let Wells comment drop.
Watch the exchange here.
After questioning Wells own dancing habits, Morgan stated:

"When you danced and men came on the dancefloor, how did you feel? At what point did you feel like a man entering your orbit became a problem for you?"
Co-host Reid added:
"Have you ever seen children dancing?"
"They dance together, girls dance together, boys dance together, there's nothing challenging about it."
"Your concern is only about seeing gay couples—it's not about children [being confused]."
Finally, Morgan told Wells:
"I think you're just an old bigoted dinosaur, and you feel challenged because you don't like the idea of scary gay people around you."
When Wells took offense, Morgan added:
"I'm not insulting you, I'm insulting your bigotry, which is irrational, inconsistent, makes no sense whatsoever, your favorite shows have loads of gay presenters on, there's a gay judge on Strictly [Come Dancing], you think that's fine but you won't have two people—who may not even be gay—dancing together."
Morgan himself is often the recipient of criticism over his comments on women, the Obamas and support of President Trump. However this time the internet had kudos for both Good Morning Britain hosts handling of the situation.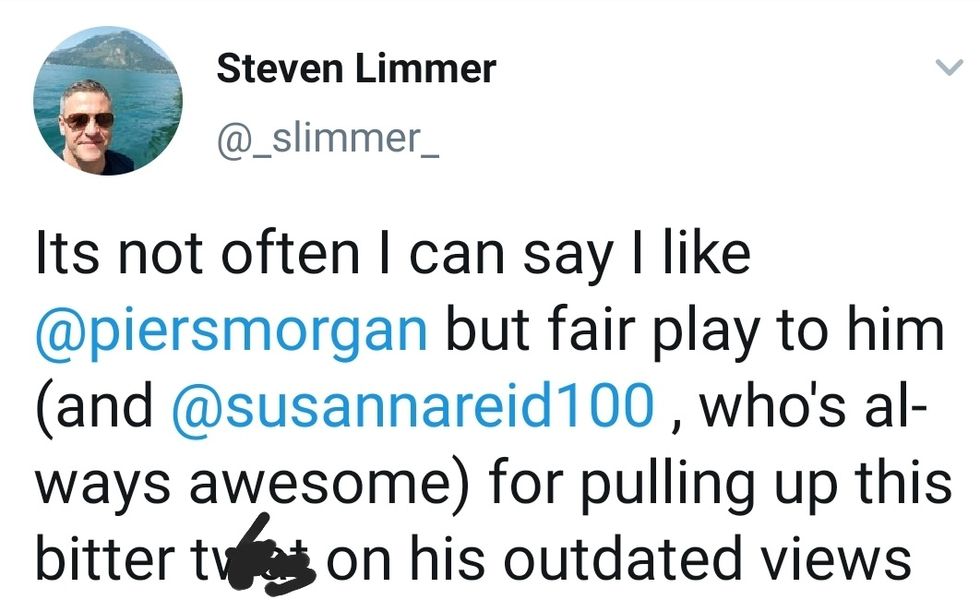 @_slimmer_/Twitter
Criticism of the DUP was in no small supply.
Some felt Wells should only be broadcast after the watershed (9pm).
While UK professional rugby footballer Keegan Hirst made a point Wells missed.

When asked by a fan if he'd consider appearing on SCD, the openly gay Hirst replied he wouldn't rule it out.
This is not Wells first time in the spotlight for negative reasons. His views on abortion, gay rights and Pride parades as well as his advocacy and belief in and promotion of Young Earth Creationism all came under fire before.
While serving as Northern Ireland's Health Minister, Wells opposed lifting a ban on blood donations by gay men. Despite the rest of the UK lifting the ban, Wells spent £39,000 (over $47,000) of the health department's funds to fight the ban ending.
Wells also stated:
"The gay lobby is insatiable, they don't know when enough is enough."
Wells was Health Minister for a little less than eight months before being forced to resign after claiming non-existent evidence from around the world showed children in gay households were "far more likely to be abused and neglected."
During his apology for his false claims, Wells blamed his wife's illness for putting him under pressure and leading to his comments.
After his resignation, Wells made repeated public statements critical of his party, the DUP, claiming he should still be a government minister. After a particularly derogatory interview, the DUP stripped Wells of almost all power within the party in May of 2018.
Maybe it's time shows stopped giving air time to "both sides" on every issue when one side has no credibility.
Always wanted to learn to dance? Learn with Strictly Come Dancing and Dancing With the Stars own ballroom champion turned judge, Len Goodman. Dance with Len Goodman is available here.
********
Listen to the first two episodes of George Takei's podcast, 'Oh Myyy Pod!', where we explore the racially charged videos that have taken the internet by storm.
Be sure to subscribe here and never miss an episode.