Elon Musk purchased Twitter back in October for around $44 billion. Since then, the once loved social media site has been steadily getting more and more toxic.
But if things online were bad, things at Twitter headquarters in San Francisco, California were significantly worse.
Since October, Musk has fired the majority of the staff and has even put up beds, wardrobes and a washer and drier.
According to Musk, the bedding is for those tired employees who need a break under his new 'hardcore' work ethic requirements.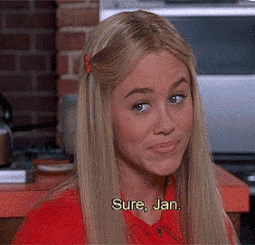 Giphy
But it looks more like the remaining employees are being required to live on site.
There are also photos of wardrobes.
And a washing machine.
Which is somewhat suspicious if employees aren't living there.
The San Francisco Department of Building Inspection has launched an investigation into Musk's new setup.
The building is not rated for occupancy.
"We need to make sure the building is being used as intended."
"There are different building code requirements for residential buildings, including those being used for short-term stays."
Of course, Musk didn't take well to this.
He went straight to Twitter to bash the city.
With what is seen in these images, it seems the San Francisco Department of Building Inspection has grounds for their investigation.
There are even photos of hotel slippers.
Musk's fans didn't seem to think this was a problem.

Many of the comments pointed out this sort of thing happens at other companies—albeit on a smaller scale.
While those comments are correct, they fail to acknowledge a key fact—in those situations, it was the employees choice to sleep or nap at their office and it was a temporary situation on office furniture, not converting an office building into a hotel or hostel.
Building codes and zoning laws exist for a reason, many of them related to fires and water and sewer capacities.
Others saw the insanity of Musk's requirements.
It is yet to be known if the San Francisco Department of Building Inspection is going to shut down Musk's hotel operation or not.
Until then, just know those few employees still at Twitter are working seemingly around the clock to keep the social media site up and running.