Ever heard of the term "Almond mom"?
If you're an avid TikToker, then you might have seen the term lying around on a few celebrity mom's videos and if you were born anywhere between the 1990's and the 2000's then you might have even lived with one.
Pediatrician Dr. Karla explains the belief these moms hold which is rooted in diet culture, internalized bias and fatphobia are in actuality extensions of their own eating disorders.
"They actually believe the child will be better if they're thinner"

Dr. Karla called the trend "concerning" and said it was harmful to both parents and their teens.
However, for many of us who have grown up in a culture that prioritizes thinness and often draws parallels between a person's worth and their size, it's difficult to unsee all of the warped ideals we have on body image and to unhear all of the misconceptions and toxic mantras we were told that is now ingrained.
For many there still is and will always be privilege in being thin.
Here's Dr. Karla calling out "Almond moms" in a TikTok video.
The feedback was concerning.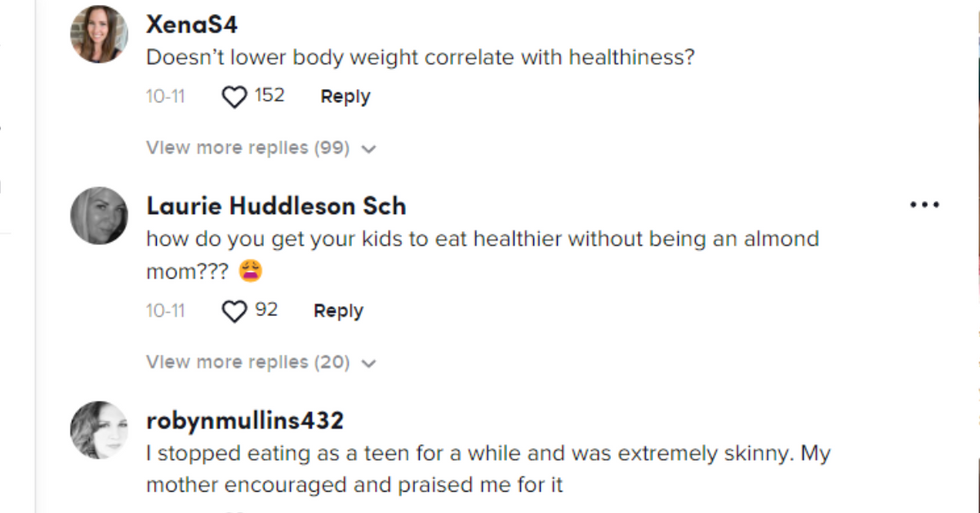 @xenas4/TikTok; @lauriehuddlesonschaberg/TikTok; @robynmullins432/TikTok
Another TikToker doesn't believe thin privilege is going away anytime soon despite its harmfulness.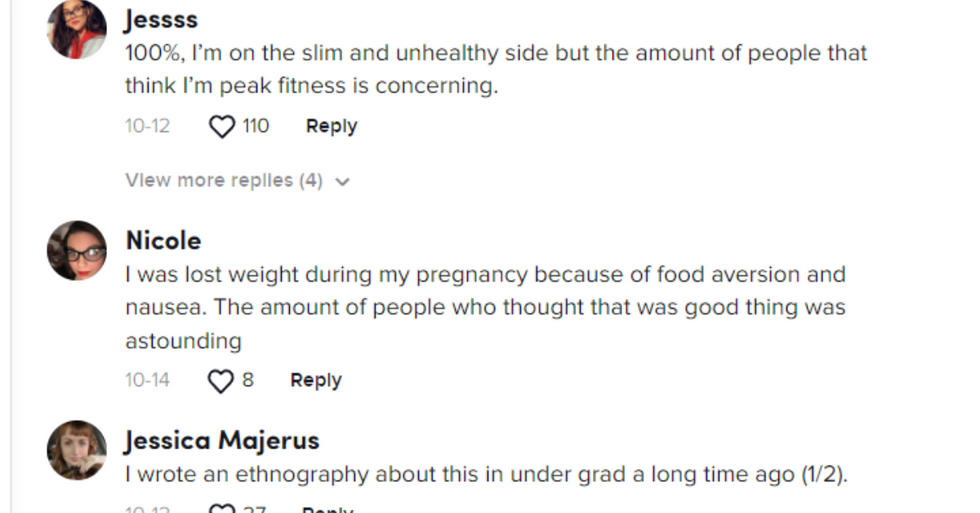 @jess.ssssss.s/TikTok; @tandem.nursing.mom/TikTok; @jessicamajerus8/TikTok
So where did the phrase "Almond mom" come from?
The term was coined by television personality and former model Yolanda Hadid—the mom of supermodels Gigi and Bella Hadid.
After a clip from the Real Housewives of Beverly Hills was released where Gigi complained of "feeling weak" and was told by her mother to eat "a couple of almonds and chew them well," claims were made that mother Hadid not only restricted her daughters' access to food growing up but carried some questionable and toxic idealisms for her daughters.
The Beverly Hills housewife in response to all of the backlash created a seemingly sneering TikTok where she poked fun at all the parenting criticisms she's since received. In the TikTok the "Almond mom" herself can be seen carrying around a bowl of almonds while doing different tasks from sitting by the fireplace to taking a drive in a golf cart.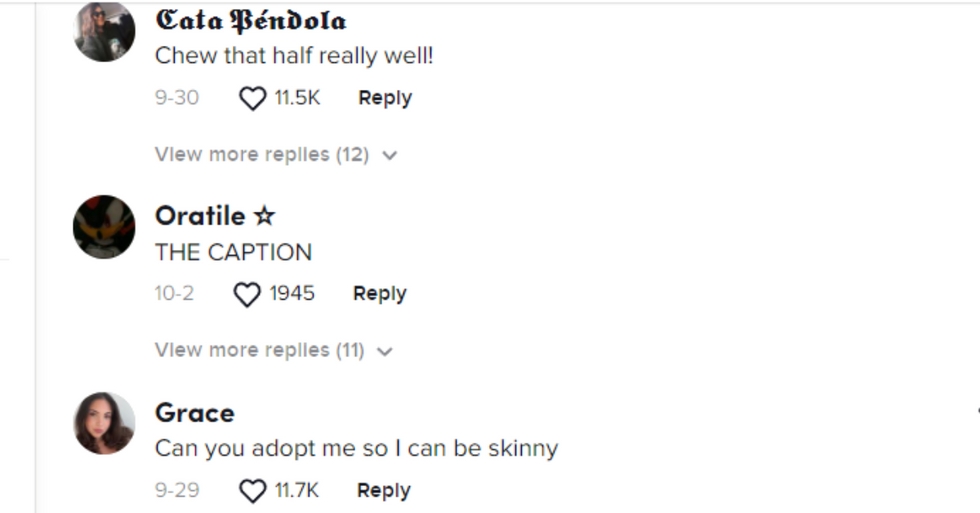 @catapendola/TikTok; @us3rnam3_n0t_f0und/TikTok; @gracefsc/TikTok
Despite its new name as the "Almond mom " phenomenon, using almonds to delay and fight off extreme hunger, dizziness and exhaustion were tactics used as early as the 90s.
No stranger to the almond diet was the "heroin chic" look that was sought after by many models who were lucky enough to grace the pages of Vogue. From film, to TV, to mainstream magazines, the messaging was very clear especially to young impressionable teens.
Hunger was treated as a weakness and left many to chase unrealistic and unhealthy body goals.
But Almond Mom isn't the only toxic mantra.
Though we can all relate on some level to societies' "Almond mom" like tendencies, some women are refusing to not only abide by these narrow standards anymore but are making sure to create a safe and healthy space for their families and for children everywhere.
However, it's more than just teaching your child about a healthy relationship with food.
It is also about how you choose to speak to yourself in front of your child. Psychologists and dietitians say that even if you don't condone a restricting diet and instead teach and promote positivity surrounding all foods, modeling a behavior where you constantly speak to yourself negatively or engage in daily caloric counts can be just as detrimental.
You have to ensure that you are going out of your way to set a good example.
Can body positivity be mainstream?
That would be a much longer article. What we do know for sure is there are people out there consciously making the decision to not perpetuate unhealthy and harmful relationships with food.
People like Dr. Karla are calling out toxic and damaging practices and standards on body image that we uphold today.
It's about time.