Lindsay Durdle passed away on May 31, 2018, a year and a half after she was diagnosed with breast cancer. She was 37.
No widower should have to experience the level of torment like the one inflicted on Howard Durdle, who was threatened with legal action after PayPal reached out and ruled his wife's death was in breach of the paying system's policy.
---
PayPal has since made an apology after sending an "insensitive letter" to Durdle.
WAY member Howard Durdle explains to @BBCNews about an insensitive letter he received from @Paypal - he's due to ta… https://t.co/U9YLIY4Zzc

— WAY (@WAY) 1531310815.0
Three weeks after Lindsay's death, Durdle notified PayPal and sent in the requested documents, including a death certificate, her will, and his ID.
Then he received the unexpected notice that Lindsay owed £3,200, or roughly $4,300, in a letter headlined – "Important: You should read this notice carefully."
An understandably embittered Durdle posted the letter on his Facebook page.

The offending notice was sent to Bucklebury, West Berkshire, in Linsday's name and stated that the breach was incapable of remedy.
You are in breach of condition 15.4(c) of your agreement with PayPal Credit as we have received notice that you are deceased … This breach is not capable of remedy.
Since then, a spokesman for PayPal reached out to Durdle and issued him an apology.
We are urgently looking into this matter, and are in direct contact with Mr Durdle to support him.
PayPal slammed after telling customer that her death 'breached its rules' PayPal sent the letter, seen below, to L… https://t.co/Cgj3wMkGyx

— best tech trade (@best tech trade) 1531318121.0
This is a way-too-common problem in debt collection. I'm glad @mihirzaveri @nytimes is spotlighting it. https://t.co/LLunHNPyMd

— Alex Johnson (@Alex Johnson) 1531412335.0
Durdle was informed by one of the company's staff members that the letter could have been the result of a bug, a "bad letter template," or human error, but other details weren't released due to the problem being "internal" in nature.
He toldBBC News:
I'm in a reasonable place at the moment. I've got quite a level head on my shoulders and am quite capable of dealing with paperwork like this. But I'm a member of the charity Widowed and Young, and I've seen first-hand in there how a letter like this or something like it can completely derail somebody.
If I'm going to make any fuss about this at all, it's to make sure that PayPal - or any other organisation that might do this kind of insensitive thing - recognises the damage they can cause the recently bereaved.
Durdle said he wanted companies like PayPal to do better. "The reason I'm making the noise about it that I am is to… https://t.co/EsYpM8cKXM

— ZAYNs Fairygodmother (@ZAYNs Fairygodmother) 1531366898.0
Durdle's friends made sure to spread the word to make sure other companies won't repeat the same mistake.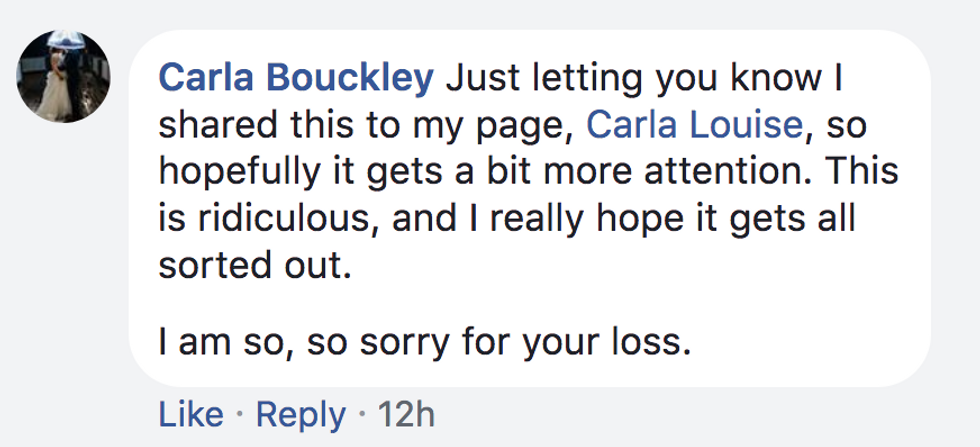 Facebook
The widower isn't the only victim of the unfortunate circumstance. One follower shared a similar predicament.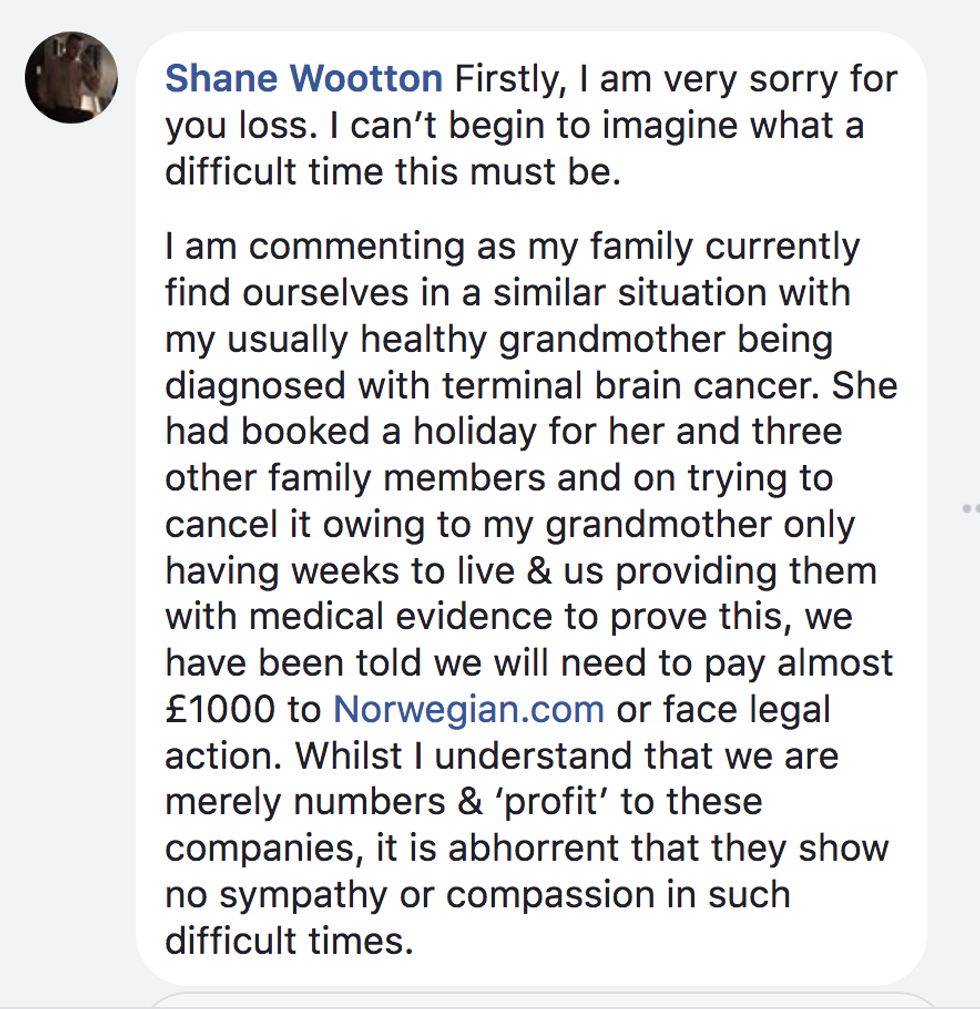 Facebook
Most expressed their frustration over the ridiculous letter.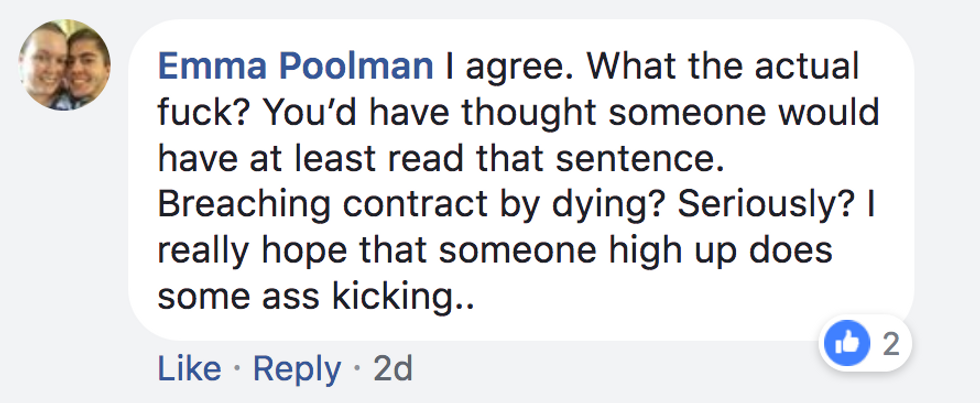 Facebook

Facebook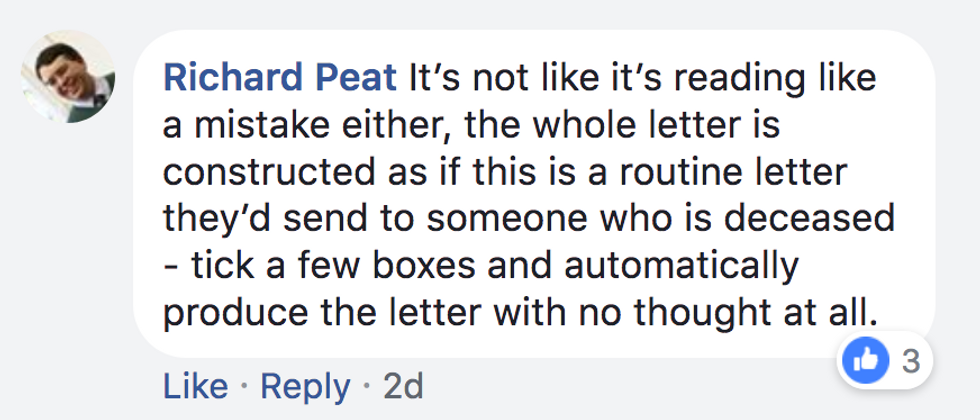 Facebook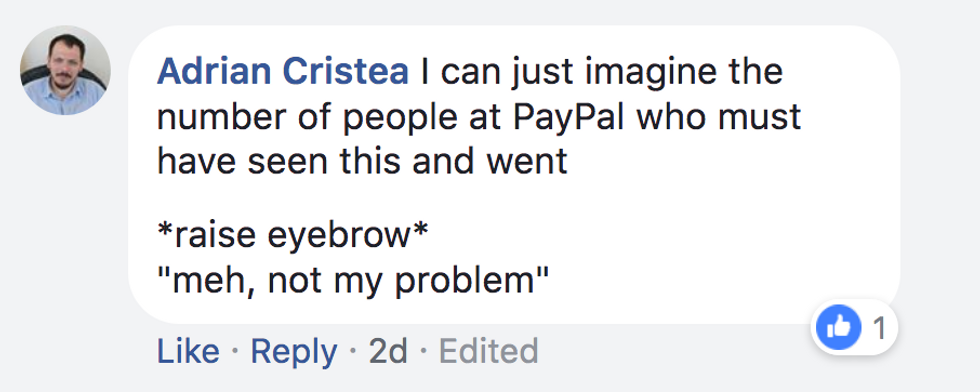 Facebook

Facebook

Facebook
PayPal is investigating its internal processes and has canceled Lindsay Durdle's outstanding balance; it's a small debt to pay for the grieving widower's peace of mind.