A woman was fired from her pharmaceutical job after her xenophobic rant on a New Jersey Transit commuter train was caught on video.
In the video that went viral on Reddit, a woman who was identified as 30-year-old Brianna Pinnix from New Jersey appeared heavily intoxicated while confronting a seated group of male passengers who were presumably German tourists.
When Pinnix assumed the men were talking about her in a foreign language, she asked them:
"Are you German or something?"
You can watch the video here.
Pinnix's boyfriend intervened by politely trying to calm her down.

"Brie, do not do this, do not do this, you're going to get arrested," he pleaded.
She responded:
"I love you, get off of me."
She resumed her confrontation and asked the men:
"What did you say? Tell me what you said."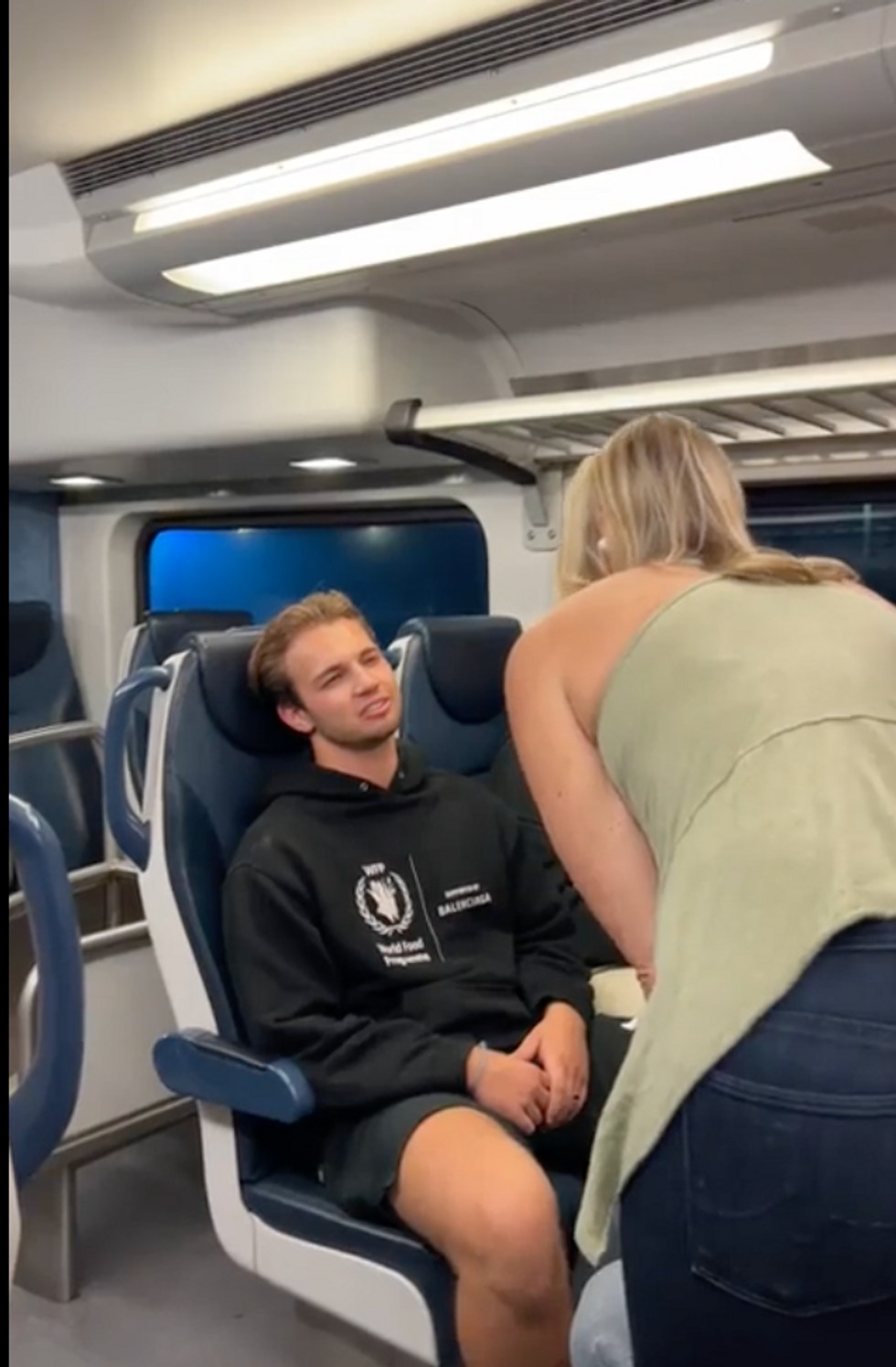 @s_y_s_t_e_m_i_c_/Reddit
Her boyfriend, who held her by the wrist, repeatedly told her to stop as she leered in the face of one of the men in a black hoodie seated near the aisle who bore the brunt of her ire.

The man eventually stood up and got close to her face, but his attempt at intimidation proved futile as she kept egging him on, telling him to "go ahead."
The concerned boyfriend told her:
"Brie, do not do this, do not this, you're going to get arrested."
The man eventually sat back down and tried to ignore her and at one point turned to the seated passengers across from him to interact with them.

The men in the group chuckled amongst themselves over the ridiculous scene.

Pinnix flicked her boyfriend's hand away and insisted to him that she could "handle my own."
To which he replied:
"Stop this, or I'm never going to talk to you again."
"He's not doing anything."
But she ignored him and was convinced the tourists were talking about her, which her boyfriend refuted and said they were just engaged in "personal conversation."
During the encounter, another commuter watching the situation unfold was heard commenting:
"Women in 2023–we allow them to be thinking they're the man."
At one point, the camera panned across the car and showed a seated couple who appeared shocked and mortified witnessing the emotional train wreck.
@s_y_s_t_e_m_i_c_/Reddit
When the boyfriend finally managed to get Pinnix seated, she yelled at the men:

"F**king immigrants!"
In response to the unwarranted xenophobic remark, the boyfriend explained:
"You know I'm an immigrant, I'm an immigrant, too, you know that, right?"
But Pinnix laughed it off and told him:
"Yeah, but I'm responsible for you so it's OK."
@s_y_s_t_e_m_i_c_/Reddit
She remained paranoid about the non-combative tourists and griped:
"They're f**king laughing about it."
When another commuter tried to goad her into acting out physically by hitting the guy she was confronting with a "right hook," she squealed "Thank you," and got up for another attempt to antagonize the tourist.
The boyfriend held her back once again but it didn't prevent her from making another verbal assault.
She yelled:
"How about you get the f**k out of our country."
Her boyfriend exclaimed, "Do not!" while other commuters were heard gasping.
A woman off-camera said:
"That's harsh."
The video ended with the boyfriend saying:
"Babe, it's not OK. It's not OK. I love you but..."
@s_y_s_t_e_m_i_c_/Reddit
People were appalled after watching the video.

Disgusted Redditors who saw the clip reacted with negative comments aimed at Pinnix.
Many encouraged the boyfriend to leave her.

Said one user:
"She's drunk out of her skull and her nasty true character is now out there for all to see."
"The guy should ditch her toxic backside ASAP."
Another wrote:
"Dude needs to find a new gf one that brings him peace cause this ain't it. For his own safety probably should record the breakup."
A third commented:
"I really hope it's ex-boyfriend at this point. Blatant racism should be a dealbreaker."
"Not to mention that freaking out in public is a major red flag."
"If that's how she acts in public I can't imagine the dumpster fire behind closed doors."

People also weighed in on X (formerly Twitter).
Word eventually got out that there were consequences for her disruptive and bigoted tirade.

The New York Post reported that Pinnix—who was a talent acquisition specialist at Capital Rx—was fired, according to a company spokesperson.
They issued a statement addressing the situation, which read:
"Our company has a zero-tolerance policy around prejudicial or discriminatory behavior."
"After conducting a review of the circumstances, we acted immediately and terminated the employee in question."
They added:
"The former employee's actions and words are not representative of Capital Rx, and we offer our sincerest apology to those who were hurt."
The New Jersey Transit Authority told the media outlet in a statement that it "strongly condemns any behavior of this type" and its customers are "encouraged to report incidents of this nature to train crew members, or they can reach out to NJ TRANSIT Police."