A TikToker shared the sad and horrifying story of her neighbor shooting her dogs when they wandered onto his property.
Corinne Attanasio's first viral video was shared October 5th. Images of her dogs and of her crying under the song lyrics "What's the softest way to say you took away my friend."
Attanasio changed the lyrics revealing that someone "shot" her two dogs.
@corinneattanasio

pls blow this up so I can spread awareness and get justice #greenscreen #greenscreenvideo #imissyou #justice #dog #bestfriend
That video received 3.3 million likes and 14.8 million views. Since then, Attanasio has shared the story.
Attanasio introduced us to her two dogs, Stiles and Ocean. Styles was being trained as her service dog to bring to college in six months.
They also have an older dog who is deaf. They often leave him outside because he doesn't leave the property.
While Attanasio was sleeping, her parents walked and fed the dogs. At some point, the older dog had pushed open the door to the yard without anyone noticing.
Within a few minutes, Stiles and Ocean had gotten out so her parents immediately got into their cars to start looking for them.
Attanasio explained:
"We just moved here."
"We don't know the area, we don't know our neighborhood."
"My dad decided to park his car and go walk around in some fields trying to find them."
"My mom found some back road that went around back behind our neighborhood into this valley."
"While she was on that road she ran into a sheriff."
"She asked if he had seen two black and white dogs."
"The sheriff got quiet and said he has just got called because some neighbor shot two dogs in his yard."
Her parents met the sheriff at the neighbor's home.
Attanasio explained as they approached the house, they heard the neighbor say to the sheriff:
"He wasn't going to allow us to get the bodies."
"He told the cop that he wanted to keep the bodies on his property as trophies so they could rot."
Both were shot directly through the heart.
It is legal to kill a dog that is chasing, harassing, or injuring livestock or other domestic animals. However, security footage showed the two dogs running into his yard but they didn't chase his chickens.
In a separate video answering questions, Attanasio explained the neighbor who killed her dogs is not a farmer. He makes no money from the chicken's he owns. She also has her own chickens and lives next to an actual farmer with a varaiety of livestock.
If her dogs wanted to hurt another animal, they had plenty of opportunities to do so.
She also explained chickens, or poultry of any kind, are not even considered livestock in the eyes of the law. They also had a call from the vet and the autopsy did not show any chicken in their system.
It's also legal to kill a dog for past attacks, but Attanasio said this was a one time occurrence.
@corinneattanasio

Reply to @maggin8or I will make another video addressing any questions or concerns, and further explaining the reasons for the gofundme.
The comments are flooded with people sharing their disgust and horror over the situation.

Some believe this man might have some issues given the ruthless nature of this attack.

@eicanjrnes/TikTok

@petrovia22/TikTok

@leagueprincess/TikTok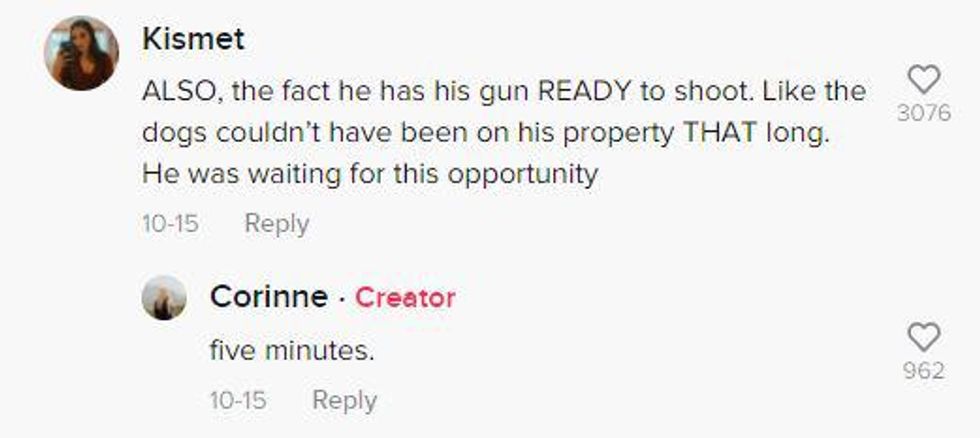 @powerinkismet/TikTok; @corinneattanasio/TikTok

@lizzy_draws0828/TikTok

@ash.illy/TikTok

@andr3amoral3s/TikTok

@aggieemily2013/TikTok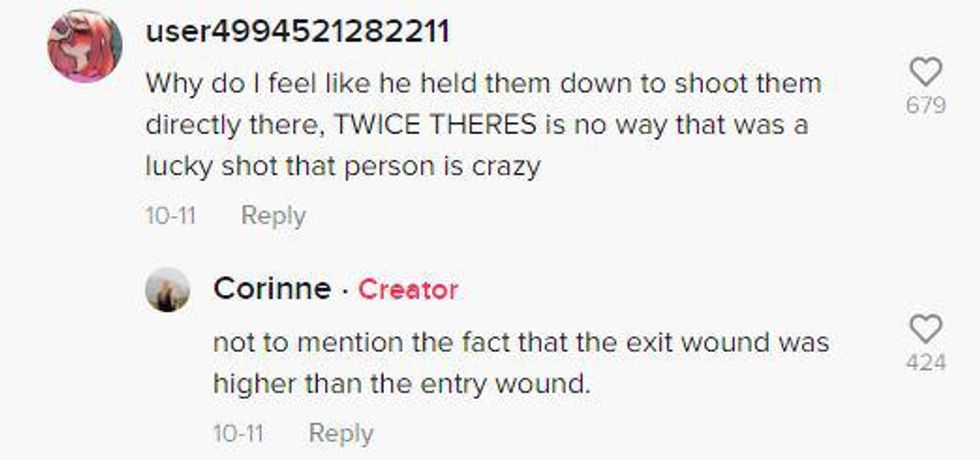 @cielcestbleu/TikTok; @corrineattanasio/TikTok

@lulu_depi/TikTok
Attanasio has started a GoFundMe to pay for a lawyer and legal fees to get justice for their dogs.

Her family also wants to make a law where you have to call animal control if you see someone's dog on your property.
Attanasio said:
"This should be a felony."
"Killing someone's dog, especially on a first offense, should be a felony."
"We want to make sure that if this happens to anyone else in the future they can get justice and not go through the long legal battle that my family is going to have to go through."
Attanasio is asking for others who have had similar situations with their neighbors harming or killing their dogs to share them with her so she can amplify their stories on her new platform.
Attanasio thanked everyone for their support and donations as she and her family navigate this difficult situation.