A Missouri police department has issued an official warning after a local mother claimed she found THC gummies in her child's Halloween candy.
The St. Charles Police Department issued a safety alert earlier this month asking those who attended a "Trunk or Treat" event at a local restaurant to check their children's candy.
However, the safety alert has been met with skepticism by others who suggest that the story was concocted as a ruse to frighten people from voting to legalize recreational marijuana, which is on the ballot in Missouri for next month's midterm elections.
You can view news coverage of the story in the video below.
Mom finds cannabis gummy worms in 5-year-old's Halloween candy in St. Louiswww.youtube.com
On Sunday, October 8, the St. Charles Police Department issued a warning due to "a single report of a parent discovering a small bag of Delta 88 Edibles which appear similar to gummy worms."
The police said that officers "throughly checked the area and found no one handing out this item. We are investigating to determine how this occurred" and offered a number for people to call to report anything suspicious.
However, some locals, including photographer Melissa Kuhl, have cast doubt on the story because of it's timing. She criticized the police department for issuing a warning without "doing a more thorough investigation."
Speaking to Insider, Kuhl said:
"There are always those memes that go around about people handing out drugs this time of year but this year it's been worse than others."
"I don't use marijuana or any THC products but I have a low tolerance for false stories. Nothing about this story adds up."
Additionally, a woman named Leigh Kaufman who runs a Facebook group called "MO Medical Marijuana," said the timing of the warning is "all too coincidental" because of the upcoming vote on medical marijuana.
Many joined Kaufman and Kuhl in questioning the story's veracity.

Leigh Kaufman/Facebook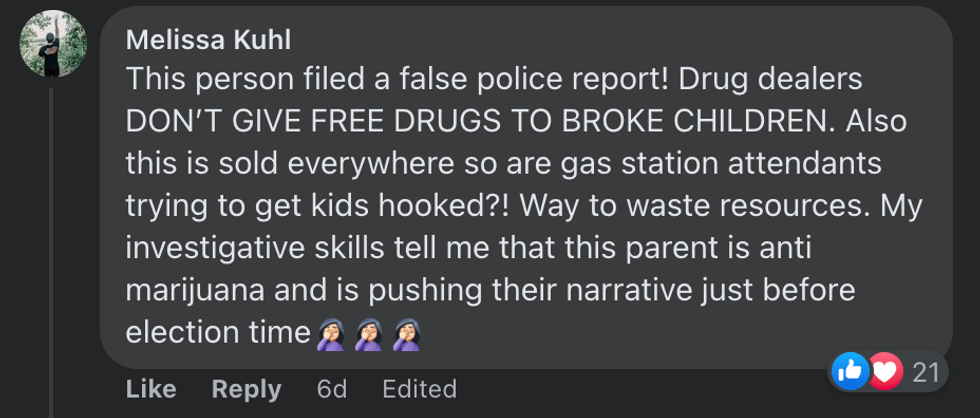 Melissa Kuhl/Facebook

Katherine Hannah/Facebook

Marilyn Anne/Facebook

Saitaina Moricia-Molloy/Facebook

Horsing Around/Facebook

D Planes Aflame/Facebook

Tara Perkins/Facebook
Halloween candy panic is nothing new.
For decades, parents have heard urban legends and received "viral warnings of poisoned candy or candy distributed with sharp items like razors or needles inside," according to the fact-checking website Snopes.
Last month, Fox News hosts were criticized after the network ran a segment warning parents not to let their children trick-or-treat for Halloween this year following a warning from the Drug Enforcement Agency (DEA) about fentanyl designed to look like candy.