It's always a bummer when our favorite shows get pulled from platforms—we get it.
Megyn Kelly, however, does not. She made that fact abundantly clear in an unhinged Twitter rant.
Megyn started out angry about Gone With The Wind and by the end of her rant she was pretty much calling for Friends to (finally) be taken off the air and also maybe making, and then missing, her own point.
As much of the world is in sociopolitical upheaval at the moment and some long-overdue questions are being asked, many companies and media platforms have chosen to take a stand and remove content that is no longer considered appropriate.
HBO did just that with the classic film Gone With The Wind. If you've not seen the movie, you may not be aware that the beloved classic is pretty much about a cranky southern slave owner being a cranky southern slave owner.
The movie follows her sympathetically throughout the Civil War and Reparations, painting her as a sort of heroine.
The film is set during a time when people were fighting for their lives, their freedom, their children's freedom ... and it spends a lot of time focused on poor Scarlett who has to wear a dress made out of curtains and also boys are dumb.
Yes, Hattie McDaniel did make history as the first African American to win an Oscar for her role as Mammy in the film ... buuuuuuut she also wasn't allowed to sit at the same table as everyone else during the ceremony because she was black, sooo... yeah.
Enjoy that fun bit of trivia.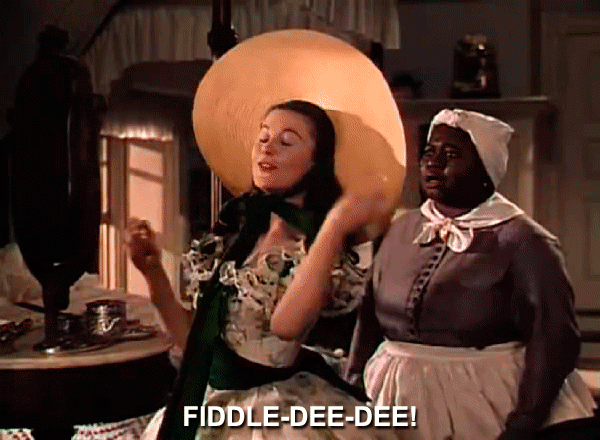 gone with the wind whatever GIFGiphy
HBO removed the film over the glorification of slavery, romanticism of the pre-Civil War South and promotion of White supremacy. It will remain down for a few weeks so the company has an opportunity to add some commentary and historical context and then it is going back up.

They released this statement to address the issue:
"Gone with the Wind is a product of its time and depicts some of the ethnic and racial prejudices that have, unfortunately, been commonplace in American society. These racist depictions were wrong then and are wrong today, and we felt that to keep this title up without an explanation and a denouncement of those depictions would be irresponsible."
Megyn Kelly must really, really like Gone With The Wind and had plans to watch only that on loop for the next few weeks, because HBO's move didn't sit so well with the former FOX News host.
At all.

Look at that time stamp.
Not even 7 in the morning and she was already up and at it rage-tweeting. Megyn, that is commitment.
Serious commitment. Just a few minutes later her tweet storm continued. Megyn was heated.

Super.
Heated.
As another article pointed out, Megyn probably isn't the person you want to use as your "moral compass" when it comes to this sort of thing.
She has famously defended blackface, declared that both Jesus and Santa are White (The homie J.C. was born in Bethlehem, Pennsylvania, we guess?) and has been entirely dismissive as the world mourned George Floyd; stating:

"If you don't like it, don't watch."
Shows like Cops and Live PD have long been under fire for making a spectacle out of what are often unfortunate situations like addiction, poverty, homelessness and domestic abuse.
The tactics and level of aggression used on the show have also been called out repeatedly. The criticism they are seeing isn't new.

People don't want to watch everyday incidents of misery and police brutality for entertainment right now and companies don't want to show it. Art reflects life, as Megyn said, and life's attitudes have shifted.
It is to be expected that cultural touchstones, like entertainment, would also shift. That's literally what her last Tweet said.
But she's mad enough about companies deciding not to air content that she's rage-tweeting before most people have had their coffee. By "shift" she meant "stay the same" we guess?
Twitter, as always, can be counted on for their "passionate" responses.
So what do you think? Does Megyn have a point or is she "clutching her pearls over nothing" as that last person put it?
Gone With The Wind is coming back with some contextualizing, but shows like Live PD and Cops may not.
Would you be sad to see them go? Or has their exploitative premise been outgrown?