A man from Kentucky is suing Netflix after they used his Instagram photo without his permission in a documentary about a convicted hatchet wielding murderer.
The photo is of respiratory therapist Taylor Hazlewood—who works in a neonatal ICU—who was alerted about the image usage by several of his friends who watched the documentary. Hazelwood had posted a photo of himself holding a friend's hatchet to Instagram with a caption referencing the 1986 Newbery Honor-winning young adult novel Hatchet by author Gary Paulsen.
Hazlewood is suing the streaming platform for $1 million, claiming the documentary The Hatchet-Wielding Hitchhiker featuring his image painted him in a "sinister and defamatory light." The documentary filmmakers appeared to have pulled several images off social media featuring random men with hatchets mixed with photos of the convicted murderer and tweets unrelated to the other men's photos.
You can see one frame featuring Hazelwood's image without his Instagram caption below.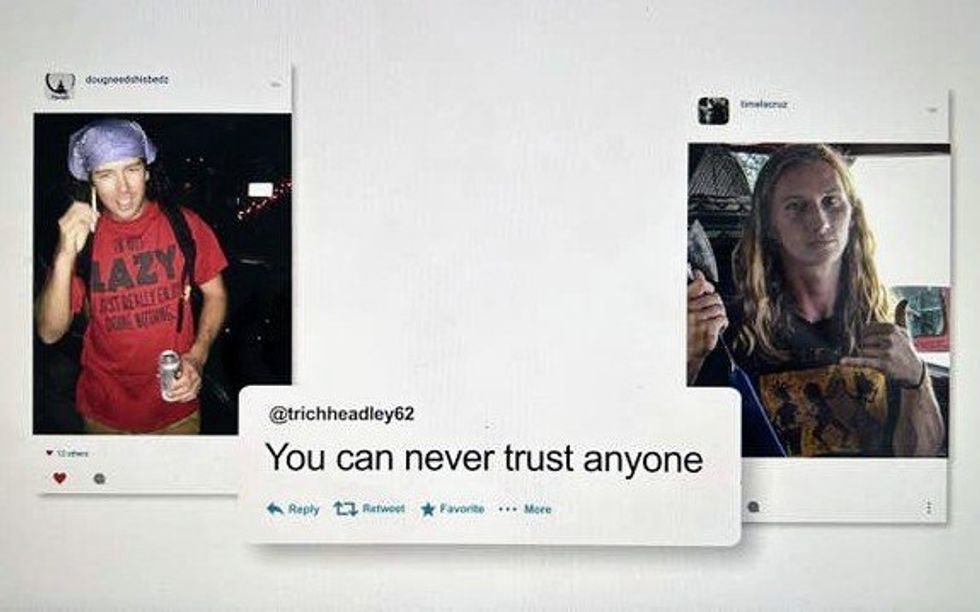 Netflix
Hazelwood's attorney told Insider:
"Hazelwood had no connection whatsoever to the people or events depicted in the film."
"Despite this, his personal Instagram photograph was included twice within the film, and the second use was included alongside a photograph of [Caleb] McGillvary, after he committed murder, with audio stating that he was either a guardian angel or a 'stone-cold killer.'"
McGillvary is the actual person convicted of first-degree murder.
McGillvary was a hitchhiker who went viral in 2013 after he used a hatchet to stop a man who gave him a ride from injuring a utility worker, making him an internet celebrity.
A few months later, however, he was the suspect in the murder of New Jersey lawyer Joseph Galfy, according to The Washington Post. Hazlewood's attorney stated her client "never sought or did anything to attract attention for the McGillvary story."
In fact, he found out about his image in the documentary when one of his friends messaged him:
"Wtf? Explain please."
Another message read:
"So something not so chill happens later in the documentary."
"Your picture shows up again after he's charged with murder and it's just bad vibes."
Those learning of the lawsuit took to social media expressing their thoughts, most agreeing it is definitely a bizarre case.
Many felt Hazlewood has a solid case.
Hazelwood's lawyer stated:

"Mr. Hazlewood's original Instagram post is tagged with [Paulsen's] book and author, so there should have been no confusion by any company doing its homework when sourcing content."
Netflix has yet to respond to Hazelwood's lawsuit.
In a bizarre addition to the story, actual hatchet-wielding subject McGillvary is also suing Netflix claiming they are "ruthlessly exploiting a hero's life story for money."