Far-right North Carolina Republican Representative Madison Cawthorn is no stranger to controversy—at times, it even seems like he actively courts it.
But his newest dust-up makes it seem like he's trying to steal infamous Republican Senator Ted Cruz's crown as the most self-absorbed and tone-deaf Congressperson in America

As catastrophic floods ravaged his North Carolina district last week, Cawthorn went for a decidedly Cruz-ian bit of branding in his social media posts, sharing photos, seen below, of him kicking back with a cigar and conspiracy theorist Charlie Kirk's podcast as his constituents got swept away to their deaths.
Thank you for your service, Congressman!

Floods destroyed wide swathes of Cawthorn's district last week when the Pigeon River overflowed its banks following intense storms from Tropical Depression Fred. In Haywood County, homes were swept off their foundations by the flood waters, resulting in five deaths. Four others are still missing.
Through it all, Cawthorn seemed decidedly unbothered, judging from his social media posts--including the aforementioned cigar-and-conspiracy post.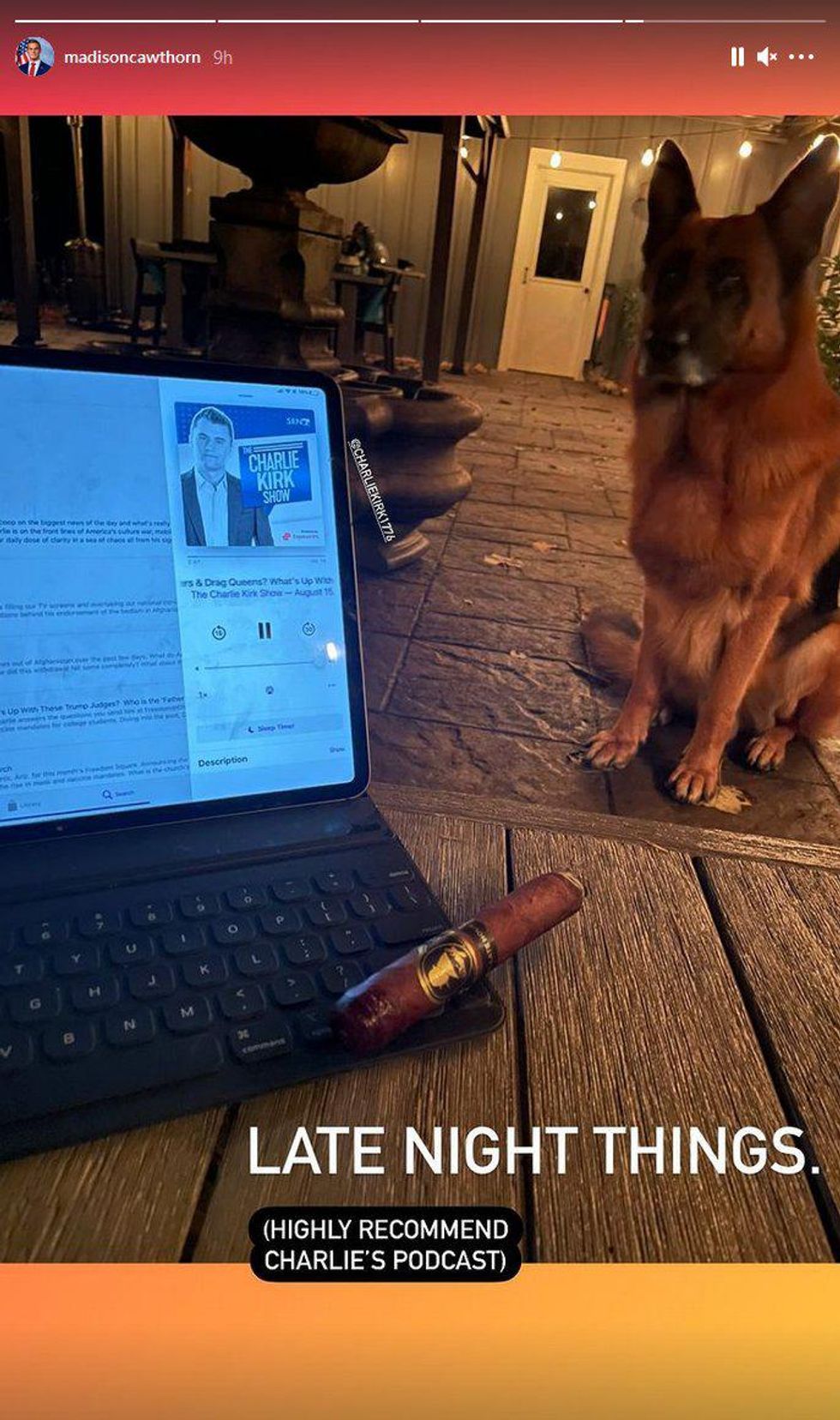 @muh_thoughts/Twitter
But as if that weren't bad enough, as his constituents drowned Cawthorn also shared a shot of a Certificate of Special Congressional Recognition he issued to a constituent--for his bodybuilding prowess, of all things.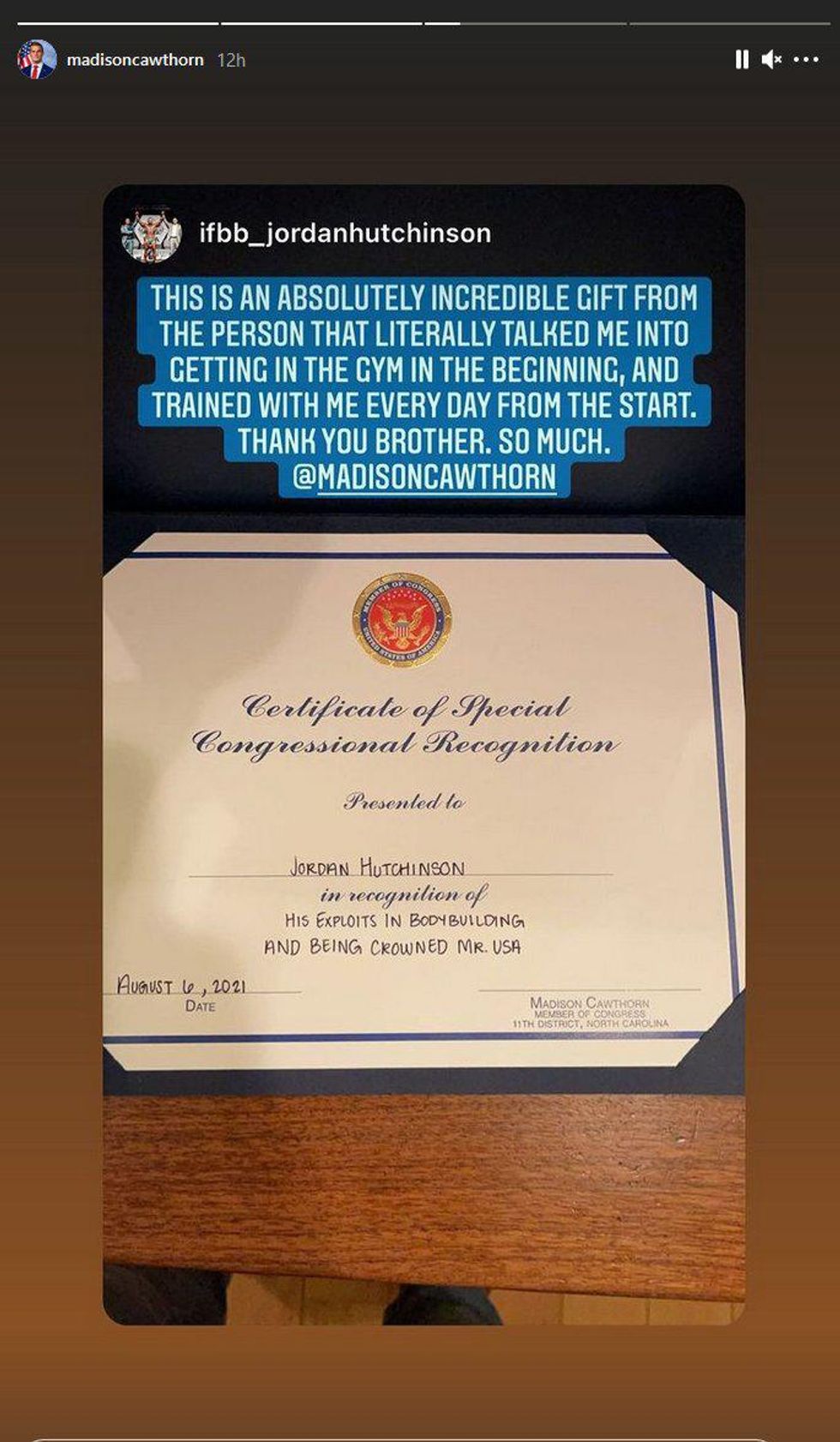 @muh_thoughts/Twitter
If that strikes you as astonishingly tone-deaf, you're not alone. Back in deep, dark red Haywood County--where former Republican President Donald Trump won by nearly 27 points and Cawthorn won by more than 12--local paper The Mountaineer published a scathing op-ed that declared Cawthorn in "dereliction of duty."

"In a 24-hour span from Tuesday into Wednesday, Western North Carolina experienced flood destruction on a level not witnessed for 17 years..."
"Rep. Madison Cawthorn (R-NC-11) released no statement, no list of resources or shelters for constituents, and not a single tweet in support of the thousands in WNC residents suffering from the flood..."
The op-ed then went on to directly reference Cawthorn's Instagram posts.

"Lest we think he was simply off the grid... while the raging storm took hold of his district... Cawthorn blissfully posted pictures on Instagram (screenshot linked) of smoking cigars and listening to conservative podcasts."
To be fair, Cawthorn did eventually get around to addressing the crisis in his district--after the floodwaters had already begun to recede. As The Mountaineer put it:

"Cawthorn's first public comments on the matter were around 24 hours after the Pigeon River reached initial flood levels, followed by retweets of hours-old resources from other public organizations working on the crisis."

"His tweets in support of the community and of photo ops with damage came more than 12 hours after floodwaters fell back below the flood line."
"Too little, too late."
Cawthorn's District Director, Hal Weatherman, was slightly less eloquent in his response, calling The Mountaineer's criticism a "complete partisan bullsh*t lie" in a Facebook post in which he vociferously refuted its claims without providing a single bit of evidence.
On Twitter, people were reviled by Cawthorn's response to the crisis.
For all the drama, Cawthorn appears not to have learned his lesson--as the clean-up in his district continues, Cawthorn was seen doing a photo-op at a firing range on the other side of the country from North Carolina, in California.

If his goal is to eclipse Cruz's mid-crisis Cancun border-run, he's doing a terrific job.