Luke Prokop—a Nashville Predators prospect—made history by becoming the first player signed to an NHL team to come out as gay.
Prokop—a defenseman—currently plays for the Calgary Hitmen of the Western Hockey League (WHL). He was drafted by the Predators in 2020.
The WHL is one of three leagues that constitutes the Canadian Hockey League (CHL)—the highest level of junior hockey in Canada. The American Hockey League (AHL) and junior leagues like CHL serve as a farm system for NHL prospects until they're called up to the NHL, similar to the system used for professional baseball.
The 19-year-old from Edmonton, Alberta, Canada went public with his truth in a statement posted on Instagram and Twitter.
His statement read in part:
"It has been quite the journey to get to this point in my life, but I could not be happier with my decision to come out."
"From a young age, I have dreamed of being an NHL Player, and I believe that living my authentic life will allow me to bring my whole self to the rink, and improve my chances of fulfilling my dreams."
"I may be new to the community, but I am eager to learn about the strong and resilient people who came before me and paved the way so I can be comfortable today."
"This is just the beginning of my journey, but I am excited to see where it takes me, both in hockey and in life."
Prokop read part of his statement—as well as elaborated on his decision to come out—in an interview with ESPN's Emily Kaplan.
You can see video here:
Prokop went on to tell Kaplan he'd begun coming out to friends and family as far back as April of this year, including Nashville Predators manager Brian Poile with whom he had an emotional heart-to-heart.
"He in that moment showed me a lot of support and told me the Predators are behind me 1,000% and want what's best for me and that they're proud of me during this."
"I remember getting off that phone call and tears just started coming from my eyes, I was so excited. And in that moment, I thought, this is what it's going to feel like for the rest of my life."
"For them to show that support that they did in that moment, it felt like I can rule the world."
Poile as well as Nashville Predators President and CEO Sean Henry confirmed their support of Prokop in a statement posted on the team's Twitter page.
In the statement, Poile said:
"We want Luke to be a successful hockey player, and we understand his ability to be out comfortably will help him achieve his goals on and off the ice."
Henry included:
"A long-stated goal in our organization is equality for all, including the LGBTQ community, and it is important that Luke feels comfortable and part of an inclusive environment as he moves forward in his career."

The NHL tweeted a statement from commissioner Gary Bettman.
While Prokop might be the first openly gay player in the NHL's history, Bettman declared his hopes he won't be the last.
"We pledge to do everythinng possible to ensure that Luke's experience is a welcoming and affirmative one and continue to work to ensure that any current or former NHL player contemplating following in his trailblazing footsteps knows our league is ready to provide full support."
The NHL also pledged a $100,000 donation to five LGBTQ+ charities selected with Prokop.
Included were The Trevor Project...
...and You Can Play.

You Can Play—founded by hockey's legendary Burke family with and in memory of Brendan Burke—describes their mission as:
"You Can Play works to ensure the safety and inclusion for all who participate in sports, including LGBTQ+ athletes, coaches and fans."
"The You Can Play Team believes athletes should be judged on talent, heart and work ethic, not sexual orientation, gender identity or expression."
"If you can play, you can play."
The organization shared their support for Prokop on social media.
LGBTQ+ advocacy organizations like the Human Rights Campaign and GLAAD congratulated Prokop as well.
The Alberta born Prokop also got support from the Canadian Hockey League (CHL).
He has played for the CHL as a member of Calgary's WHL team.

They tweeted:
"The CHL is proud of Luke for his courage in speaking his truth today."
"His leadership will inspire hockey playrs and members of the LGBTQ+ community for years to come."
The NHL Players Association (NHLPA), individual players, teams and leagues at all levels took to Twitter to commend and congratulate Prokop for his decision to come out publicly.
Tennis legend Billie Jean King offered her congratulations as well.
When some fans responded with homophobia, NHL teams like the Colorado Avalanche stepped up and shut it down.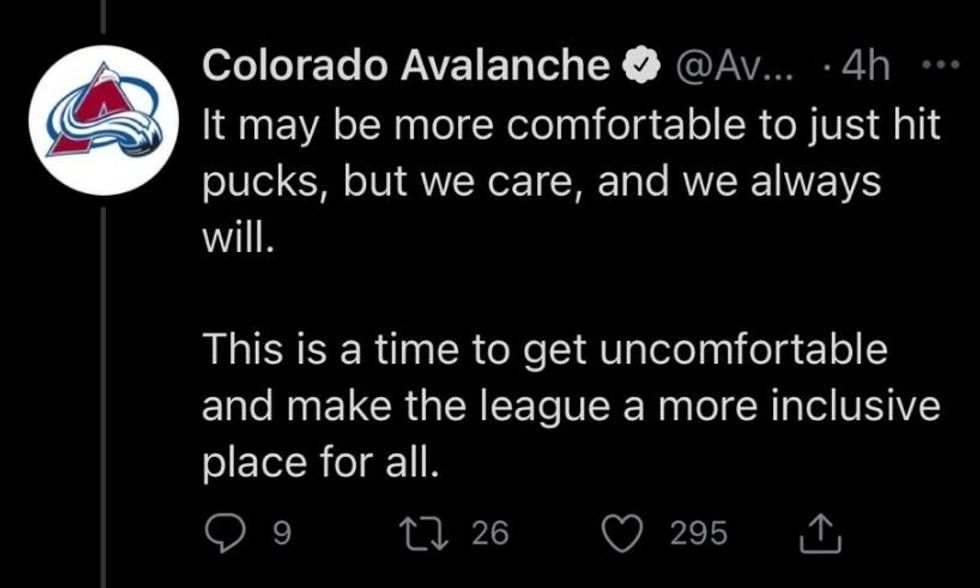 @Avalanche/Twitter
But perhaps the most important message of support came from Nicole Prokop—Luke's mom.
Seeing the support he's getting on social media, one can only imagine the cheers Prokop will receive when he next hits the ice.

Congratulations Luke, and welcome to the team.