Jon Gries set the record straight about what happened on the SAG Awards stage Sunday night that caused Aubrey Plaza's seemingly more-annoyed-than-usual appearance to go viral... and fans' theories weren't completely wrong.
In case you haven't been online in the last few days, here's a recap.
The White Lotus cast took the stage after winning the SAG award for Outstanding Performance by an Ensemble in a Drama Series. The cast was, of course, cheering and celebrating together before taking their positions behind F. Murray Abraham who delivered the acceptance speech on behalf of the cast.

While Abraham delivered a powerful speech that included praise for all involved in the HBO series, recognition of the natural disaster in Turkey and Syria and a "prayer for peace in Ukraine," all eyes were on Plaza as she appeared quite upset, even mouthing comments throughout the speech.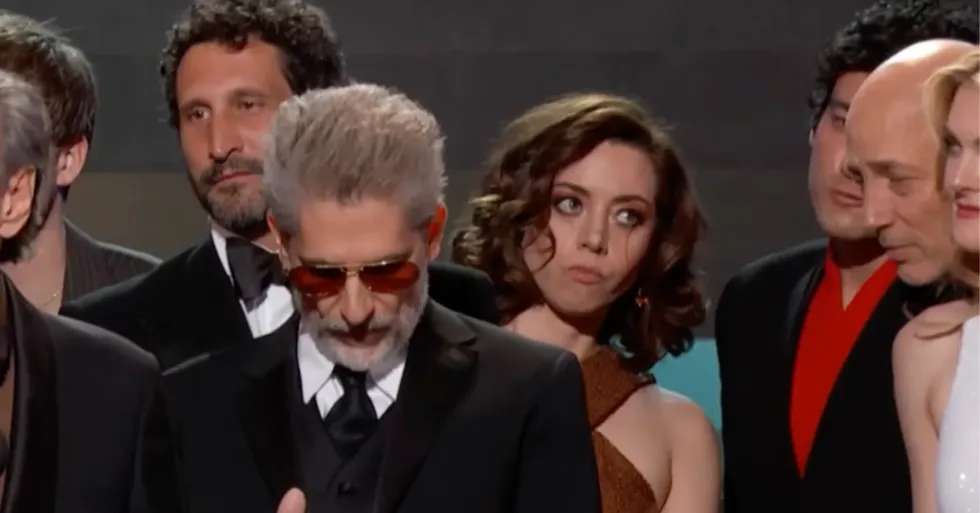 Screen Actors Guild Awards
Fans noted one reason could be her co-star Gries just took her arm and commented on her dress.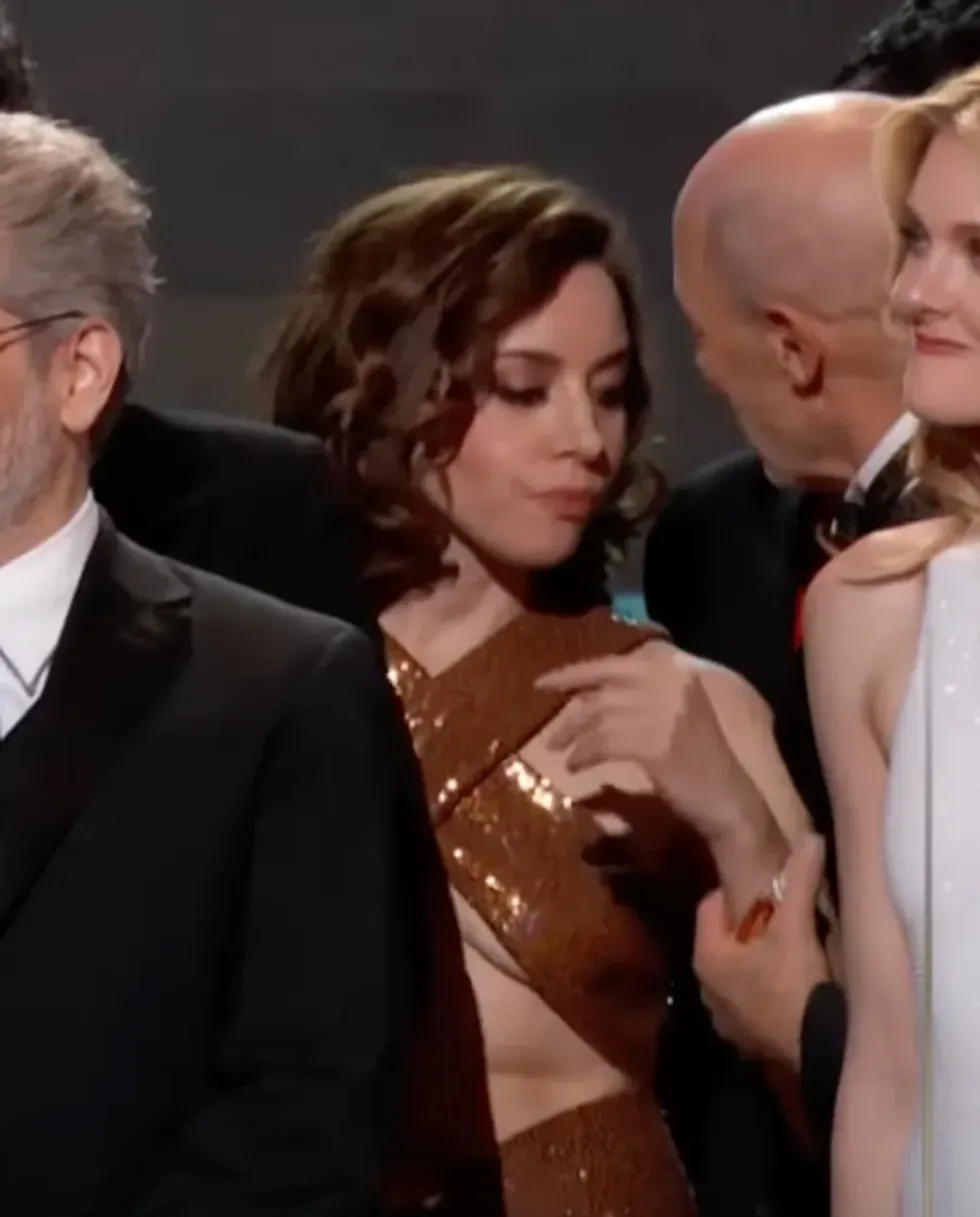 Screen Actors Guild Awards
And some pointed out she was nearly elbowed in the face during a celebratory hug between two other co-stars.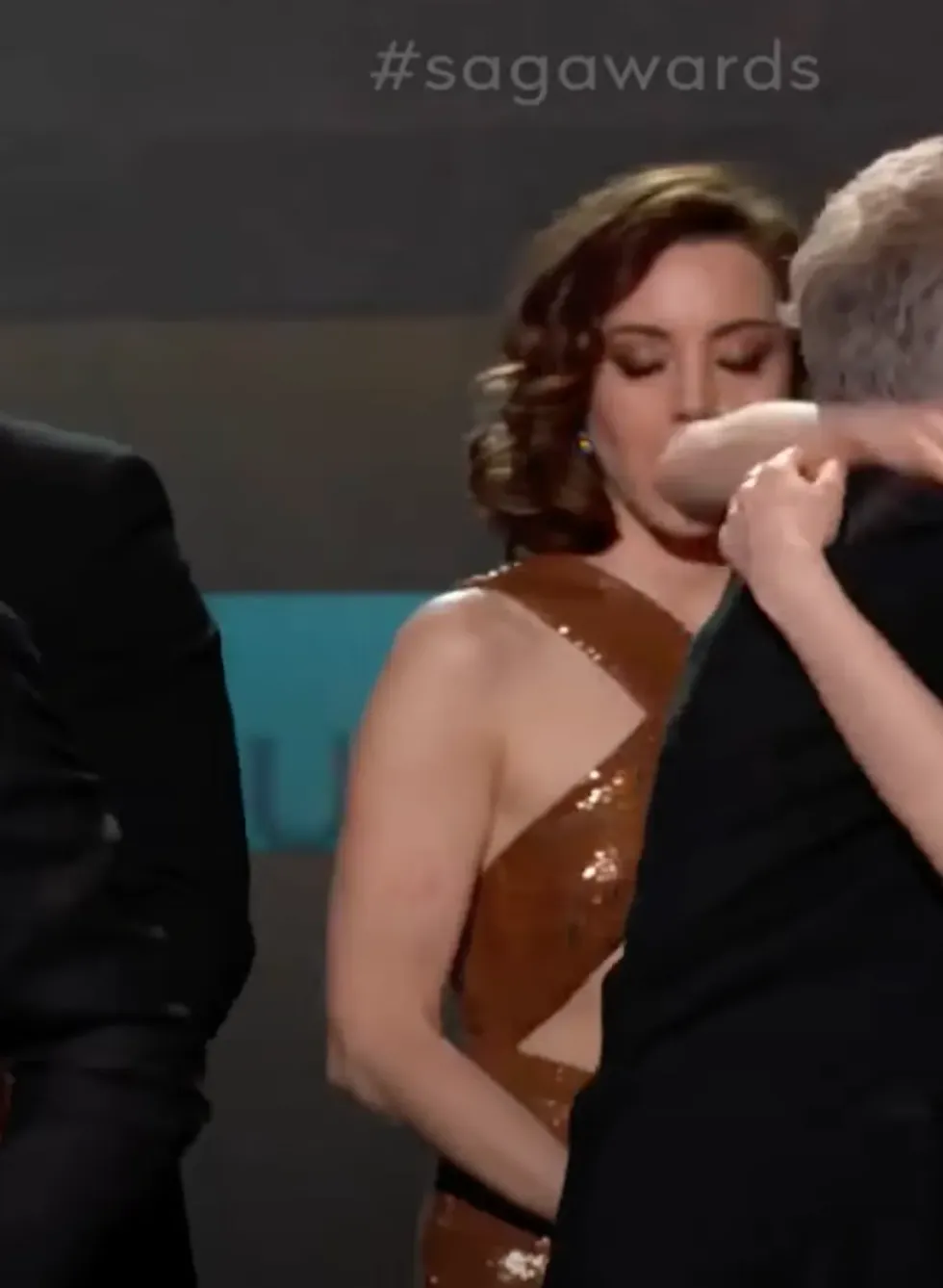 Screen Actors Guild Awards
While Gries admitted, yes, all of those things occurred, he told Page Six Plaza was just displaying her usual "dry, deadpan wit."
Gries shared he told Plaza "You might want to fix that" referring to her underboob visible below the dress' strap.
Gries also revealed her response was not irritation toward him but a "so what" reaction in-line with Plaza's typical humor.
"I think what she was intimating is why would that be a problem if my nipple isn't showing."
"That's her humor—she has that dry, deadpan wit; that's her biting wit."
Gries also revealed he texted Plaza the next morning after finding her reactions had gone viral, wondering if he had actually done anything to upset her.
He asked Plaza:
"You weren't really upset?"
To which she replied:
"No! Not at all!"
Fans were relieved to learn there was no bad blood between the actors.
Others agreed with Gries—that's just typical Aubrey Plaza.
But a few want to hear it from Plaza herself.
As for speculation over other incidents on the stage, Gries clarified Plaza was in no way irritated by Abraham's acceptance speech.
"We wanted him to speak; we all wanted him to."
"He's F. Murray Abrahama! He's a frigging legend."
Gries also revealed during one of the questionable interactions, Plaza was "being blocked by about 15 people" and couldn't see Abraham deliver the speech, so he told her to just "look to the front."
And there you have it! At least according to Jon Gries.
If you want to relive it, the full moment can be watched below.