Self-proclaimed decorated war hero John Garofalo loved Donald Trump so much, he carved a presidential glass seal to offer as a gift. That was the focus of a Fox News story on October 8.
---
But the veteran recently admitted that he lied about his military history.
Fox's Bryan Llenas ran a story about the 72-year-old glass artist, praising the Trump supporter for his service as a Vietnam vet, a former first member of the Navy SEALs team, and the recipient of twenty-two commendations including two purple hearts.
But all his claims turned out to be false, leaving the network scrambling in damage control after literally reporting fake news.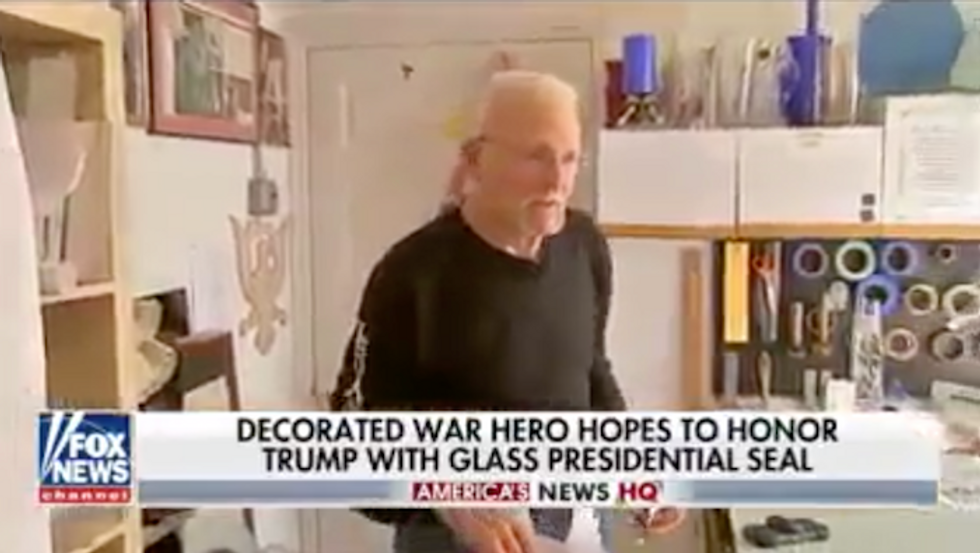 In the now deleted Facebook video that was viewed over 1.5 million times, Llena described Garofalo as a "hero" and a "tough, tough man."
Fox News anchor Eric Shawn gave the following closing statement: "God bless John Garofalo. We certainly hope maybe the president is listening."
Indeed.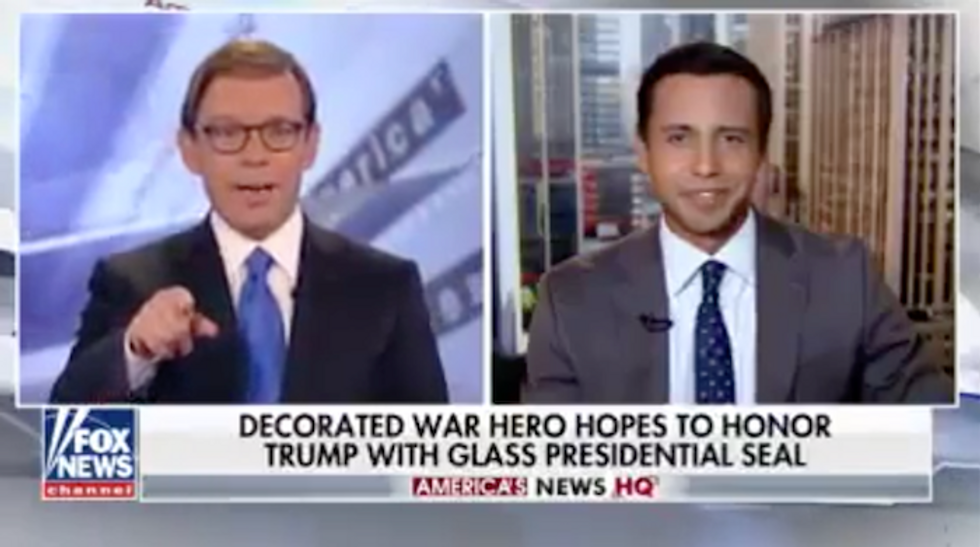 Garofalo confessed to lying about his service, including his claim that he served in Vietnam, when the Navy Times reached out to him on Thursday.
"It got bigger and bigger," he told the Navy Times over the phone. "What I did I'm ashamed of, and I didn't mean to cause so much disgrace to the SEALs."
According to the Navy Times, Garofalo actually did serve in the Navy from "Sept. 6, 1963, to Sept. 6, 1967, as an aviation boatswain's mate ― aircraft handling, or ABH, a job that involves overseeing various ground-based functions involving aircraft."
They added, "The closest he ever got to Vietnam was a tour in Rota, Spain."
#BREAKING FOX NEWS LIED AGAIN! John Garofalo a FAKE "WAR HERO" supporting a FAKE PRESIDENT on a FAKE NEWS CHANNEL. #MorningJoe #Resist

— Bobby (@Bobby) 1508489963.0
The news channel was contacted by actual members of the SEALs and family members of the fake hero, requesting a correction report.
On Thursday, Fox issued a report, exposing Garofalo's lies:
He was never a U.S. Navy SEAL. Even though he showed us medals, Garofalo was not awarded two Purple Hearts or any of the other nearly two dozen commendations he claimed to have received, except for the National Defense Service Medal. Over the last two weeks, we've worked with Garofalo's family and the National Personnel Records Center to get to the bottom of a military past that Garofalo had claimed to be covert.
Critics of Fox seized an opportunity to chastise the network and its report.
@DavidB1281 @realDonaldTrump Hope you know by now that John Garofalo lied about his service and never actually serv… https://t.co/EWihY0CFCr

— Harold Chasen (@Harold Chasen) 1508450185.0
@HaroldChasen1 @DavidB1281 @realDonaldTrump Actually he did serve but fake Navy Seal, fake news source and fake pre… https://t.co/ru5KX1l8N7

— Ariuszme (@Ariuszme) 1508461764.0
@jaketapper @RepWilson FOX would never lie <cough> John Garofalo. Cmon man how can you question a Marine General.… https://t.co/HE58K6bQvU

— Victor Vega (@Victor Vega) 1508538606.0
@TomiLahren FAKE NEWS ON FOX! Are you happy @foxnews portrayed John Garofalo as a Navy Seal and didn't try to verify his credentials?

— Boston Patriot (@Boston Patriot) 1508499391.0
"There are lessons to be learned from this," Llenas told viewers on Friday. "I should have done more to verify his information. I sincerely apologize to our viewers, especially our veterans, service men and women."
You can watch the original report of Bryan Llenas praising John Garofalo below.
And here is the updated report.
Please SHARE this with your friends and family.