Aquaman star Jason Momoa was recently criticized for taking photographs in Vatican CIty's Sistine Chapel.
But his apology didn't disappoint.
While the pictures themselves weren't problematic, Uproxx explained photography is generally prohibited inside the landmark because of potentially damaging camera flashes.
It is not clear if Momoa's photos were taken with a camera flash, but people still took to the comments to criticize the fact "peasants"—a.k.a people who are not famous actors—are not allowed to take any photos in the famous landmark.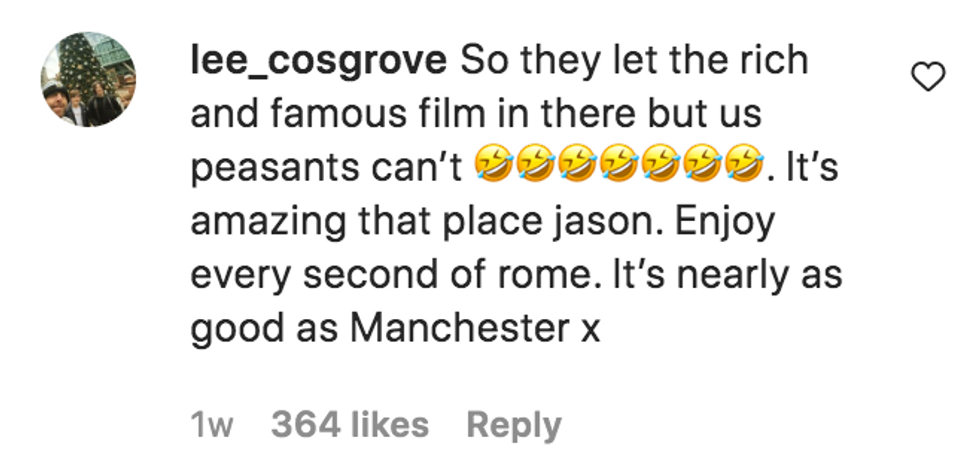 @lee_cosgrove/Instagram

@chrysalishilo/Instagram

@alexsasha_lee/Instagram
Momoa was filming in Italy at the time.

However, he did notice the comments and responded to them a week later...
While working out shirtless.
The post was captioned with an apology for the photos, but he also added in the video:

"If you ever felt that I disrespected your culture, it wasn't my intention."
He explained he developed an appreciation for the Sistine Chapel while in his teens and he took some crew members and friends to experience it and to make a large donation to the church.
He went on to talk about how people wanted to take pictures of him, which he described as "odd" while at such a beautiful place.
"I was very respectful and I asked for permission for what I thought would be okay. "
"I would never want to do anything to disrespect someone's culture."
"So if I did, I apologize."
People in the comments fully accepted the sincere apology and let Momoa know he was totally forgiven.

@sabrylu89/Instagram

@vittoriamartinetto/Instagram

@lamiky23/Instagram

@rasharasha8066/Instagram

@pellegs4/Instagram

@_serebruno/Instagram
Momoa—who is Indigenous Hawaiian—has proven his commitment to preserving the environment and sacred places several times.

He offered his support to Standing Rock Reservation when they opposed the Dakota Access Pipeline going through their tribal lands. In 2019, he delayed the production of Aquaman 2 to protest a construction project on sacred Hawaiian mountain Mauna Kea. He also called out some fisherman for cutting off a shark's tail.