On Sunday, former Olympian and Virginia Tech swimmer Reka Gyorgy from Hungary slammed the National Collegiate Athletic Association (NCAA) in an open letter for a policy allowing transgender women to compete in women's athletics.
Gyorgy claimed the NCAA's decision to allow transgender swimmer Lia Thomas to compete resulted in Gyorgy finishing 17th in the 500-yard freestyle on Thursday.
She was one spot short of advancing to the finals.

Thomas–who ended her collegiate swimming career this weekend after finishing in eighth place for the women's 100-yard freestyle on Saturday–has long been the target of scrutiny from conservatives and right-wing media stemming from their debate over the inclusion of trans women in sports.
Conservatives ignore the existence of trans men in almost all of their attacks and rhetoric.
On Friday, Thomas became the first trans athlete to win an NCAA championship when she took first place in the women's 500-yard freestyle.
Mary Margaret Olohan of the Daily Wire obtained Gyorgy's letter to the NCAA complaining about Thomas' inclusion in the race.

In her letter, Gyorgy said she needed to address something "that is a problem in our sport right now and hurting athletes, especially female swimmers."
"I swam the 500 free at NCAA's on March 17, 2022, where I got 17th, which means I didn't make it back to the finals and was first alternate," wrote Gyorgy.
"I'm a 5th year senior, I have been top 16 and top 8 before and I know how much of a privilege it is to make finals at a meet this big."

Below are the screenshots of her letter.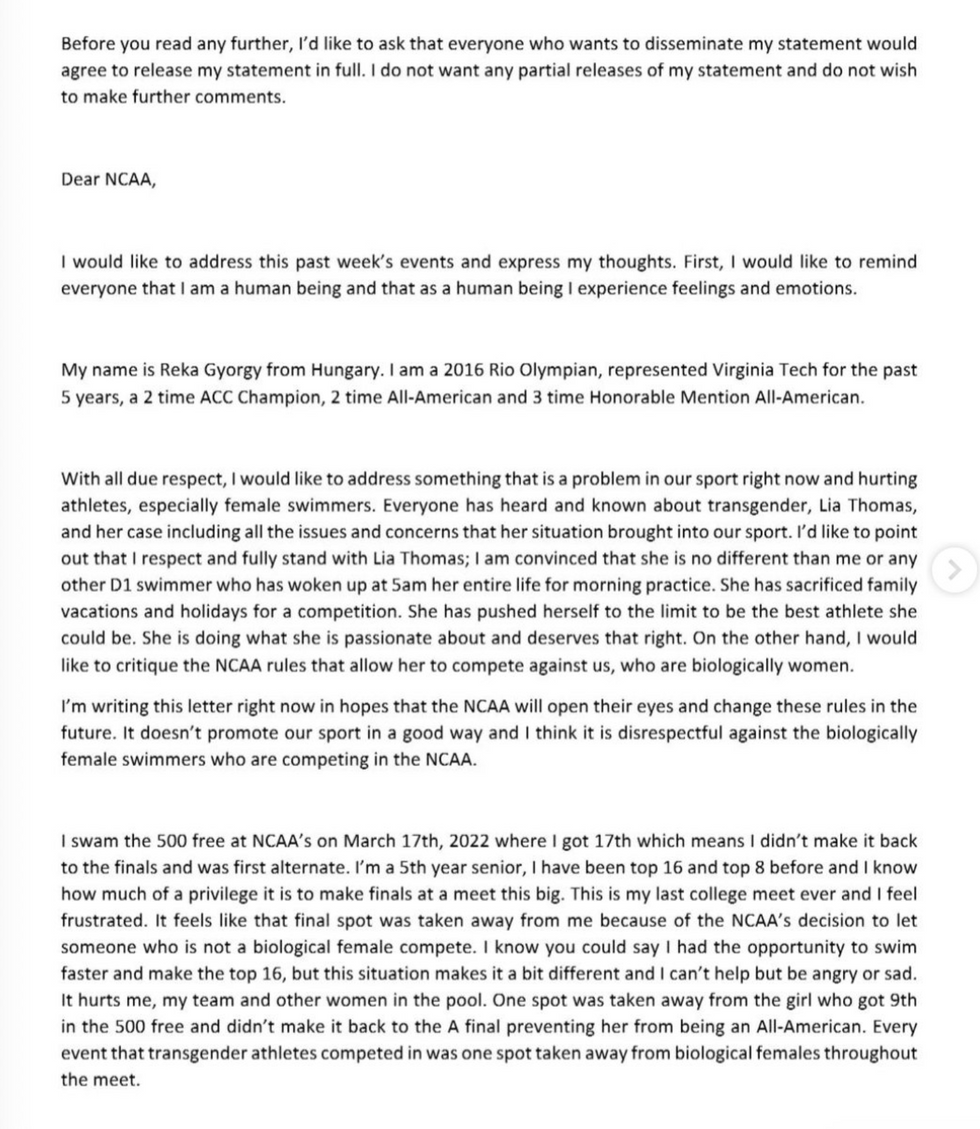 @MaryMargOlohan/Twitter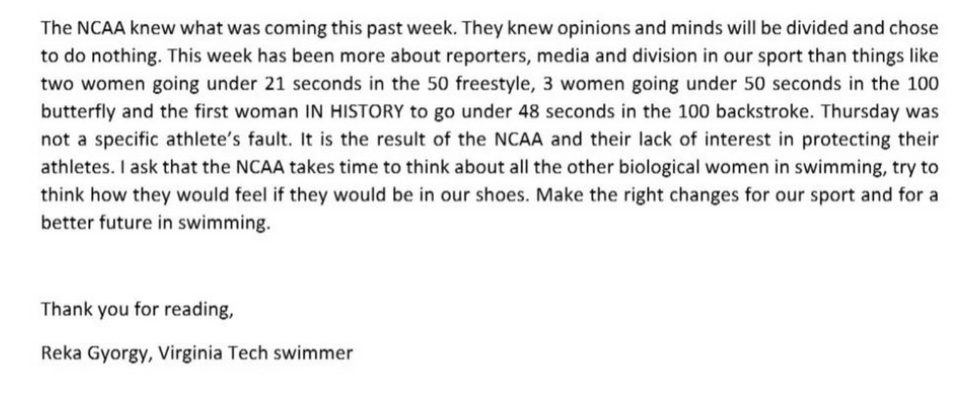 @MaryMargOlohan/Twitter
Gyorgy continued:

"I know you could say I had the opportunity to swim faster and make the top 16, but this situation makes it a bit different and I can't help but be angry or sad. It hurts me, my team and other women in the pool."
"I ask that the @NCAA takes time to think about all the other biological women in swimming, try to think how they would feel if they would be in our shoes. Make the right changes for our sport and for a better future in swimming."
Although the Virginia Tech swimmer placed behind 16 other swimmers, she blamed only Thomas for her missing out on the final.

Many people on social media had little sympathy for Gyorgy.
Despite the complaint, there was plenty of support for Thomas.
Thomas being allowed to participate in women's sports has proven a trans woman would not dominate.
Thomas' NCAA participation earlier drew criticism from former Olympic swimmer Michael Phelps. Phelps claimed sports should be an "even playing field" to be fair.
But while Phelps had numerous physical advantages over his competitors that allowed him to dominate swimming at national and international levels for over a decade, Thomas' supposed advantage only yielded one collegiate win.

Phelps was met with criticism for his faulty logic and hypocrisy.