Actor Hugh Jackman had a recent health scare. He's using that experience to help educate people on the importance of using sunscreen and getting regular skin cancer screenings.
Jackman had to have two spots on his nose biopsied to determine if the spots were basal cell carcinoma, a form of skin cancer that affects the basal cells—the cells that help create new skin cells to replace the ones we naturally shed.
A biopsy is a procedure where a doctor removes a section of tissue from the body and examines it to determine if it is cancerous or otherwise unhealthy. Biopsies are often performed on irregular spots like moles, skin tags, lumps in breast tissue and any other seemingly abnormal tissue in the body.
Jackman said it will be a day or two before he will get the results of the biopsy and know whether the spots were cancerous or not. He reassured fans Basal Cell Carcinoma is not a super concerning form of skin cancer.
He went on to emphasize summer is on the way and it is incredibly important to use sunscreen.
"Summer is coming for those of us in the Northern Hemisphere, please wear sunscreen. It is just not worth it. No matter how much you want a tan, trust me, trust me, trust me. This is all stuff that happened 25 years ago and it's coming out now."
"Put some sunscreen on. You'll still have an incredible time out there. Alright, please be safe."
You can view Jackman's video below:
The reactions on Instagram were incredibly positive.
Many wished Jackman well and thanked him for speaking up about the importance of preventative care and sunscreen.

cbd1983/Instagram

skincancerorg/Instagram

cmmfoy/Instagram
A lot of people shared their own stories of skin cancer diagnoses or scares.
They joined Jackman in encouraging others to use sunscreen and visit their doctor if they have any suspicious spots.

cheezebiscuit/Instagram

jewelledmermaid/Instagram

happy.sparrow3/Instagram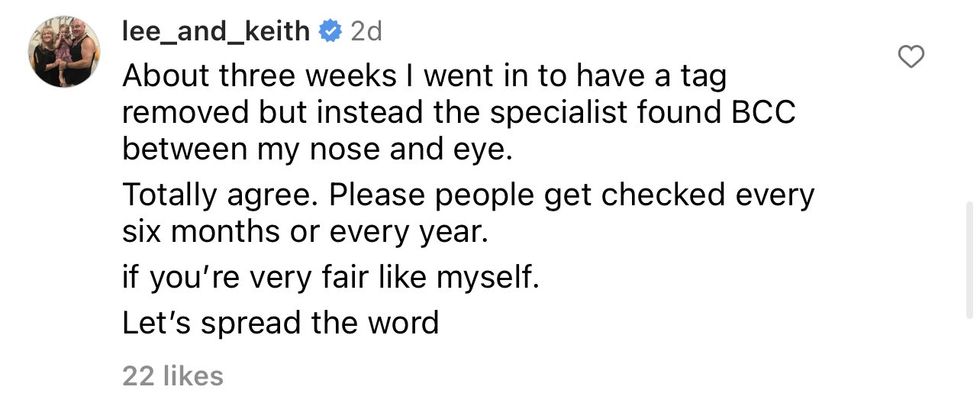 lee_and_keith/Instagram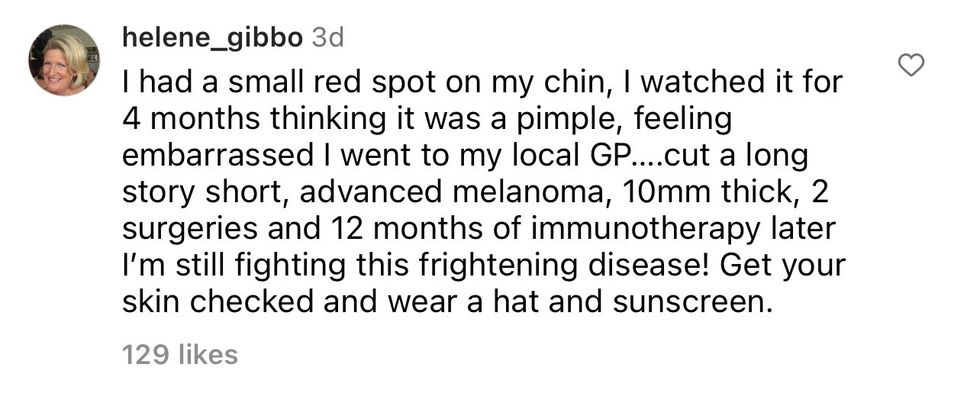 helene_gibbo/Instagram
The American Cancer Society recommends a broad-spectrum sunscreen with a sun protection factor (SPF) of at least 30. Covering up as much as possible when in direct sunlight helps as clothing can also block UV rays that can cause skin damage.
They also strongly recommend avoiding tanning beds and UV lamps as they can also cause long-term damage to the skin.