Elon Musk's ex-girlfriend, Canadian singer/songwriter Grimes, wished to change the name of their second child to a symbol, but apparently the government "won't recognize" it, according to a recent tweet.
The Twitter CEO and and the futuristic dance-pop musician share two children together and have been known to use unconventional baby names.
Their first son was born in May 2020 and named "X Æ A-12," but it violated the naming law in his birth state of California for not containing recognizable characters from the modern English alphabet.
They eventually settled for naming their baby X AE A-XII Musk with "X" as his first name. He is believed to be the seventh of Musk's 10 children.
The former couple had a second child together, a daughter, born via surrogacy in December 2021.
It was a closely guarded secret until Grimes accidentally let it slip during a Vanity Fair interview at her Austin, Texas home in March 2022.
The baby girl's name is Exa Dark Sideræl Musk, or "Y" for short.
Grimes, however, considered another option for their daughter's name: the question mark symbol.
But according to her, the government deemed it inappropriate.
On Thursday, the singer posted a rare photo of "Y" and her in matching outfits and hair color.
She followed up with another tweet, explaining:
"She's Y now, or 'Why?' or just '?' (But the government won't recognize that). curiosity, the eternal question, .. and such."
People had some thoughts.
The government may not recognize it but Twitter users approved.

Vanity Fair explained that Y's first name, Exa, referred to the supercomputing word exaFLOPS, which is a performance measurement for a supercomputer that can "calculate at least one quintillion floating point operations per second," according to Nvidia.
Dark referred to dark matter, and Sideræl was a "a more elven" spelling of the word sidereal but pronounced "sigh-deer-ee-el"–which Grimes described as:
"the true time of the universe, star time, deep space time, not our relative earth time."
Sideræl is also an homage to her favorite
Lord of the Rings
character, Galadriel, the royal Elf of both the Noldor and the Teleri who "chooses to abdicate the ring."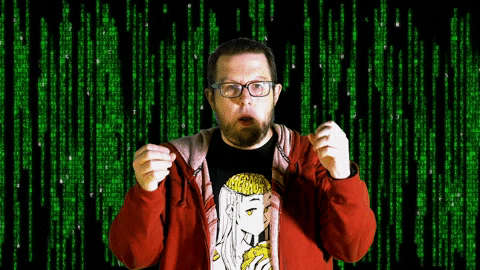 Rocco Botte Omg GIF by Mega 64Giphy
Musk and Grimes sometimes call Y Sailor Mars in a nod to the Japanese manga series, Sailor Moon.
Exa Dark Sideræl Musk turned out to be a compromise, but even then, Grimes was not content in settling for it.
She told Vanity Fair she was fighting for:
"Odysseus Musk. A girl named Odysseus is my dream."
Musk and Grimes' separation was amicable.
In March 2022, the artist said of their relationship:

"I would probably refer to him as my boyfriend, but we're very fluid."
Later that month, Grimes tweeted that she and Musk separated but maintained:
"he's my best friend and the love of my life."
The photo of Y was a rare sight given the former couple's intention of keeping her out of the public eye for safety reasons.
And when it comes to raising their kids, Grimes explained:

"The best situation here is me training the girl and [Musk] training the boy."