Infamously cantankerous chef Gordon Ramsay has become well known for his often cutting jokes on TikTok, where he's made a name for himself among a whole new generation by leaving hilarious and often caustic reviews of people's food videos.
But a recent joke he made on the app hasn't gone over very well. Ramsay posted a video in which he joked about slaughtering one of the lambs on his farm for a dish, and it's left a bad taste in many fans mouths.
The video has gone viral, racking up more than one million likes on the platform, but not everyone is laughing.
See the video below.
In the video, Ramsay is seen sneaking up to a pen full of lambs, taunting them by saying "I'm going to eat you" in a sing-songy voice.
He then swings his leg over the railing of the pen while rubbing his hands together like a cartoon villain and saying, "yummy, yum, yum, yum" as the startled sheep move to a different corner.
He then asked the lambs:
"Which one is going in the oven first?"
Ramsay captioned the video with a reference to a popular catchphrase on his former reality show Hell's Kitchen.
"the lamb sauce was still not found in the making of this video..."
All in all, pretty tame stuff--eating meat does of course involve, um, dispatching with an animal. People have been watching Ramsay and other TV chefs cook meat for decades, but balk at the reality of where that meat comes from.
And as Ramsay's sense of humor goes?
Well, we're talking after all about the man who created this meme: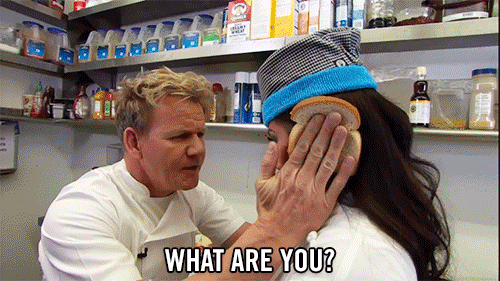 Giphy
Teasing some lambs is downright wholesome by comparison.
But some who saw the video didn't find it funny in the lease, noting in particular the fact that the lambs do seem legitimately afraid of Ramsay as he enters their enclosure.
And soon a debate arose in the comments of the video, with some loving Ramsay's very off-beat brand of gallows humor.

@_samshimi/TikTok

@dunkin.ducks/TikTok

@iceman_aydes/TikTok

@xp_096/TikTok
But others felt he'd gone too far.

@epicdarley/TikTok

@massimof9/TikTok

@anish_w/TikTok
While some could only think of one thing—Ramsay's ongoing TikTok rivalry with creator That Vegan Teacher who has called for Ramsay to go vegan many times on the app.

@carltaste/TikTok

@lakupala66/TikTok

@xisla.a_/TikTok
But given his TikTok brand is about as hilariously cutting as his television persona, it seems like the vegan influencer probably better not hold their breath!
They are probably gonna be disappointed.