A "Florida Man" is in a headline again but this time it's for something absolutely incredible.
It involved one of these: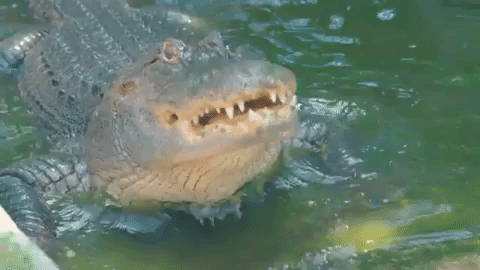 Giphy
Eugene Bozzi, a former combat veteran and Philadelphia native, was seen capturing an alligator in a trash bin and releasing it back into the swampy waters where it belongs.
Bozzi was helping out a neighbor who found the large, 6-foot gator in their front yard. He decided to grab his garbage bin with wheels to capture the alligator and it worked like a charm.
Even though it turned out well, don't try this at home, folks!
Bozzi told WESH:

"Somebody's gotta step up and do something, we all got to look out for each other right?"
A group of other neighbors caught the moment on camera.
The woman who lived there didn't even know it was happening until she heard the commotion.
The home owner, Denise Sparks, said:
"I would have been gator food, I would have fainted."
"I said, 'What in the world is going on?' I heard 'boom boom boom'."
Bozzi backed the alligator up to the house until it finally got its head into the bin. He pushed the lid so it swung and hit the gator, which made it go inside the bin fully.
Then he lifted the can upright and closed the lid, only keeping it shut with his hand.
Bozzi explained:
"I was frightened when I had it in it, because it was so powerful."
"And I didn't expect that, it was pushing out, whipping its tail around."
The video was posted to the NewF*ckingLevel subReddit and has reached nearly 150,000 up-votes.
One commenter made a point about his shoes:
"...with Adidas slides on his feet."
Another commenter wondered:
"I forget, does alligator day come before or after trash day?"
The video also made its way over to Twitter.
Bozzi didn't really know what he was doing, as the internet continued to point out:
"I don't know the procedures, so I did it my own way."
He was stunned by the messages he got on Instagram when the video went viral.
He said:
"I got so many inboxes, DMs, women saying things, men saying things, people that I do know, friends."

The Florida Fish and Wildlife Conservation Commission says they receive 16,000 calls on average for gators in and around peoples homes each year.