Actor Florence Pugh made a splash at the recent Rome fashion show for Valentino when she wore gown designed by the iconic house that was entirely see-through, including across her chest.
And naturally, men online had a lot to say about it, excoriating Pugh for exposing her breasts and making a wave of vulgar comments about her appearance.
So Pugh took to Instagram to give the perfect response, seen blow, and people are applauding her for bluntly putting her trolls in place with a question some of our social media platforms could stand to think about too: "Why are you so scared of breasts?"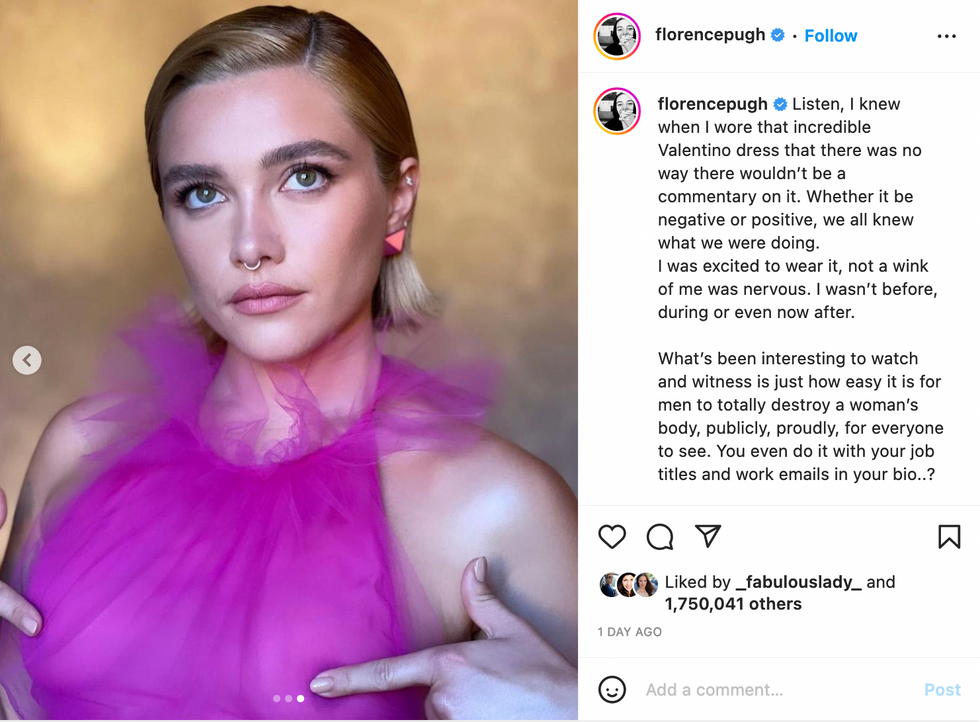 @florencepugh/Instagram
In her caption, Pugh said that she expected the gown, made of hot pink see-through tulle, to inspire no shortage of commentary, but that she was shocked by "just how vulgar" many men's reactions have been.
Pugh was hit with scores of comments from men criticizing her breasts and mocking her body. She took aim at these men directly, writing:

"What's been interesting to watch and witness is just how easy it is for men to totally destroy a woman's body, publicly, proudly, for everyone to see. You even do it with your job titles and work emails in your bio..?"
Pugh went on to confirm for these critics that she loves her body.
"...[W]hat's worrying is just how vulgar some of you men can be."

"Thankfully, I've come to terms with the intricacies of my body that make me, me. I'm happy with all of the 'flaws' that I couldn't bear to look at when I was 14."
And she pointedly challenged the men trolling her to look themselves in the mirror.

"So many of you wanted to aggressively let me know how disappointed you were by my 'tiny tits', or how I should be embarrassed by being so 'flat chested'..."

"...What's more concerning is…. Why are you so scared of breasts? Small? Large? Left? Right? Only one? Maybe none?

What. Is. So. Terrifying."
"It makes me wonder what happened to you..."
Pugh finished her clapback with a directive for any men reading who might have a problem with her gown.

"Grow up. Respect people. Respect bodies. Respect all women. Respect humans."
"Life will get a whole lot easier, I promise."
"And all because of two cute little nipples…."

On Twitter, people applauded Pugh for her perfect drag of her critics.

Pugh ended her post with her own take on the popular #freethenipple hashtag, likely a message sent to the powers that be at Instagram, which has a history of arbitrary and draconian punishment of creators who post revealing photos and videos.