When Scottish singer/songwriter Lewis Capaldi struggled to sing mid-performance at Glastonbury Festival 2023 due to his Tourette's syndrome tics, his fans stepped in to sing along.
Last year, Capaldi revealed he had Tourette's syndrome–a neurological condition that causes unwanted sounds and involuntary spasms.
But instead of giving into despair, the good-humored 26-year-old said he was relieved to hear his diagnosis was not "some horrible degenerative disease" instead.
He told Sky News:
"I have Tourette's. I've always had it, apparently. I do a shoulder twitch quite a lot. It's a new thing."
"The worst thing about it is when I'm excited, I get it."
"When I'm stressed, I get it. Some days it's more painful than others. It's not a big a deal. It looks a lot worse than it is."
At Glastonbury Festival, which ran from Wednesday through Sunday in England, the 2020 Brit Award for Best New Artist recipient started experiencing the tics when he started the set.
They started to intensify when he sang his 2019 UK Singles Chart topper, "Someone You Loved."
The keyboardist continued playing as Capaldi took a moment to fight off the uncontrollable spasms in the middle of the song,
After a long period of silence from the vocalist, the audience cheered and started singing the song until he was able to resume and join them.
You can witness the uplifting moment in the clip below.
Social media users were moved by the evident connection Capaldi has with his fans.
BBC journalist Shilpa Kannan was especially moved after viewing the clip as it was personal to her.

The Glasgow-born singer said on Instagram Live that his condition was "not a big a deal" but that some days are "more painful than others and is given botox injections to help stop the tics.
When his set at the high-profile event finished, he told the audience.

"Glastonbury, I'm really sorry. I'm a bit annoyed with myself."
"I feel like I'll be taking another wee break over the next couple of weeks. So you probably won't see much of me for the rest of the year, maybe even."
"But when I do come back and when I do see you, I hope you're still up for watching us."
He added that performing at Glastonbury was a dream and said before walking off the stage:
"If I never get to do it again, this has been enough."
Following the performance at the festival, Capaldi informed fans he was "taking a break from touring for the foreseeable future."

He wrote on Instagram:

"I used to be able to enjoy every second of shows like this and I'd hoped 3 weeks away would sort me out."
"But the truth is I'm still learning to adjust to the impact of my Tourette's and on Saturday it became obvious that I need to spend much more time getting my mental and physical health in order, so I can keep doing everything I love for a long time."
He continued:
"I know I'm incredibly fortunate to be able to take some time out when others can't and I'd like to thank my amazing family, friends, team, medical professionals and all of you who've been so supportive every step of the way through the good times and even more so during this past year when I've needed it more than ever."

He added:
"I'm so incredibly sorry to everyone who had planned to come to a show before the end of the year but I need to feel well to perform at the standard you all deserve."
"Playing for you every night is all I've ever dreamed of so this has been the most difficult decision of my life."
"I'll be back as soon as I possibly can."

An outpouring of love and support filled the post's comments section.
@lewiscapaldi/Instagram

@lewiscapaldi/Instagram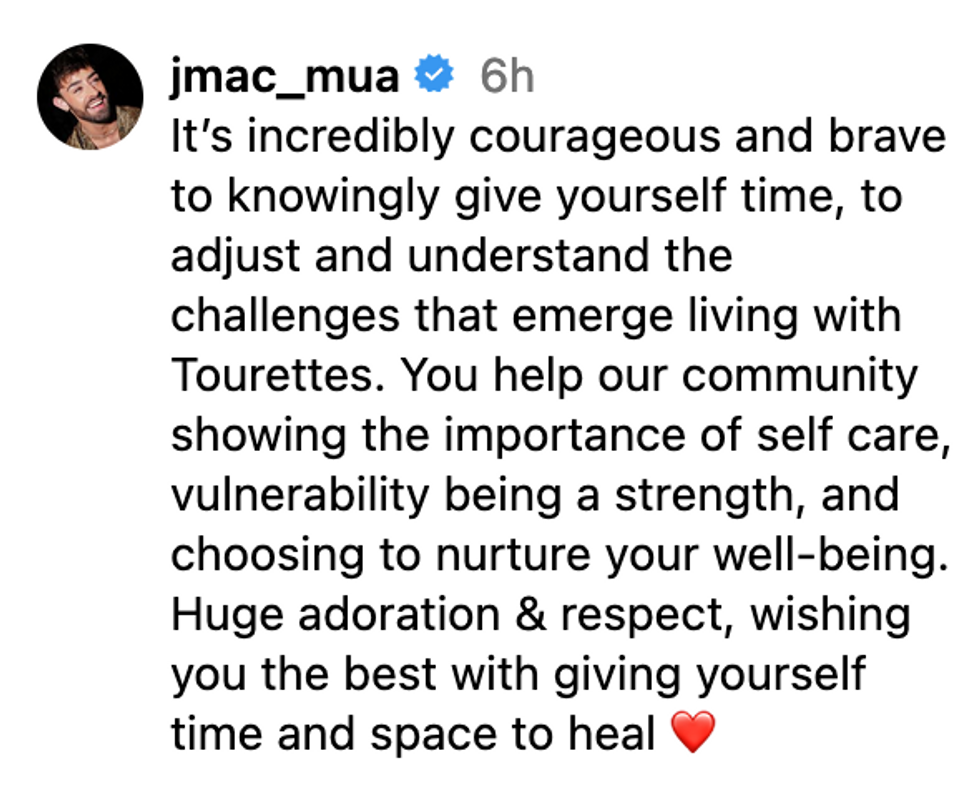 @lewiscapaldi/Instagram
@lewiscapaldi/Instagram

@lewiscapaldi/Instagram
@lewiscapaldi/Instagram
Previously, the singer opened up about his recent performing struggles with The Times.
He said:

"My tic is getting quite bad on stage now. I'm trying to get on top of that."
"If I can't, I'm f*cked. It's easier when I play guitar, but I hate playing guitar. I know, I'm a walking contradiction."
"It's only making music that does this to me."
"Otherwise, I can be fine for months at a time. So it's a weird situation."
Capaldi added:

"Right now, the trade-off is worth it."