Eric Clapton released a song called "This Has Gotta Stop." It seems to be promoting anti-vaccine protests.
The bluesy song was released with a music video with images of people holding signs saying "Liberty" and "Stop."
76-year-old Clapton was vocal about his alleged experience with the AstraZeneca vaccine back in February of 2021.
Robin Monotti shared a letter on the Telegram app from Clapton about his alleged experience:
"I took the first jab of AZ and straight away had severe reactions which lasted ten days. I recovered eventually and was told it would be twelve weeks before the second one…"
"About six weeks later I was offered and took the second AZ shot, but with a little more knowledge of the dangers."
"Needless to say the reactions were disastrous, my hands and feet were either frozen, numb or burning, and pretty much useless for two weeks, I feared I would never play again, (I suffer with peripheral neuropathy and should never have gone near the needle.)"
"But the propaganda said the vaccine was safe for everyone…"
This was after he had appeared on Van Morrison's anti-lockdown song "Stand and Deliver."
Then in July, Clapton announced via the same Telegram messaging app he would be canceling any concerts where the venue complied with the proof of vaccination requirements set out by UK Prime Minister Boris Johnson.
In this new song, Clapton's lyrics replay his alleged experience with the vaccine.
"I knew that something was going on wrong/When you started laying down the law/I can't move my hands, I break out in sweat/I wanna cry, I can't take it anymore."
The chorus also says:
"This has gotta stop/Enough is enough/I can't take this BS any longer."
""It's gone far enough/They wanna claim my soul/You're gonna have to come break down this door."
The imagery showed people being hypnotized or brainwashed by presumably politicians in suits yelling into megaphones, as well as televisions and phones.
It also included an image of the British anti-lockdown street performance group Jam for Freedom, who Clapton showed support for in the past.
Queen band member Brian May—a University administrator and astrophysicist—spoke out against Clapton's opinions on vaccination:
"Anti-vax people, I'm sorry, I think they're fruitcakes. There's plenty of evidence to show that vaccination helps."
"On the whole they've been very safe"
"There's always going to be some side effect in any drug you take, but to go around saying vaccines are a plot to kill you, I'm sorry, that goes in the fruitcake jar for me."
Many others have spoken up about Clapton's new song as well.
Clapton's' comments about his fans being "discriminated" against for being asked to show proof of vaccination to see him perform is ironic given his 1976 racist rant that resurfaced in December of 2020 on the heels of his first anti-pandemic protocol screed.
Actress Jameela Jamil shared a partial transcript of Clapton's racist comments.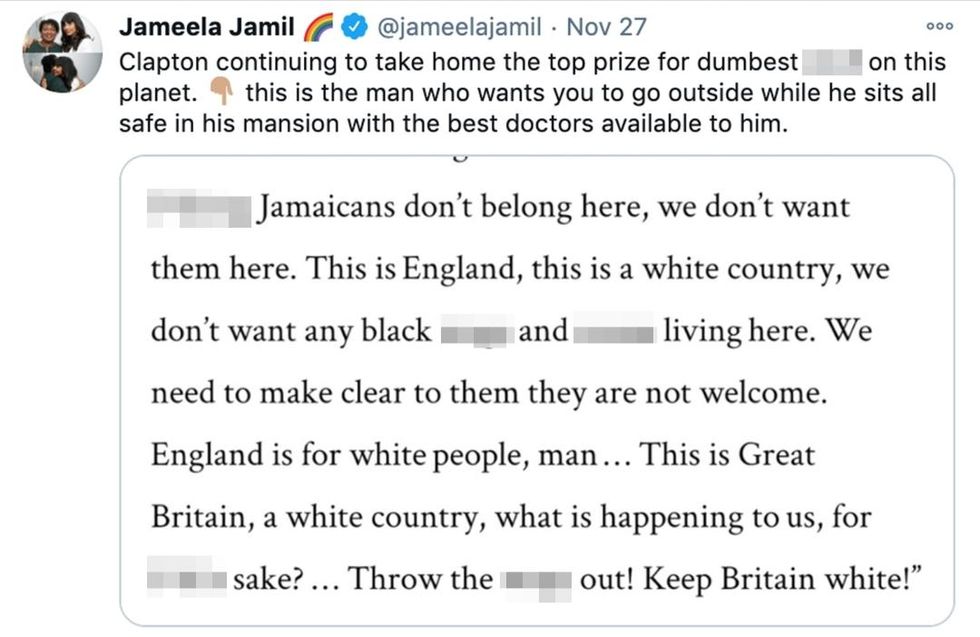 @jameelajamil/Twitter
Clapton is scheduled to perform in some of the states with the highest number of COVID cases and lowest vaccination rates in the U.S. including Florida, Texas, Georgia and Louisiana.