Renowned actor Elliot Page revealed on Wednesday that he is currently experiencing an overwhelming sense of joy and contentment following his transition.
To underscore this newfound happiness as a transgender man, Page confidently shared a shirtless photo, soaking up the sun and radiating self-assurance.
In the past, the Oscar-nominated star of Juno confessed to feeling discomfort in his own skin during warm weather, often resorting to oversized T-shirts as a means of concealing his true self. However, those days are now behind him.
Page took to Instagram to express his elation, stating:
"Dysphoria used to be especially rife in the summer. No layers, just a T-shirt - or layers and oh so sweaty - constantly looking down, readjusting my oversized T."
"It feels so f'ing good soaking in the sun now, I never thought I could experience this, the joy I feel in my body. I am so grateful for what gender affirming care has allowed me and I look forward to sharing more of my journey soon."
Page tagged the post with the hashtag "#transjoy," indicating the immeasurable happiness that embracing one's authentic self can bring.
You can see his post below.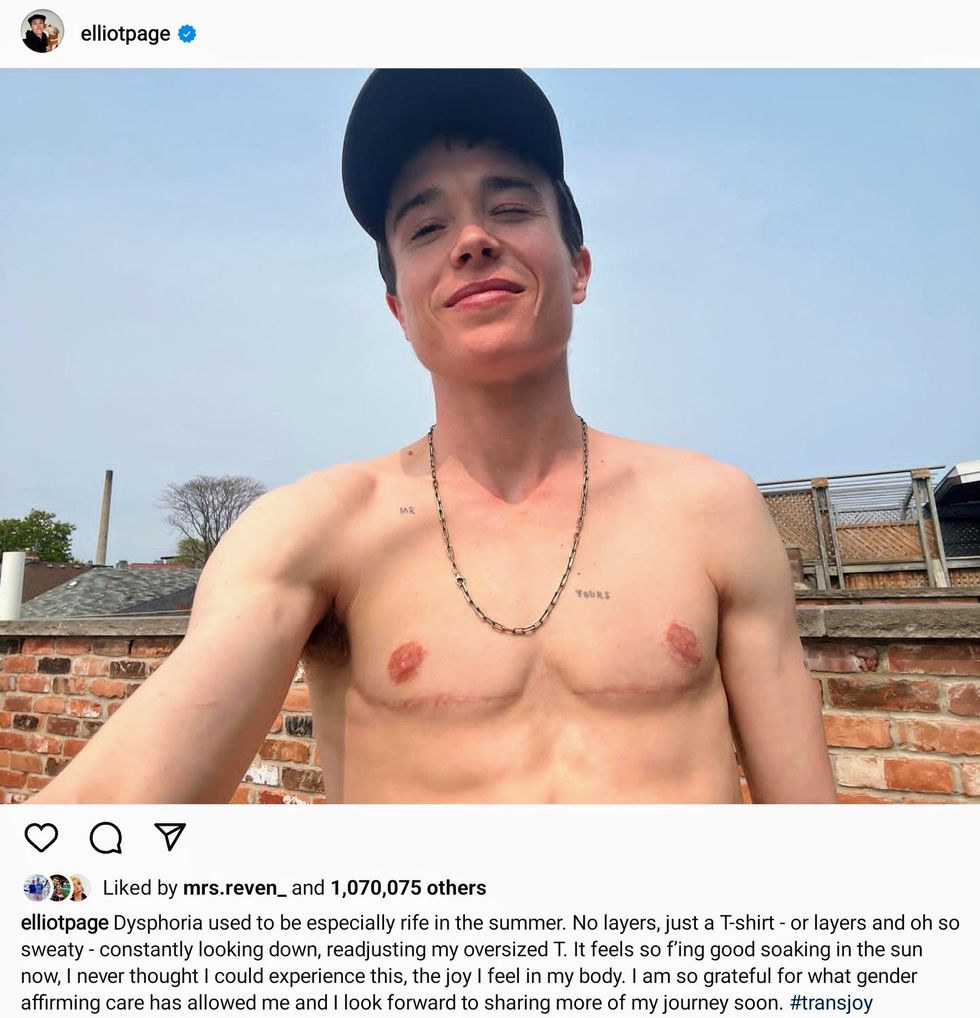 @elliotpage/Instagram
Many have celebrated the actor's newfound confidence.
As Page's highly anticipated memoir, Pageboy: A Memoir, is slated for release on June 6, the actor continues to navigate the challenging landscape of a world where transphobia persists. In fact, Track Trans Legislation reports that at least 45 states have introduced anti-trans bills in 2023, highlighting the urgent need for societal progress and acceptance.
In 2021, Page proudly revealed the results of his top surgery through another shirtless photograph, a moment that marked a significant milestone in his personal journey toward self-discovery and acceptance.
Reflecting on the profound sense of comfort he now feels in his own body, Page eloquently described the experience to Oprah Winfrey.
He spoke of the transformative power of self-acceptance, recounting moments such as standing before a mirror after a shower, with a towel wrapped around his waist, and recognizing himself completely.
In those instances, he surmised, panic and uncertainty were replaced by a profound sense of belonging.
"It's being able to touch my chest and feel comfortable in my body for the — probably the first time."
You can watch snippets of their conversation below.
Elliot Page Tears Up Discussing the JOY of His Transition With Oprah Winfreywww.youtube.com