Grey's Anatomy star Ellen Pompeo is clapping back and clapping back hard at Netflix after they used an image of her in a meme amid the SAG-AFTRA strike.
Netflix posted a handful of memes on TikTok to announce and celebrate the arrival of Grey's Anatomy on the streaming platform.
As seen below, the memes featured various freeze-frames of Pompeo as her Grey's character Meredith Grey looking disgruntled or sad along with taglines related to iconic Grey's story lines like "Me when there's a [bomb] in the chest cavity."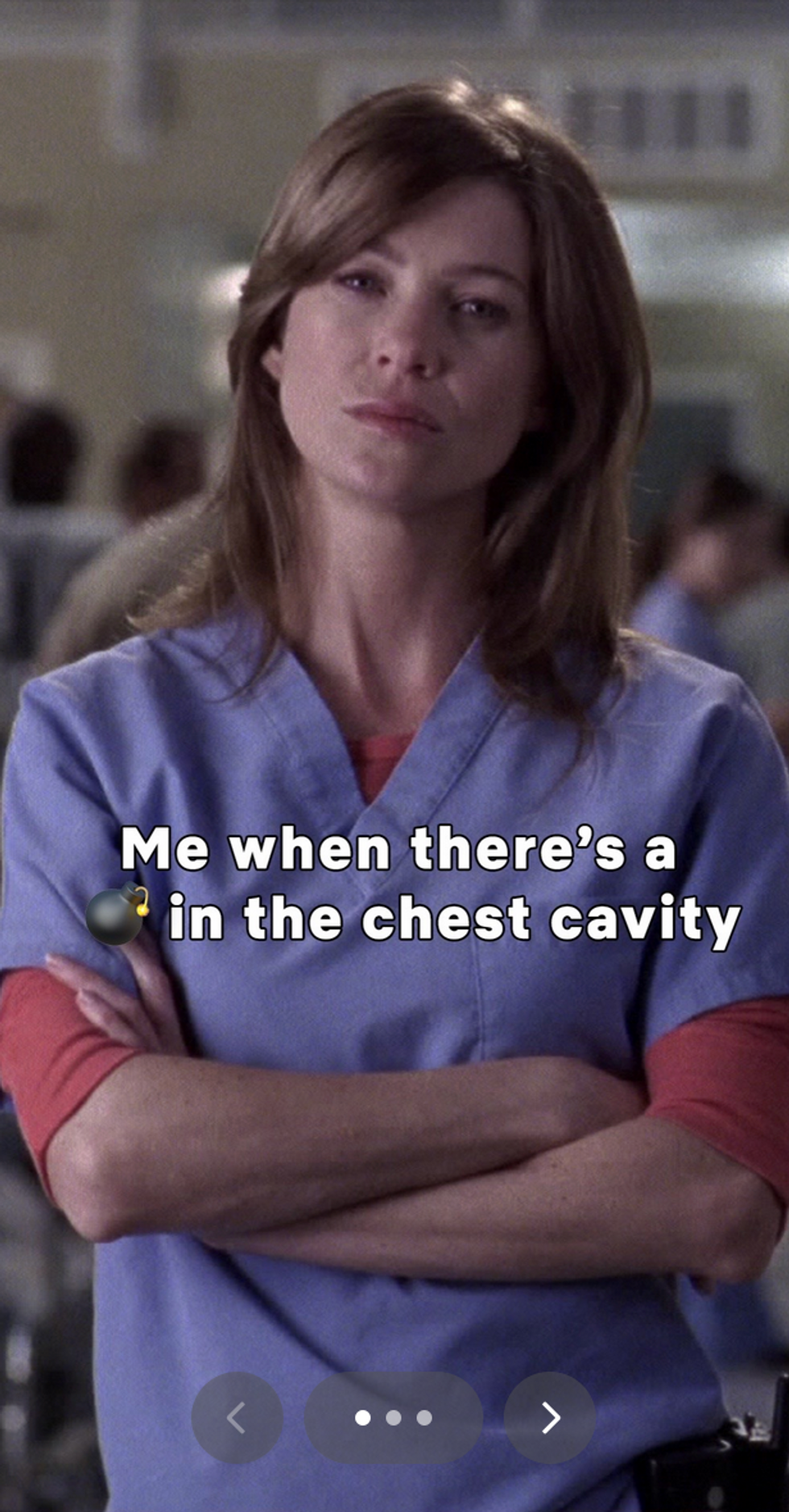 @Netflix/TikTok
The post contained three different memes all with a similar structure, and quickly went viral on the platform... though probably not for the reasons Netflix intended.
Because amid the SAG-AFTRA strike, which focuses almost entirely on the way streaming platforms like Netflix nickel and dime actors out of fair pay, Pompeo was having none of her likeness being used to promote the brand.
So she posted her own version of the meme to her Instagram Story taking Netflix to task for its role in necessitating the SAG-AFTRA strike.
It went far more viral than Netflix's post.
Over the top of Netflix's meme, Pompeo added text that read:
"Also me when @Netflix doesn't pay actors residuals holla let's talk."

Pompeo also wrote the same text in the comments of Netflix's TikTok post, where it has garnered more than 1,500 likes.
Pompeo's text was in reference to streaming platforms like Netflix refusing to fairly pay actors residuals, the fractional payments union actors receive each time a film, TV episode or commercial airs, and a key issue at stake in both the SAG-AFTRA and Writers Guild of America strikes.
Residuals payments used to sometimes provide lifelong income streams for actors and writers in major projects. But streamers have all but obliterated the system, tying residuals payments to viewing numbers they don't disclose, unlike television ratings which are publicly reported.
This has resulted in even big-name actors receiving residuals checks that are sometimes literally only pennies, with no recourse to fight the obvious withholding of rightful pay because the streaming numbers are kept secret.
Of course, actors like Pompeo who are multi-millionaires don't have to worry too much about this, beyond the obvious unfairness.
But actors like Pompeo make up only a miniscule fraction of SAG-AFTRA's membership.
A 2019 study found that only 2% of actors actually make a living at it, and only 12.7% of SAG-AFTRA members even make the $26,470 per year required to qualify for the union's health insurance. So those residuals matter. A lot.

So Pompeo dragging Netflix on behalf of her fellow struggling actors has struck many online as a pretty bada*s move.
And fans have been quick to applaud her for it, while also turning Pompeo's response into their own rallying cry for fair pay for actors and writers.

@_.martiin._05/TikTok

@x.allie.macleod.x/TikTok
@sarahscarahhhhh/TikTok
@zarrieyamonice/TikTok
@septalc/TikTok

@thekiralambert/TikTok

@preposterouspringle/TikTok
@bibliophile_scorpio/TikTok
@braydenlb26/TikTok

_iammariahnicole_/TikTok
Netflix has yet to respond to Pompeo's invitation for a discussion.