It is now day ????????? of quarantine and self-isolation for millions of Americans across the country, as the COVID-19 pandemic rages.
Some people are more well-suited for self isolation than others; Ellen DeGeneres is not one of those people.
---
Ellen released a series of Instagram videos showing how she struggled hardcore with a 4,000 piece puzzle.
She only turned to the puzzle after watching "every single thing on Netflix" and reading the "entire internet."
"Let's see how this goes," Ellen wrote.
Reader—it did not go well.
Part II brought Ellen the trauma of a "missing piece."
"When I set out to do something, I finish it, that's who I am," she says. "But, I counted the pieces―there's only 3,999, there's not 4,000 pieces."

She sweeps the pieces back into the box and opts for a book instead.
But then, a miracle!
Ellen finds the missing piece!
And then things get hard again really fast, since Ellen goes through the puzzle struggle of having to painstakingly turn each and every piece face up.
She refers to this as the "hardest part" of the puzzle.

Though after "hours" of work turning over pieces, Ellen hit a new roadblock.
According to DeGeneres, her table wasn't big enough for the puzzle.

So, back to watching TV and working out it is!
In response, people are sharing their stay-at-home entertainment options...including several much more difficult puzzles.
The one positive thing about this pandemic?
We are all stuck inside, trying to make the best of a weird time in our history.
While you're staying inside, fun content created by celebrities like Ellen can also be a great way to pass the time.

But if you're hankering for a puzzle, just be prepared to struggle.
If you want to try your luck, you can get this Seaside 8-in-1 Multipack Puzzles - (2) 300 piece, (4) 500 piece, (1) 750 piece, (1) 1000 piece available here.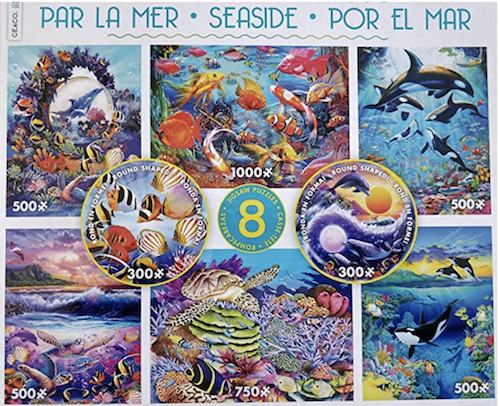 Amazon