A viral TikTok video shows multiple people pulling over on the side of a busy high way to film a young Black woman is safe during a traffic stop with the police. Many people pulled over to make sure the police knew citizens are watching.
The video starts with @sheniweird pulled over about 100-200 feet beyond the two cop cars and the young woman who was pulled over. You can see the police approaching her as she is sitting on the ground on the shoulder of the highway, back against the guardrail.
They pulled over a dark sedan near the CIBC Place building in Brentwood near St. Louis, Missouri.
@sheniweird

We have to start policing the police until things start making sense. In today's world, it's still unfair so here go! #police#news#justice#streets#usa
Sheni had text with voiceover describing the video that said:

"When I see a young African American woman screaming for help."
"And it's 3 to 4 White Police with guns drawn on her, and she's unarmed."
"You damn right I'm showing up and showing out until I find out what it's all about."
Multiple people have pulled over at this point.
People getting out of their cars to see what's going on.
Sheni began backing up to get a better look and said:
"You damn right I'm showing up and showing out."
Another person is seen stepping out of the car that was pulled over, and everyone had their cameras out.
She continued:
"We need answers every time. She deserves the same respect homegrown terrorists got."

"You're not just gone shoot her over a traffic violation. Not today."
At one point, you can see another man stepping out from the vehicle and being pushed against the car by a Missouri police officer, though it is unclear from the video what department the police are from.
Another police car showed up, totaling five police officers for one Black woman.
The video said:
"When I pulled over, everyone pulled over."
A man in a Subaru parked closer to the encounter gave a thumbs up as Sheni walked towards the scene to investigate, indicating that the woman and man pulled over were going to be safe.
The video was captioned:
"We have to start policing the police until things start making sense."
"In today's world, it's still unfair so here go!"
Users of TikTok shared their admiration for Sheni and encouraged more bystanders to intervene in this way.

@immarichhoochie/TikTok

@user7190825461855/TikTOk

@knoxvillepigeon/TikTok

@tcstlou/TikTOk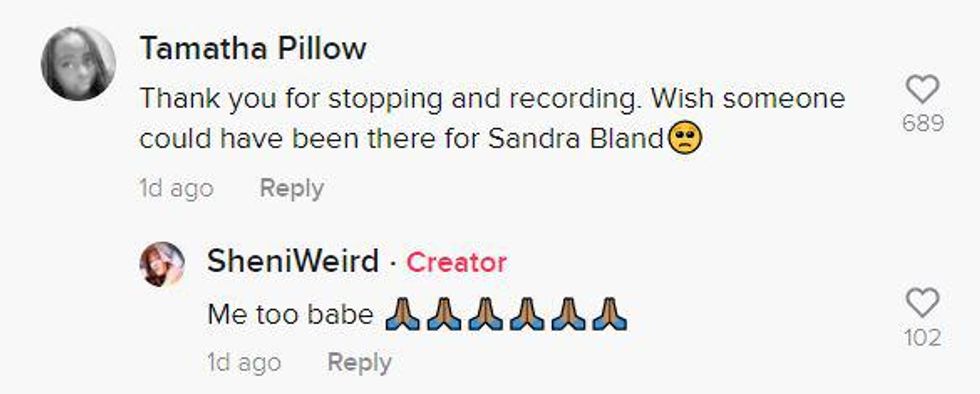 @tam_i_am415/TikTok; @sheniweird/TikTok

@theresajbuford/TikTOk

@tonijames12/TikTok

@memyselfandi1115/TikTOk

@mst1908/TikTok

@breshereee/TikTok
According to the ACLU, it is completely within your right to record police interactions, as long as it doesn't interfere with the law enforcements operations. They also give a lists of tips for interacting with the police if they try to stop you.
It seems necessary that citizens hold police accountable, since Missouri actually signed into law a decrease in police accountability as well as increased fines and penalties for protestor activity.
Darryl Gray, St. Louis activist, spoke on the penalties:
"It pushes people away from exercising their First Amendment rights."
"We find it all as an assault on democracy and assault on our freedom of speech and our right to peacefully assemble."
This Missouri bill would make vandalizing monuments a felony charge. It also limits investigations of officers and provides protection against civil claims unless the officer is criminally convicted.