Freaky Illusionist David Blaine is currently blowing people's minds on tour. But before it wraps up in June, he stopped by The Late Late Show With James Corden to shock audiences with a cringe-worthy stunt.
This one is definitely not for the squeamish. But, for those who stick around to watch the video below, viewers will undoubtedly be floored with what "the greatest magician on earth" had up his sleeve, or in this case, down his throat.

---
"I brought with me a needle and thread," Blaine told a nervous Corden. Those words already invoked unpleasant images.
The causally unemotional magician presented a small tube with several needles and instructed Corden to choose one and to "make sure it's sharp."
What happened next was pure insanity as Corden was told to pierce Blaine's cheek. That was only the beginning.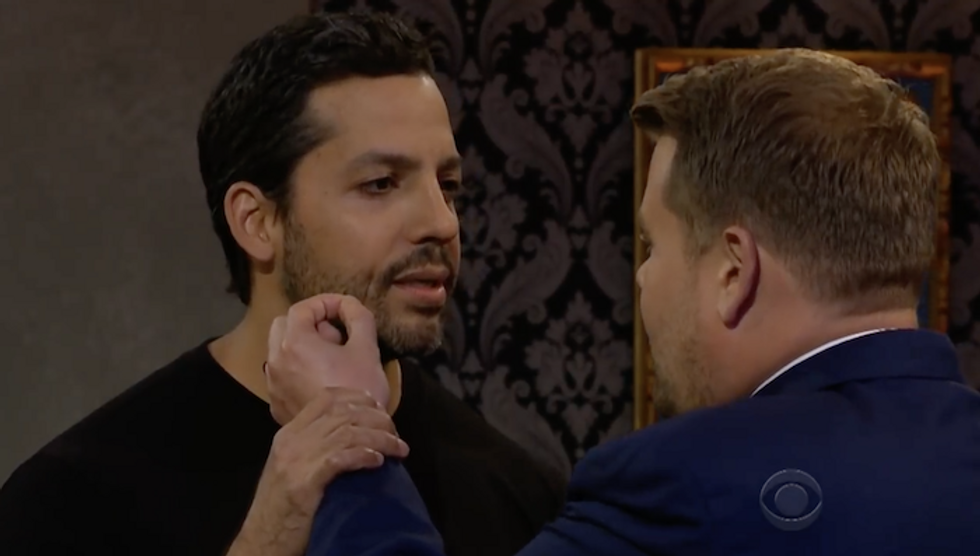 Ouch!(YouTube)
Blaine proceeded to insert the rest of the needles onto his tongue and swallowed them one by one, with some gagging along the way for dramatic effect, or out of genuine discomfort. The "don't try this at home" caveat is most definitely an unnecessary understatement of the century, here.
All the bewildered Corden could respond with was, "Shut the front door!"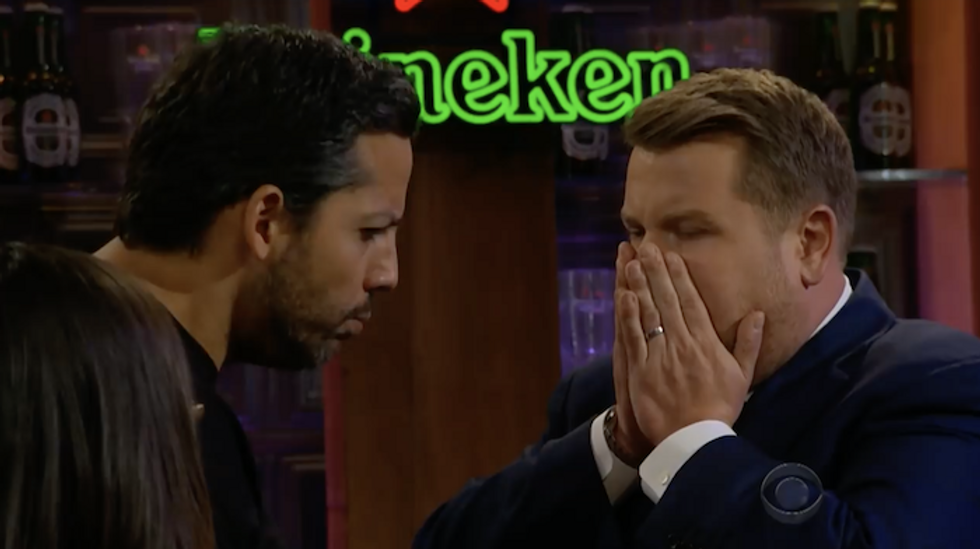 This one is tough to swallow.(YouTube)
But the worst wasn't over. Blaine added chomping on some glass to his lovely act. You could the hear the sound of crunching inside his mouth as his teeth pulverized bits of wine glass; must be an acquired taste.
But the payoff was a spectacular one when he swallowed some thread, proving that he's a serious force in the magic industry.
Make sure you watch the video at the beginning of the article to see how it all resolves. Warning: there will be blood.
Understandably, Blaine's shocking illusions aren't for everyone. But they're a testament to his convincing acts that will always leave spectators wondering "how did he do that!"

H/T - YouTube, Twitter, HuffingtonPost, TheWrap