Back in January 2021, a White off-duty police officer in DeWitt, Michigan pulled a gun on a Black teenager who was delivering newspapers. The officer was fired because of his actions.
Now, less than a year later, that police officer has been reinstated because he allegedly "learned his lesson."
At the beginning of the year, the Atlanta Black Star covered the story of officer Chad Vorce, a White officer, from the DeWitt Police Department who pointed a gun at Alexander Hamilton, a 19-year-old Black newspaper deliverer.
The encounter started when Vorce was off-duty and bringing his son to school. Vorce had heard about break-ins around the neighborhood recently and saw Hamilton's gray van as suspicious.
Vorce's rationale was:
"I thought it was him because he fits the same description, Black, hoodie… Fricken Black guy."
Vorce asked Hamilton if he needed directions.
Hamilton responded:
"I'm just doing me."
Vorce, with his own teenage son in the truck, continued to follow Hamilton out of the neighborhood.
He called dispatch:
"Black male hanging out in the area [who] needs to be checked."
At one point, Hamilton attempted to back up to the side of Vorce's truck to talk to him but Vorce continued to back up.
Vorce claimed Hamilton was trying to hit him with his van.
Hamilton explained what he was doing:
"I tried to back up and reverse around him so I could talk to him but he just kept backing up, kept backing up so I just eventually turned off and left the whole neighborhood."
Vorce jumped out of the truck after telling dispatchers:
"He's trying to ram me!"
"I'm going to go shots fired if he does it again!"
Vorce's "shots fired" statement was noted as "putting the community at risk" in the investigation leading to his termination in May.
Vorce and Hamilton eventually parked at a near-by gas station where Vorce immediately pulled out his gun on Hamilton. Witnesses said they heard Vorce threaten to shoot Hamilton.
A DeWitt City Officer and a Michigan State Police Officer arrived on the scene where the two were still in a heated argument.
Hamilton later told an investigator he didn't even know Vorce was a police officer.
Arbitrator Thomas Barnes decided to reinstate Vorce.
According the WLNS, the City of DeWitt is disappointed in the decision to reinstate Vorce.
But under the Michigan Uniform Arbitration Act, the city must comply with the arbitrator's decision to reinstate the officer.
They said in a statement:
"The public should know that the City of Dewitt did not settle this case."
"The City elected to litigate the decision to terminate Officer Vorce and exhausted all options available through the arbitration process."
Barnes' statement about his decision stated Vorce has "learned his lesson" and recognized what he did wrong.
"Based on Grievant's (officer) convincing testimony that he has learned his lesson; his genuine demonstration of remorse; the fact that he has taken corrective measures; along with the devastating effect this disciplinary action has undoubtedly had on his life, there is sufficient evidence that the Grievant has rehabilitated so that the city can operate with reasonable assurance that the conduct will not be repeated…."
"It is clear what the Grievant did in this case violated the police department's policies."
"However, there are mitigating factors that auger in favor of recognizing this as an instance of poor judgment that hasn't occurred in 18 years and it's not likely to occur again given Grievant's recognition of what he did wrong."
Vorce was initially fired for using unjustified and excessive force, using excessive tone and demeanor, failing to de-escalate a situation and he was out of his jurisdiction and thus did not have authority to investigate the situation.
Vorce testified he was "upset to his stomach and wished he had handled the situation better." He claimed he realized how things could have gone "tragically wrong."
Barnes backed up his decision to reinstate Vorce by adding:
"It's not likely to occur again given [Vorce's] recognition of what he did wrong. [Vorce] testified he was not a racist and was upset by any inference that he was."
"[He] acknowledged he had multiple opportunities to simply drive away and let the on duty officers take care of the delivery driver."
Barnes also credits the "unemotional" testimony from Hamilton as a reason for reinstating.
"[Hamilton spoke] in a manner in which he did not exhibit any disdain for the Police Department nor any anger or dislike for [Vorce]."
"It appears incredibly unusual to have a young Black individual minding his own business while delivering newspapers being pursued by [Vorce] who twice pulled his gun on [him] and not have any seething dislike or hatred for what happened."
"He may have, and not in a small way, saved [Vorce's] skin with his unemotional testimony."
Neither Hamilton nor Vorce pressed charges at the time of the incident.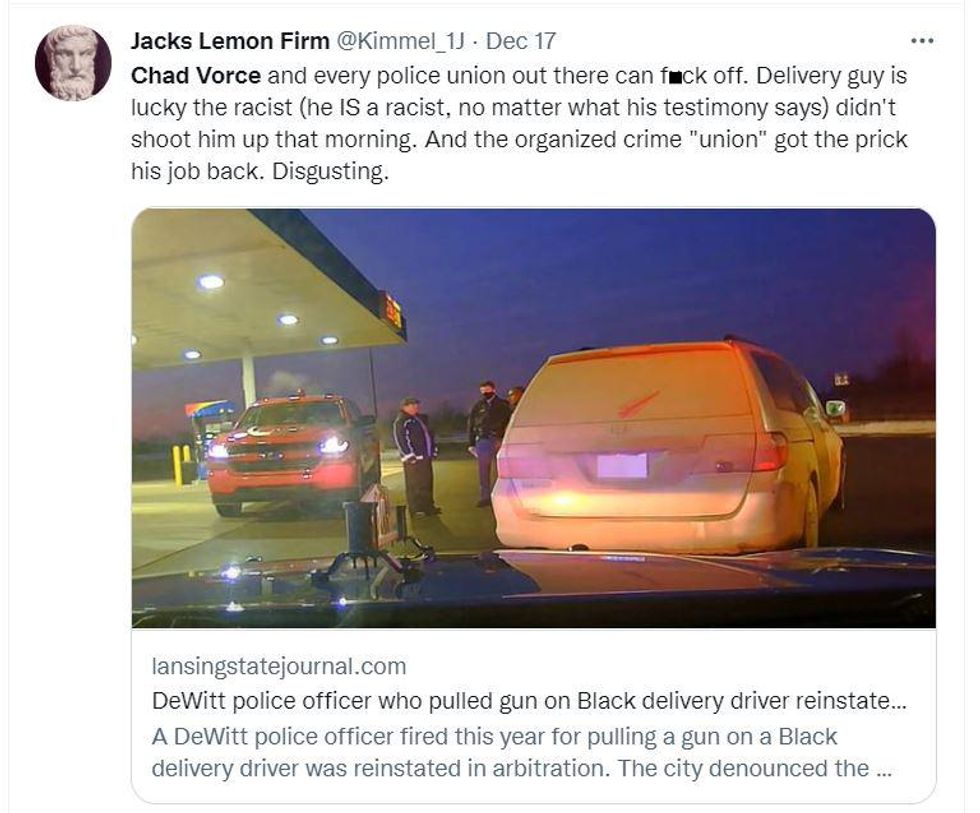 @Kimmel_1J/Twitter
Less than a month after the incident, Hamilton quit his newspaper route.
According to Lansing State Journal, Vorce's reinstatement comes with restoring his seniority on the force.
He served for 18 years prior to his firing.
He will not receive any back pay for the time he was not employed by the city.