During a recent edition of Anderson Cooper360, host Anderson Cooper was visibly moved by the story of a young wife who lost her husband due to the pandemic.
On the broadcast, Cooper was joined by Katie Coelho, who told the story of how her 32-year-old husband Jon was taken from her family by the virus.
---
You can see the segment here.
She lost her 32-year-old husband to Covid-19. Their story brings Cooper to tearsyoutu.be
Coelho told the story of how they met and how, after his passing due to cardiac arrest, she found a note to the family on his phone.
Part of it read:

"I am so lucky it makes me so proud to be your husband and the father to Braedyn and Penny. Katie you are the most beautiful caring nurturing person I've ever met."
"You are truly one of a kind...make sure you live life with happiness and that same passion that made me fall in love with you. Seeing you be the best mom to the kids is the greatest thing I've ever experienced."
You can see the message here.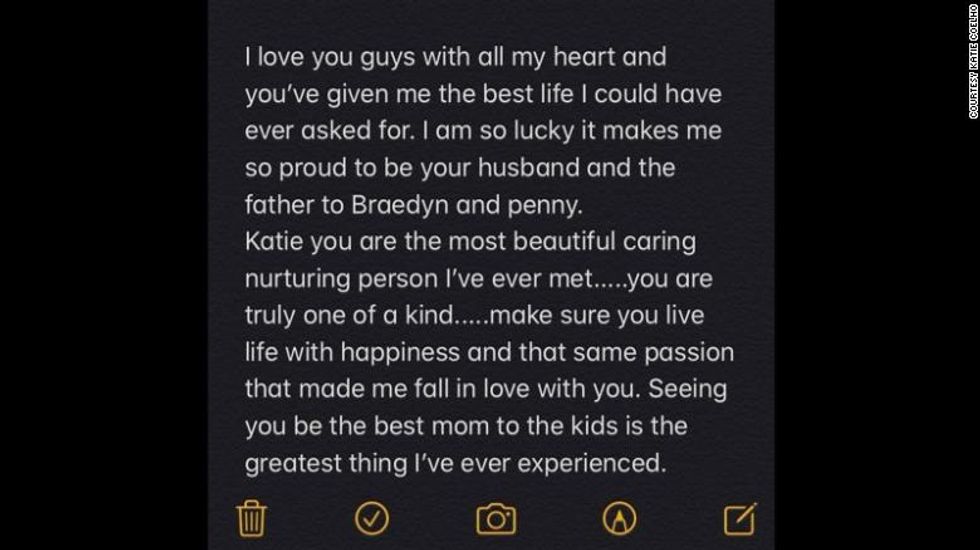 CNN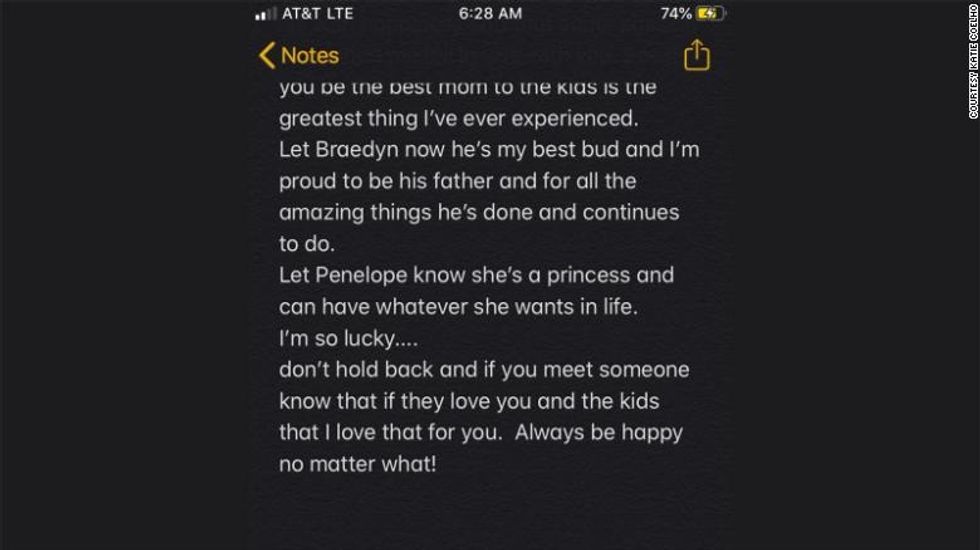 CNN
Coehlo was heartbroken that her two children would "only ever know their dad through pictures and memories and videos."
They "won't feel the love that I felt for the past 10 years."
Jon and Katie have two children, Braedon (2.5) and Penelope (10 months).
Braedon was born with cerebral palsy, as well as several other congenital issues which marked him high risk for the virus. The Coehlo family took social distancing very seriously for this reason but Jon, an essential worker, still had to go to his job.

"My husband wore gloves, masks, he washed his hands. He was so super vigilant because he was so afraid of what would happen to our son if he caught it."
Despite these precautions, Jon had himself tested when he began experiencing "fatigue, a migraine, and no sense of smell." The test revealed he had contracted the virus.
He immediately quarantined himself in a different part of the house from the rest of the family.
Jon's situation quickly worsened, despite doctors' assurances that he should be improving.
Once quarantined, he began coughing so regularly that he couldn't catch his breath between fits.
Doctors recommended he visit the hospital.

After a week of trying to treat Jon's symptoms, doctors were forced to intubate him. Katie recalls:

"I don't know why I put my phone on vibrate that night, but I did. And I slept through a 4 a.m. phone call from him that said his breathing got a little weird in the night, so they said they're gonna have to let his body rest so he could come home to me and the kids, and that he loved us."
Although his physicians were optimistic, Jon's condition continued to deteriorate.
His wife told his story.

"They tried to wake him up on day seven, and he was breathing way, way, way too hard. They thought he was having a panic attack, so they FaceTimed me, and he just said, 'I love you and I'm sorry,' and then they had to re-intubate him."
With his kidneys now failing, Jon would wake in a feverish state, trying to rip out his tubes.
"He especially became agitated after talking to us, because he'd try to talk over the ventilator, and it would cause too much stress and his breathing would get out of whack."
Finally, it seemed Jon was beginning to respond to treatments and seemed to be on the right track.

"They trialed him all day [Tuesday], and he did a really good job. He would get nervous, but the nurses were able to talk him down, and he was responsive...The doctor I'd spoken to said, 'We're going to be able to wake your husband up in two days. And they started talking to me about recovery."
Just hours later, Jon died of cardiac arrest.
"My son just got his adaptive communication device [Tuesday] night, and I sent [Jon] a video of our son saying, 'Dad, you're my best friend. They showed it to him, and out of nowhere, his heart just started freaking out."
Katie immediately rushed to the hospital after receiving a call, but Jon had passed by the time she arrived.

Cooper, who lost his own father when he was only ten years old, told Coehlo:
"[Your children] will know him through you and the love you have for him ― it will feel like they know him."
Cooper also lost his mother, Gloria Vanderbilt, only last year.
Other anchors like Don Lemon and Brooke Baldwin found themselves similarly choked up by the heartbreaking stories this virus has produced.

Daughter's heartbreaking story brings Brooke Baldwin to tearsyoutu.be
Over 55,000 have died in the U.S. alone due to the global pandemic. Public health officials are calling for continued cautiousness as some states begin to ease social distancing restrictions.
It's important to remember the horrible loss experienced by every victim's family and the importance doing everything possible to avoid spreading the virus.
The book How It Feels When a Parent Dies, available here, shares the stories from children in their own words to help other children deal with grief.