On Tuesday, at least nine people died as a result of eating contaminated food at a funeral in a small town the Andes mountains.
---
At least 12 others are seriously ill after eating the food that is thought to contain chemicals found in pesticides.
Those who fell ill were transferred from their small, 200 person village of San Jose de Ushua to a rural hospital in Ayacucho.
INDECI (National Institute of Defense) tweeted on the matter.
"En los próximos minutos, saldrá de Lima un avión con 15 profesionales de la salud del MINSA, SAMU e INDECI hacia A… https://t.co/K04GKURjvA

— INDECI (@INDECI)1533647609.0
"In the next few minutes, an airplane with 15 health professionals from MINSA, SAMU and INDECI will depart from Lima towards Ayacucho to transfer four people in serious condition after intoxication. -
Jorge Chavez Cresta, Chief of the INDECI
They also provided a supplementary monitoring report and response actions.
REPORTE COMPLEMENTARIO Nº 584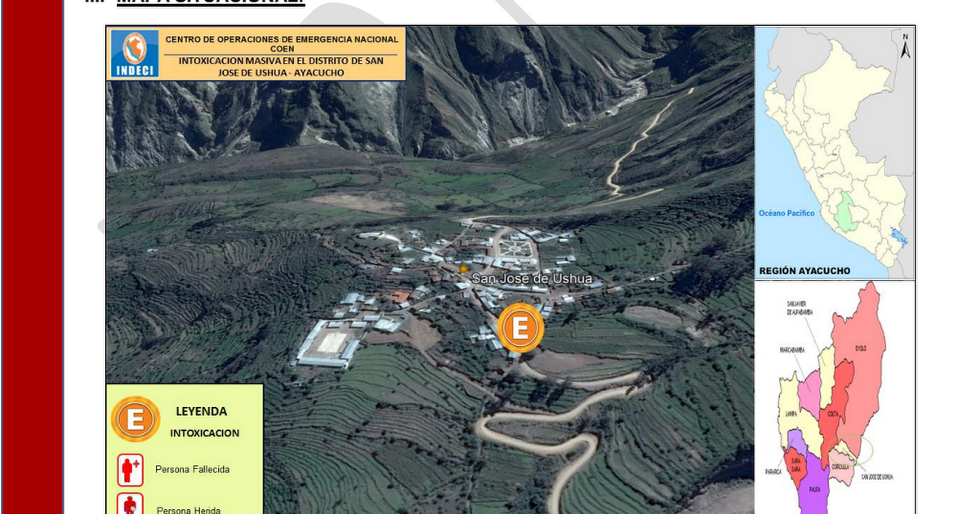 drive.google.com
Here is the final report in the document.

The Regional Health Directorate of Ayacucho reported that:
- Injured people have been receiving care at the Hospital de Apoyo de Pauza, District of Pauza, Province of Sara Sara.
- Ambulances from nearby districts moved to the area in order to move injured people
- The transfer of injured persons to establishments of health of greater resolutive capacity.
- Cora Cora Health Network staff travel to the Hospital de Apoyo de Cora Pauza, in order to join emergency care
It was later updated with this Tweet.

#Actualización | @GoreAyacucho Se trasladaron 6 pacientes de gravedad de Arequipa a Lima. Fueron evacuados desde Pa… https://t.co/7WvtdQOZU7

— INDECI (@INDECI)1533685240.0


6 patients from Arequipa were transferred to Lima. They were evacuated from Pauza - Ayacucho. Here the complementary report of # COEN with the list of deceased people and people affected by poisoning
Peruvians find the incident to be highlighting some of the country's problems.



Massive poisoning in Ayacucho and there is no hospital in conditions to respond to the emergency. Then, patients are transferred to Arequipa and it turns out there are not enough beds. Public health in our country and the efficiency of our State, reflected in a single episode.
@MaribelToledo @pepagranda Los hospitales del MINSA en Arequipa se están cayendo a pedazos, las autoridades lo sabe… https://t.co/2Oh2Djtjcx

— Pamela Tapia Rondon (@Pamela Tapia Rondon)1533741343.0
The hospitals of the MINSA in Arequipa are falling apart, the authorities know it but nobody cares about giving the tools to provide a suitable health service.
@MaribelToledo Es la historia de siempre. El hospital de Ayacucho lo dejaron a medio reconstruir... el presidente r… https://t.co/EewDzBM9zi

— Pavel (@Pavel)1533753306.0


It's always the same story. The hospital in Ayacucho was left halfway rebuild ... the regional president Oscorima was in jail, left or follows PR. And in Ayacucho nothing happens! Only those who can bring their sick relatives to Lima survive.
Others around the world are worried for a similar incident in their home countries.
@MailOnline With Trump's version of the EPA, it won't be long til this story could have happened in the US.

— Mildred Ellison (@Mildred Ellison)1533731572.0
@QUBFoodProf @PeteNorth303 Coming to a trade deal-desperate Brexit-deregulated economy near you?

— Peter Hiett (@Peter Hiett)1533804554.0
But mostly people are sharing their sympathy for those involved.
@EcoWatch @GMWatch @regeneration_in @OrganicConsumer @foodandwater Very sad.

— Anne Donovan (@Anne Donovan)1533818622.0
@SkyNews 😞 sad horrible hope they can figure out something soon prayers to the families

— Fall 🍁🧜🏼‍♀️☔️🍂🌹city of Roses (@Fall 🍁🧜🏼‍♀️☔️🍂🌹city of Roses)1533708074.0
@NBCNews Too sad for the people that went to a funeral, seems like they were PART OF IT. Smh

— Salo Romano Zetune (@Salo Romano Zetune)1533744380.0
Damn. https://t.co/A0tB4Wd5Xb

— Malcolm P. Johnson (@Malcolm P. Johnson)1533737477.0
Sad. Death at a funeral. Literally. || Contaminated food kills at least 9 people at funeral in Peru @CNN https://t.co/HZt5M5Iiuf

— Countess Cait (@Countess Cait)1533724807.0
Multiple deaths reported from eating pesticide contaminated food in Peru. A truly awful event that should never hap… https://t.co/30ZcwekUkf

— Prof Chris Elliott OBE (@Prof Chris Elliott OBE)1533803401.0

Yesterday, INDECI posted about another insecticide poisoning in La Mantanza, Piura.
#INDECIInforma Intoxicación por manipulación de insecticidas en el distrito de La Matanza en Piura | #Respuesta Au… https://t.co/F5xGQrW76B

— INDECI (@INDECI)1533838638.0
Watch a report on the incident here.
H/T: AOL, Daily Mail