In an effort to appease the public, Mexican fast casual restaurant Chipotle may have jumped the gun when they fired a manager at of one of their St. Paul, Minnesota locations.
---
A video appeared on Twitter from user Masud Ali, and it appeared to show a manager of a local Chipotle discriminating against a group of young African-American men. In the video, filmed by the boys themselves, the manager, who has been identified as Dominique Moran, tells them they need to pay for their food. In the video she smiles as she speaks, but is adamant that they will not be given their food until after they pay.
Moran tells the young men. whom she clearly recognizes:
"You gotta pay because you never have money when you come in here."
Ali, posted the video to Twitter and it received over 7 million views but the story didn't end there. Chipotle was tagged in the video and upon seeing the social media outrage, promptly fired Moran.
Turns out there was much more to the story,

Moran wasn't lying when she said the men never have money when they come to the restaurant, It was quickly pointed out that Ali and his friends have a long history of "dining and dashing." In fact, Ali brazenly bragged about it on his social media accounts.
Twitter was quick to point out all the time Ali posted about stealing from restaurants.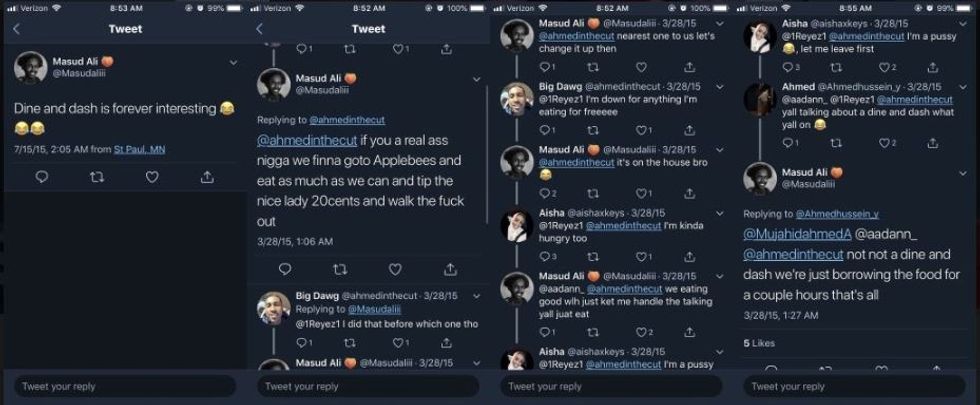 Twitter
For her part, Moran posted on Twitter that after the truth came out, she had gotten her job back.
People were reaching out and giving her support.
A GoFundMe was set up for her with a goal of $10, 000.
Maybe this is a lesson to us all that we need to stop for a moment and breathe before acting.
H/T: Huffington Post, City Pages