Conservative media figures have wasted no time spreading false information about Democratic presidential candidates to scare people online away from voting for them.
Pro-Trump provocateur Charlie Kirk recently took to Twitter with a viral tweet "breaking down" why people would actually make less money under Bernie Sanders's tax plan, even with a $15 minimum wage.
---
Anyone with basic math skills and knowledge of the U.S. tax system could easily see how wrong Kirk was, however.
Facts: Bernie wants a $15 minimum wage That would mean a gross salary of $31,200 for a 40 hr. work week But he w… https://t.co/19CmbIjpH5

— Charlie Kirk (@Charlie Kirk)1582329590.0
Reddit user beerbellybegone posted a picture showing exactly how Kirk was wrong, step by step.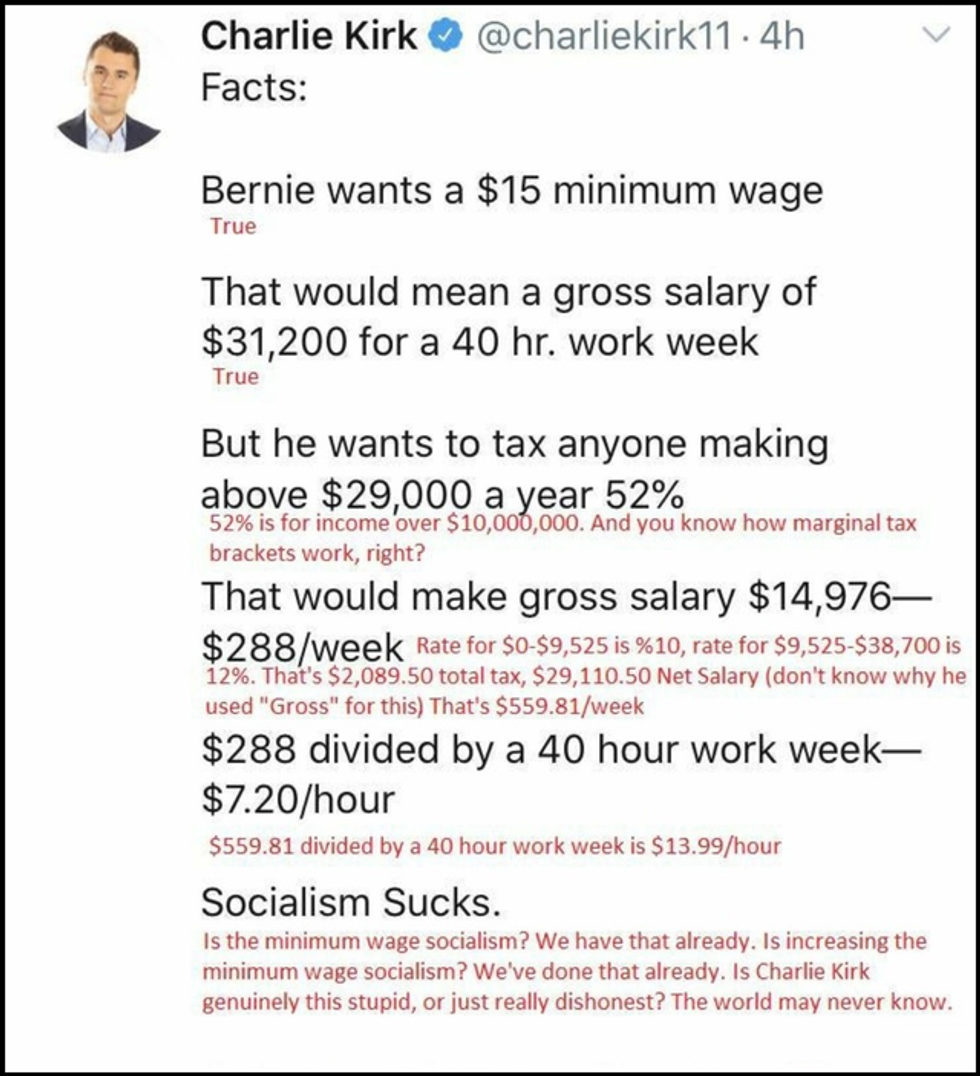 Reddit
Kirk's misleading take was made possible by misunderstanding tax brackets, associating unrelated concepts and straight up lying about the details of Bernie Sanders's tax plan.
Wait, someone pro-Trump lying?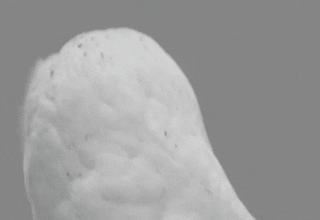 Giphy
Oddly, people weren't shocked that Charlie Kirk spread "alternative facts" online.
Again.
@charliekirk11 That's not his plan and that's not how taxes work. Should have gotten a real job, Charlie

— J704 (@J704)1582330137.0
Someone fixed this for you @charliekirk11 https://t.co/aYmBsjmx8N

— Jamie Hummel (@Jamie Hummel)1582613449.0
@charliekirk11 How many times does Charlie have to show he is totally clueless (besides outright lying) before peop… https://t.co/toRVmrcHJS

— BarrDeceivesForTrump (@BarrDeceivesForTrump)1582335515.0
A few Charlie Kirk fans inadvertently called themselves out for believing the misinformation.
@charliekirk11 I posted this on FB and darn if the FB "fact checkers" removed my post. I'm sure they were Bernie supporters.

— Sharon Slevin (@Sharon Slevin)1582331273.0
@charliekirk11 I posted the same thing in Facebook it was flagged not true !! The censorship is so one sided . Just like the hitler days 😠

— Robyy (@Robyy)1582382253.0
Unfortunately, false "facts" are a major weapon in modern political conflict.
@charliekirk11 stop spreading disinformation, charles https://t.co/RRtEjHweyK

— Ad Infinitum (@Ad Infinitum)1582570090.0
@charliekirk11 The graph Charlie doesn't want you to know about: https://t.co/80ewILi2W5 https://t.co/0jmAnjeSZy

— #HELLOSomebody🌹 (@#HELLOSomebody🌹)1582377866.0
@charliekirk11 So you will just make things up? Ok. https://t.co/npqVivUni3

— Dr. Rob Davidson (@Dr. Rob Davidson)1582330530.0
Charlie's attack on Sanders was pretty unflattering to anyone who knew what was going on.
@charliekirk11 Big brains on this guy 😅 https://t.co/kC3LrfHfWH

— Liam Wessforde (@Liam Wessforde)1582578416.0
Charlie Kirk go back to school. https://t.co/7bujs2pjdU

— DrLearnALot🌹 (@DrLearnALot🌹)1582587112.0
It's more important than ever that everyone online pays attention to the information they consume and be on the lookout for malevolent actors trying to mislead us.
The book The Scientific Attitude: Defending Science from Denial, Fraud, and Pseudoscience is available here.