A woman who was charged for her participation in the January 6 insurrection at the U.S. Capitol recently asked a judge to grant her permission to travel out of the country.
Her reason?
She wanted to take a vacation to Mexico, according to Insider. Or, as her lawyers worded it in a formal motion to the US District Court for the District of Columbia, the jurisdiction overseeing her case:
"[She] planned and prepaid for a weekend retreat with her employees for the dates of February 18 through February 21, 2021, in Riviera Maya, Mexico."
"This is a work-related bonding retreat for employees and their spouses."
And according to Newsweek, the request was granted.
Jenny Cudd, of Midland, Texas, was charged in January with disorderly conduct and unlawfully entering a restricted building after several pieces of evidence surfaced that proved her involvement in the riot.
According to an FBI document outlining the facts of her case, videos, photos and her proud boasting during interviews after the incident all came together to ensure she was charged.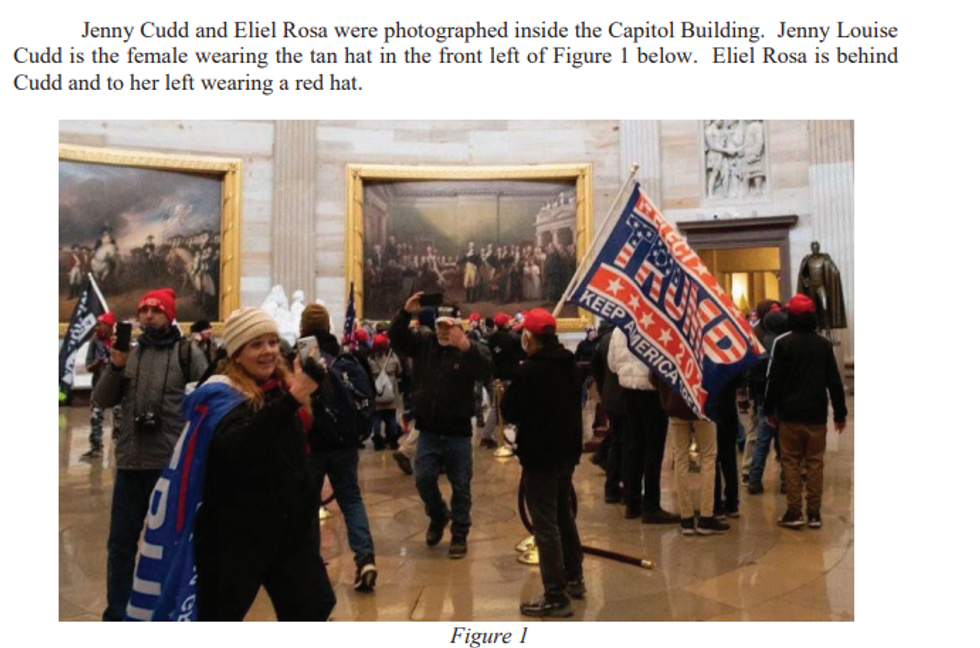 U.S. Department of Justice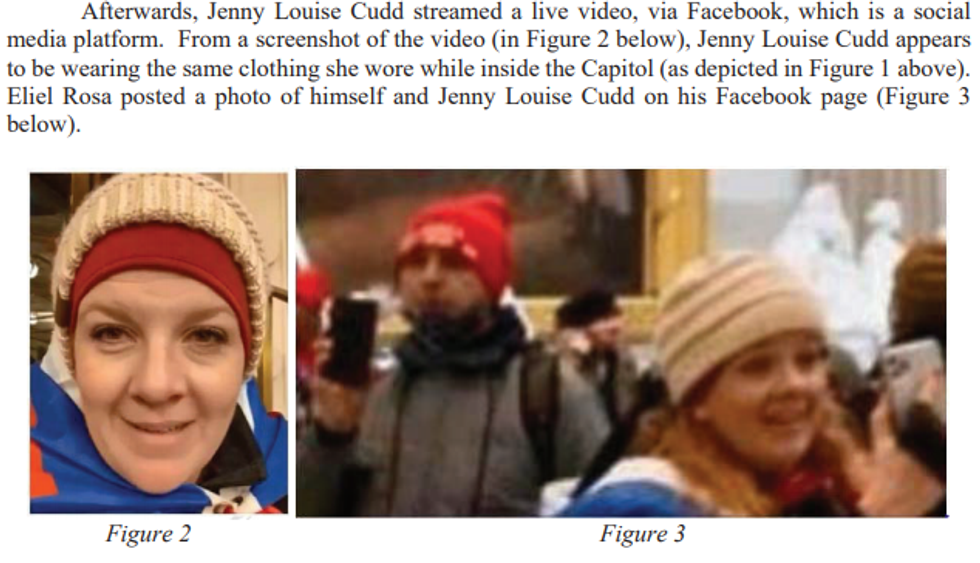 U.S. Department of Justice
Cudd, in that Facebook livestream, basically handed the FBI everything they needed to know on a platter.
Staring into the camera, she proudly touted her participation in the domestic terrorism of that afternoon.

"I am sitting in front of the Willard Hotel, as i always do when I am in DC protesting. I was here today on January 6th when the new revolution started at the Capitol."
"We were on the south lawn listening to the President and before the speech was over we started to head up to the Capitol."
"We just pushed, pushed, pushed, and pushed, and yelled go and yelled charge. We just pushed and pushed, and we got it."
Later in her video, Cudd stated her particular actions inside the building.
"We did break down Nancy Pelosi's office door and somebody stole her gavel and took a picture sitting in the chair flipping off the camera. They had to evacuate it before we charged the Capitol."
"Fu** yes, I am proud of my actions. I fu**ing charged the Capitol today with patriots today. Hell yes I am proud of my actions."
Since the news of Cudd's request and approval began to kick around the internet, people were outraged by both her audacity and the justice system's complicity.

Dan Naylor/Facebook

Merle Ann Phillips/Facebook

Glenda Howell Langston/Facebook

Laura Tekakwitha/Facebook
Eventually, even former Housing and Urban Development (HUD) Secretary and current Mayor of San Antonio, Texas Julián Castro weighed in with criticism of his own.

One Texas woman is granted permission to vacation in Mexico after engaging in insurrection at the Capitol. Another… https://t.co/ht1o8BpUxd

— Julián Castro (@Julián Castro) 1612328282.0
Some readers will take at least some comfort in hoping that further justice awaits Cudd when she returns from her brief stint in the sun.