Now that Kanye West is a born-again Christian, the former party boy rapper is singing a different tune on his new album.

A song off of Kanye West's latest release, Jesus Is King, is getting both praise and scorn from fans for giving a shout-out to Chick-fil-A.
---
His new gospel-heavy album includes eleven tracks featuring his Sunday Service choir, Ty Dolla Sign, Ant Clemons, Fred Hammond, Clipse and Kenny G.
All the songs are free from explicit language.
Fast-food chain Chick-fil-A praised glory for their religiously-influenced hours of operation being recognized in the album's fourth track, "Closed On Sundays."
Lyrical excerpts include:

"Closed on Sunday, you my Chick-fil-A / Hold the selfies, put the 'Gram away / Get your family, y'all hold hands and pray"
"Closed on Sunday, you my Chick-fil-A / You're my number one, with the lemonade."

According to The Blast, a spokesperson for Chick-fil-A expressed gratitude, saying:
"We are always grateful to see excitement for the brand."
In response, Burger King served up some shade after the media made much of their adoration.
King Burger continued to spar with followers reacting to the roast.

@BurgerKing Omg shade???

— veronica elizabeth 💜🥺 (@veronica elizabeth 💜🥺) 1572028061.0
@vawonica omg light???

— Burger Town (@Burger Town) 1572028135.0
@BurgerKing I'm open everyday

— Spooky Suz 🧜🏼‍♀️ (@Spooky Suz 🧜🏼‍♀️) 1572026676.0
@DaddyElmo2 we have soda fountains for that thirst

— Burger Town (@Burger Town) 1572026720.0
@BurgerKing https://t.co/9iSmg336e7

— Dirty Dan (@Dirty Dan) 1572026626.0
@SquidMell no laws

— Burger Town (@Burger Town) 1572026644.0
Chick-fil-A is notorious for being rooted in conservative politics and the owner's blatant opposition to the LGBTQ community.

Things reached a boiling point when in June 2012, chief operating officer Dan T. Cathy expressed his opposition to gay marriage.

During an interview on The Ken Coleman Show, Cathy said:

"I think we are inviting God's judgment on our nation when we shake our fist at Him and say, 'We know better than you as to what constitutes a marriage.'"
"I pray God's mercy on our generation that has such a prideful, arrogant attitude to think that we have the audacity to define what marriage is about."
Fans scrutinized West's song and created memes expressing respective sides of those supporting or against the controversial rapper, who recently became a Christian convert and stopped swearing.
Chick-Fil-A and Kanye teaming up for and ad campaign after listening to Closed on Sunday https://t.co/1OChATqlrO

— ryan (@ryan) 1572020911.0
cultural impact: ███ ███ ███ ███ ███ ███ ███ ███ ███ _______ kanye west… https://t.co/D6Q76MJ4CL

— Derrek Sena (@Derrek Sena) 1572023193.0
The Devil in hell after Kanye West defeated him with a song about Chick-fil-a https://t.co/o4Tq0zYxgs

— Andrew G. (@Andrew G.) 1572049066.0
new kanye west is so boring wtf.. i knew it was going to be driven by religion but wtf is this.. no outro of any… https://t.co/GB5BBPi6to

— lando (@lando) 1572022655.0
every time someone complains about the Chick-fil-A line...it makes me wonder if they've ever heard a Kanye West song before

— Travis Bean (@Travis Bean) 1572265923.0
@derreksena Behold me not caring about Kanye, This song, or @ChickfilA on a Sunday, Monday, Tuesday, Wednesday, Th… https://t.co/Ej4dXgfVv1

— WhippetRun (@WhippetRun) 1572024929.0
In an interview with with Zane Lowe for Beats 1, West talked about how Jesus influenced him.
"Now that I'm in service to Christ, my job is to spread the Gospel, to let people know what Jesus has done for me."
"I've spread a lot of things. There was a time I let you know what high fashion had done for me, I was letting you know what the Hennessy had done for me... now I'm letting you know what Jesus has done for me."
West also encouraged those who worked on Jesus Is King to abstain from premarital sex.
"There's times where I was asking people to not have premarital sex while they were working on the album. There were times when I went to people who were working on other projects and said 'Could you please just work and focus on this'.'"
Get your own Burger King, available here. Wendy and Ronald sold separately.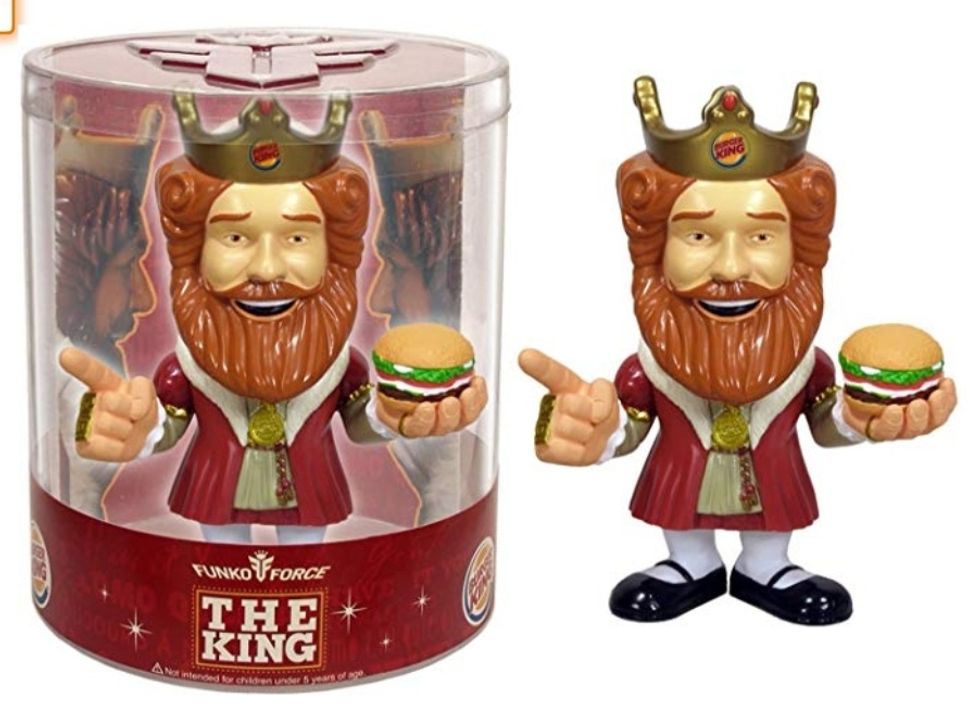 Amazon