UPDATE: A statement released by the Clinton Public Schools and Cheyenne and Arapaho Tribes contradicts the boy's full account of the incident while acknowledging some details are still in dispute.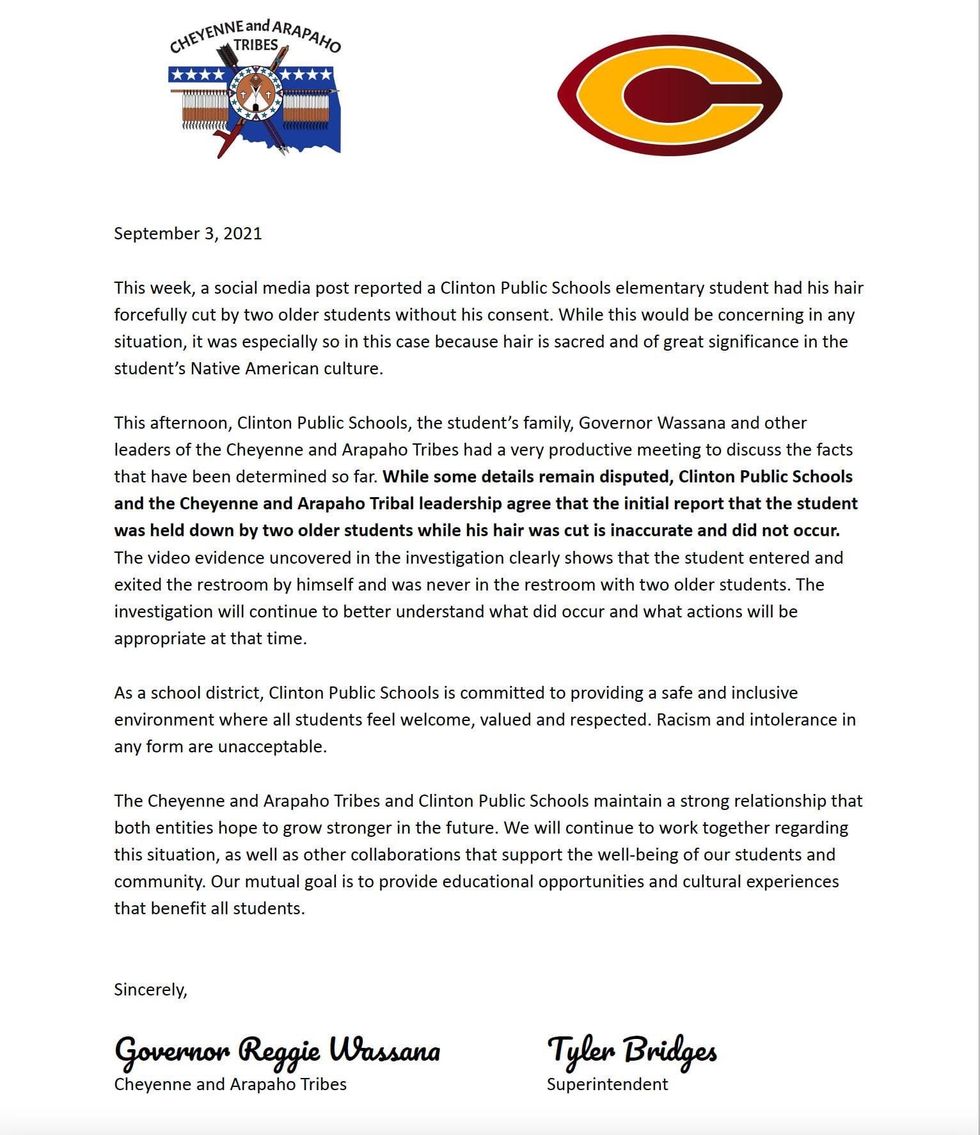 Tyler Bridges, Superintendent submission
Christian Wassana, son of Governor Wassana added an update to his TikTok account giving his insight on what was discussed.
****
In Clinton, Oklahoma, a Cheyenne and Arapahofamily is heartbroken and outraged after 5th grader Dominique Lonebear alleged he was assaulted by two classmates.
The child told his family one held him down while the other cut off his long hair.
Indigenous people used social media to seek justice for Dominique by sharing his story online and asking Oklahoma officials for an investigation and response.
The incident happened on Tuesday at Washington Elementary School in Clinton, Oklahoma.
In an interview with Oklahoma News 6, Laquita Lonebear, Dominique's grandmother, said:
"I was just hoping that we were going to get through the school year without anything like this happening, it's sad."
"I can't even explain the feeling that I have."
"Driving home, I was so upset and hurt. I just felt my heart broke."
Lonebear explained this wasn't the first time her family experienced issues of bullying.
Laquita Lonebear explained what she was told happened:
"They pushed the [bathroom] door open and pushed him against the wall, threw him down and held him down."

"[Dominique] said one held him down, the other one cut his hair and they took off running out."
Dominique said he didn't get a good look at the students because he was held face down.
Many cultures around the world hold sacred practices involving their hair. For Indigenous cultures of the Americas, some believe the hair connects them to Mother Earth, others believe it is a physical extension of their thoughts.
Just as there is intentionality through the growing of one's hair, there are also traditional practices for cutting one's hair.
Cutting of the hair can symbolize cutting off the flow of thoughts, choosing to make a major change in life and the start of new life. Some Indigenous people would only cut their hair in times of mourning as the hair represented that time they had with their loved ones who have passed.
That is why Laquita Lonebear says this was a cultural attack.
"It would just be like me chopping your steeple of your church or breaking the cross in front of you."
"That would be against your beliefs. You have beliefs, I have beliefs. I am hurt."
Dominique said he did not feel comfortable reporting the incident right after it happened because he was worried about retaliation.
Superintendent of Clinton Public Schools Tyler Bridges told Oklahoma News:

"We have been in contact throughout the day with the family and our full investigation into the matter is taking place currently."
The Lonebear family hopes this will come with change.
Laquita Lonebear said:

"It (doesn't) matter how old or how young, they need to learn to respect people."
"People, their beliefs, their traditions, whatever."
The Cheyenne and Arapaho Tribes of Oklahoma Governor Reggie Wassana released a statement about the incident.
The statement expressed the concern and sadness he holds for 5th grader Dominique Lonebear.
"I respectfully request that all of the administrators and leaders at Clinton Public Schools take this situation very seriously."
"Hateful acts at school are dangerous, disturbing and disruptive."
"While one incident alone does not define a school, it is in many ways, a test of the school's culture and climate."
"How you respond is the true measure of a school's character."
He went on to encourage the entirety of the district's employees to actively welcome students and set expectations for conduct.
Wassana also said their policies should reflect that goal.
You can read his full statement here:
He continued:
"Nationwide, more than 90 percent of Native students attend integrated public schools near or on reservations, which have historically restricted tribal influence over curriculum, funding and staffing."
"Native American students have some of worst academic outcomes in public schools: They score lower than nearly all other demographic groups on national tests and less than three-fourths of Native students graduate from high school."
"I was encourages and inspired by the expressions of the Lonebear family memebers. While dealing with the anger and frustration of an assault on their child, they suggested a positive solution is possible: more native culture traditions taught in the Clinton schools."
Wassana will be meeting with the district September 3 to discuss what happens next.

Diné Navojo citizen and TikTok creator Lance Tsosie heard the news and made a video for his 1.7 million followers.
Tsosie's video has been viewed 1.3 million times.
In Tsosie's video, he urged his followers to call Superintendent Tyler Bridges and ask him to incorporate Thunder's Hair into their curriculum.
Thunder's Hair by Jessie Taken Alive-Rencountre—Hunkpapa Lakota from the Standing Rock Sioux Tribe—is a book about how a young Indigenous man deals with bullying over his long hair and how he connects himself to it.
Taken Alive-Rencountre is a "dancer, mother, writer, wife and counselor." She has been a school counselor for over a decade in the Rapid City South Dakota School District. Twenty percent of the district's students are Indigenous.
Together with her husband, well known powwow emcee Whitney Rencountre, she helped establish the Social Distance Powwow to keep Indigenous people connected and powwow culture alive during the pandemic.
Social Distance Powwow (SDP) has also been a way for Indigenous people to share news, issues and support. SDP has been sharing messages of support for Dominique and the Lonebear family.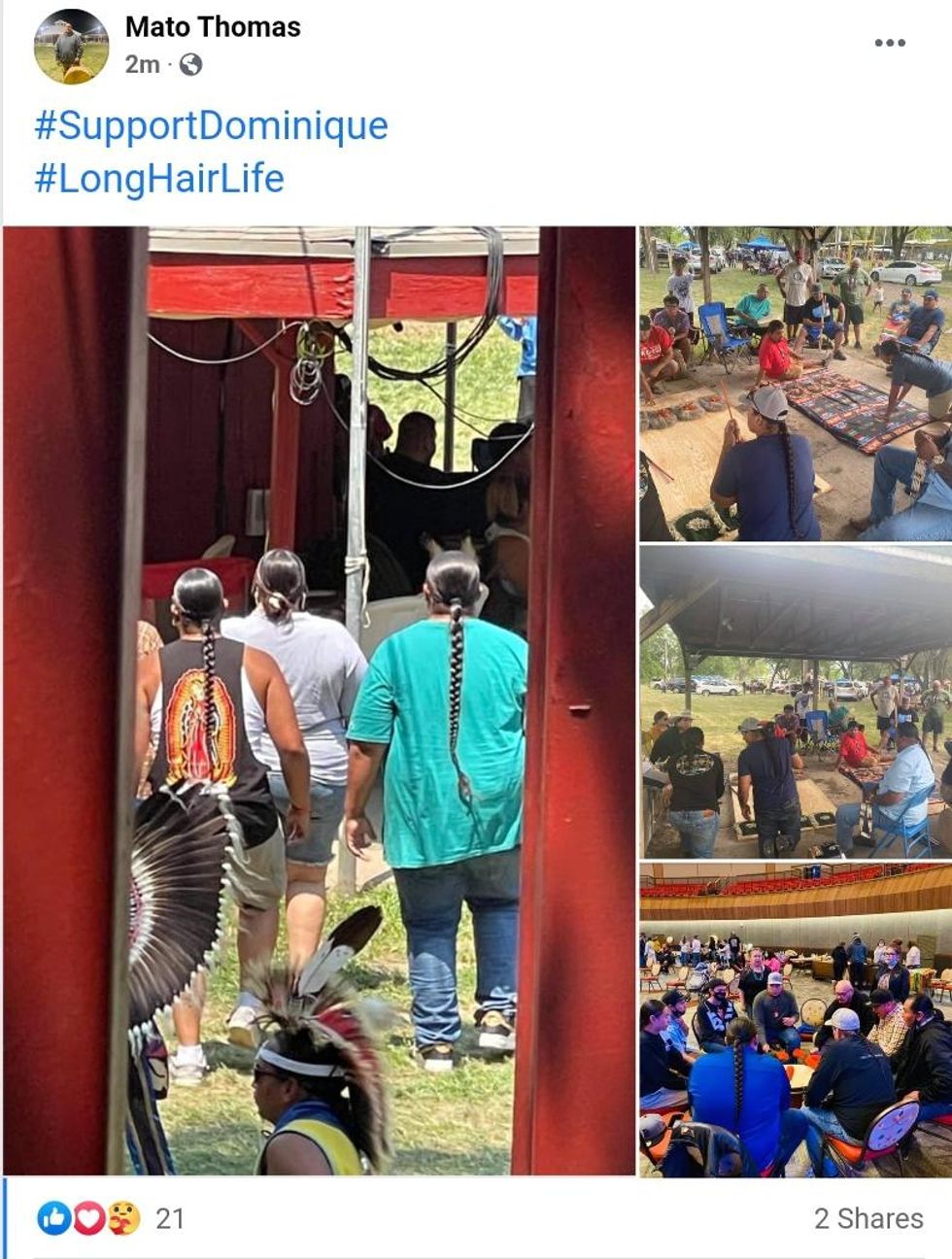 Social Distance Powwow/Facebook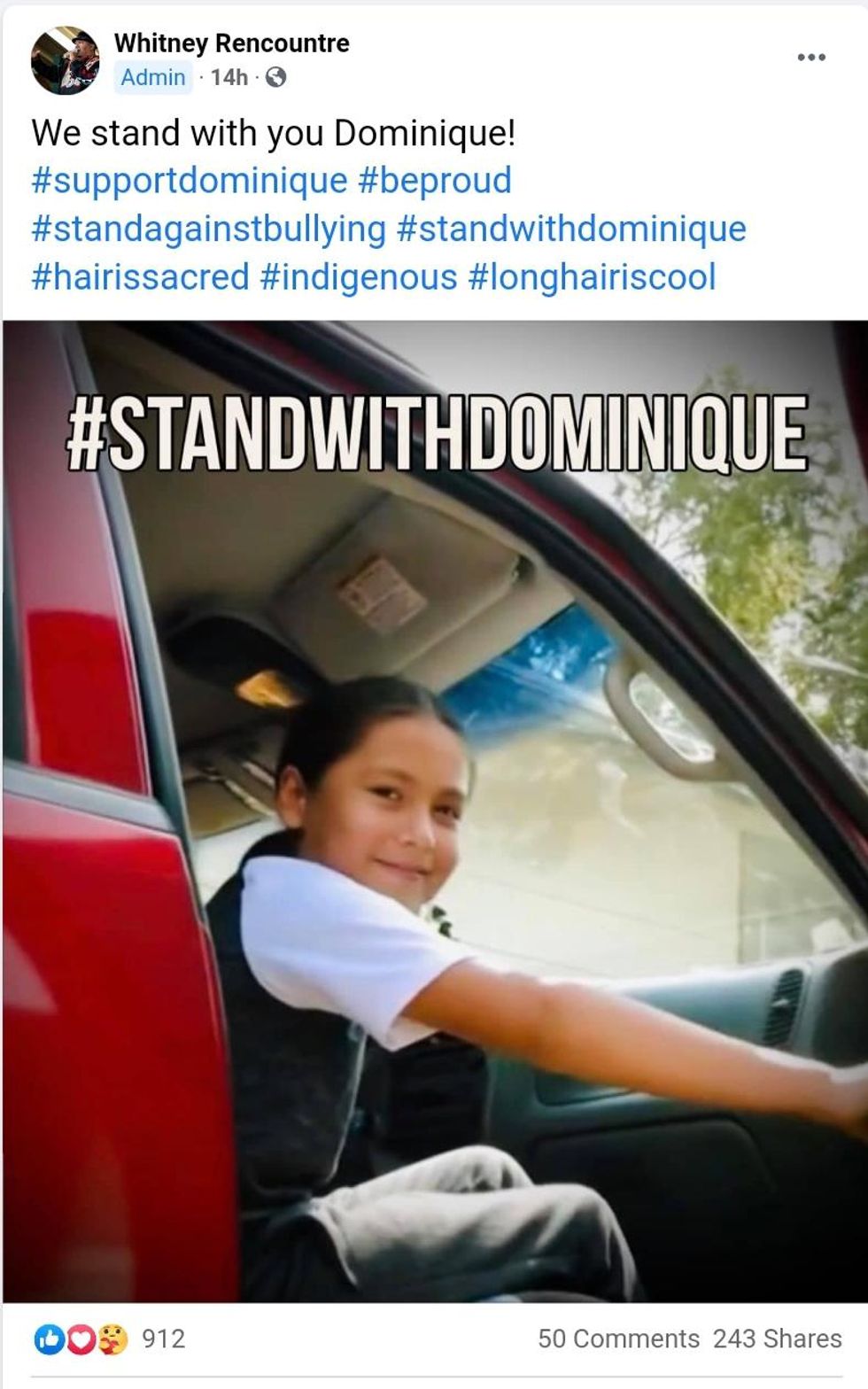 Social Distance Powwow/Facebook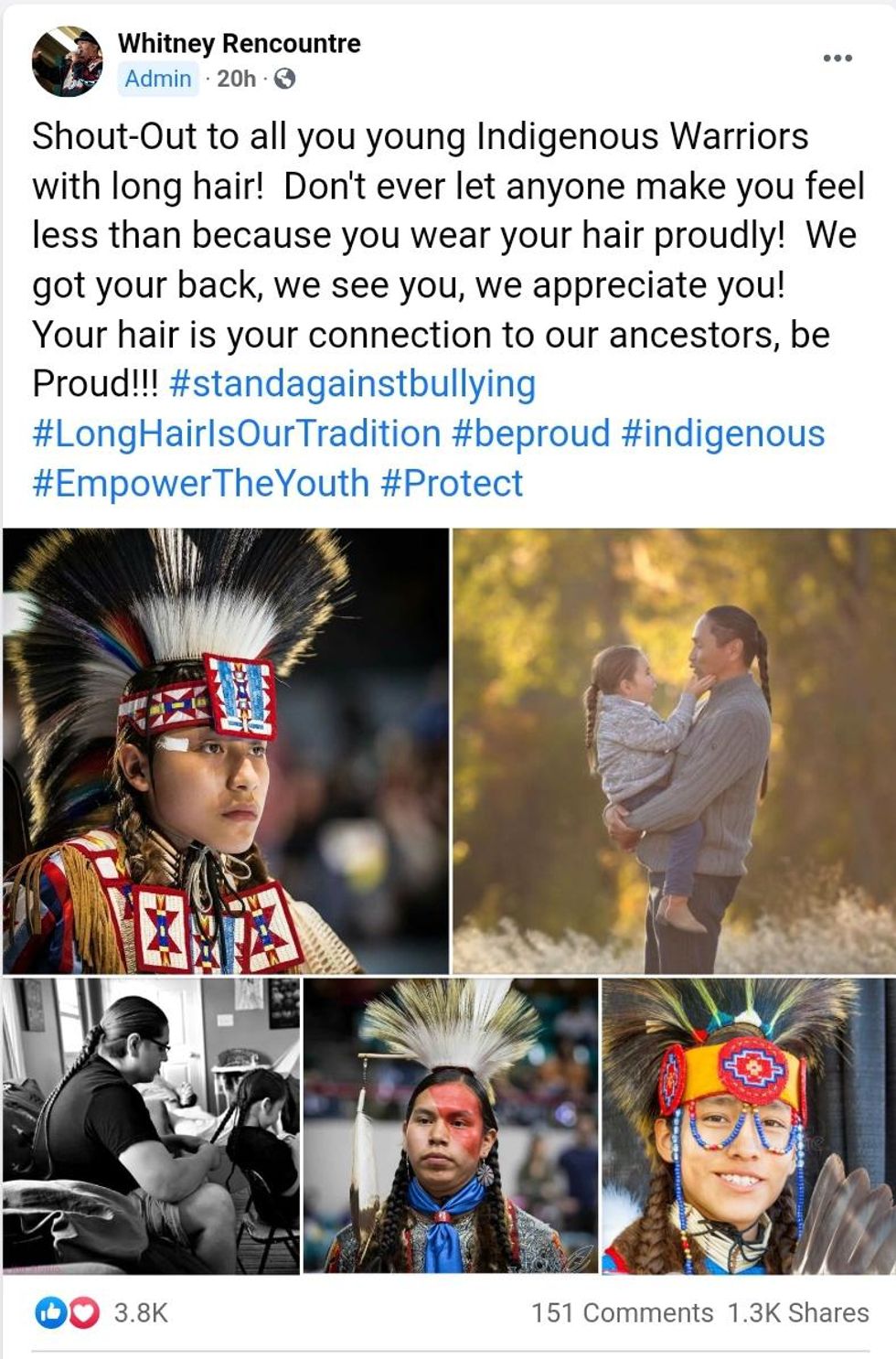 Social Distance Powwow/Facebook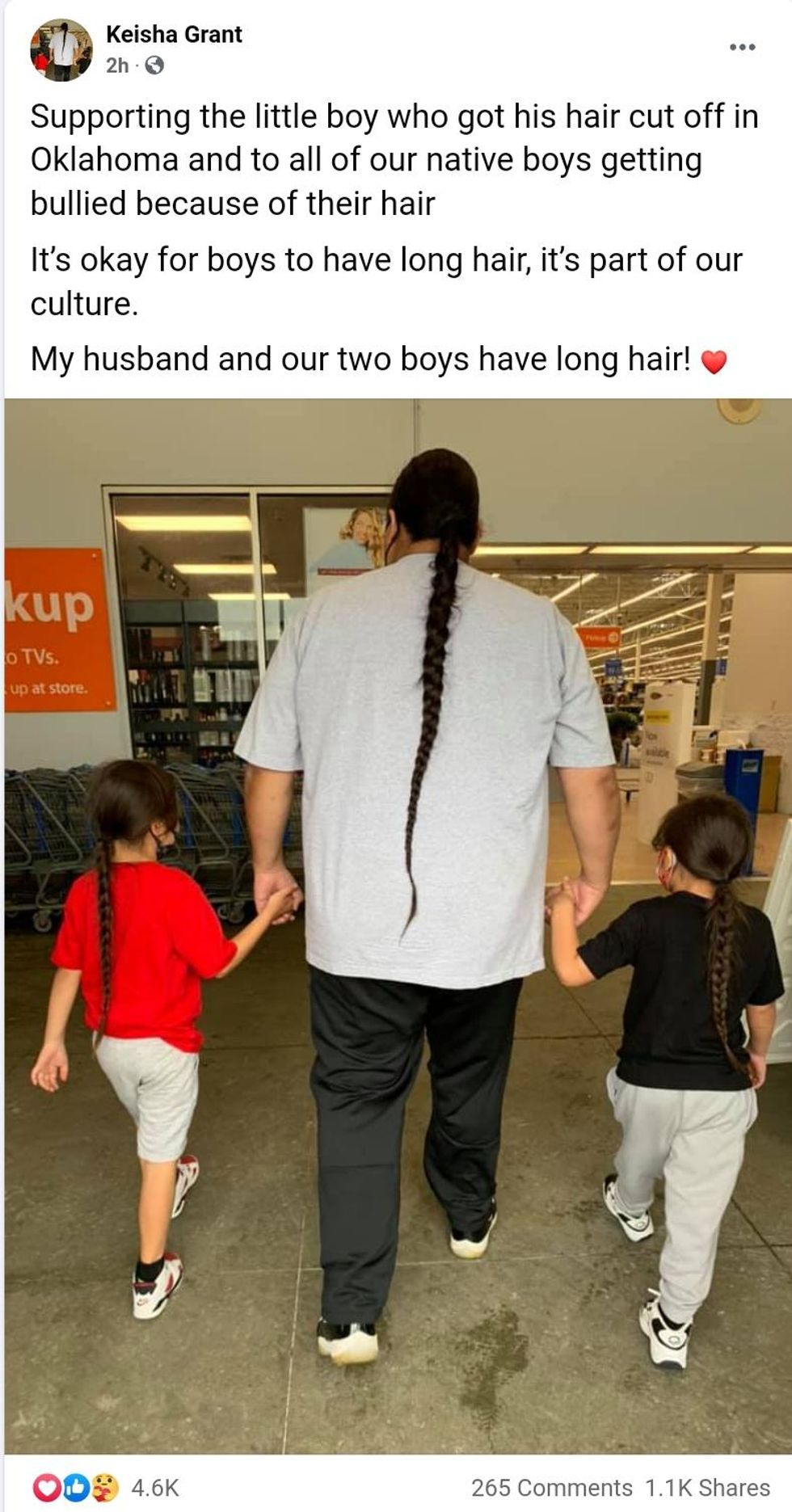 Social Distance Powwow/Facebook
Tsosie also encouraged the district investigate the reason Dominique felt unsafe coming forward about bullying.

On social media, Indigenous voices are hoping to raise awareness in order to get justice and meaningful change in regards to bullying of Indigenous students.

Hopefully, significant action and change happens in Clinton schools.

Whether Dominique Lonebear had his hair cut against his will or felt bullied into cutting his hair, the bullying Indigenous boys get for their traditional hairstyles should be addressed.