A bride who spent $7,000 on her custom wedding dress with disastrous results can look back and have a laugh.
But at the time, TikToker Jos–a.k.a. @jpepaa–said the whole experience was traumatic and explained why in a viral TikTok video.
She posted a clip captioned:
"Its okay, u can laugh along with me."
Jos started off by explaining what she personally thought of one of the pre-nuptial processes.

"I hated trying on/shopping for a wedding dress–trying on dresses that are not in your size or don't fit, it was miserable."
But then she said she decided to go the custom route in pursuit of her dream dress.
"The designer was really reputable. My good friend–she designed her dress–stunning, amazing, perfection, chef's kiss."
After scheduling a fitting, she saw the dress in its early stages and did a double-take.
"We have our appointments, I have my first fitting and the dress is like a skeleton so I'm like 'Ok, it's not what it's obviously supposed to look like."
Jos shared a screenshot of the dress she wanted to be replicated, seen below, but without the high slit.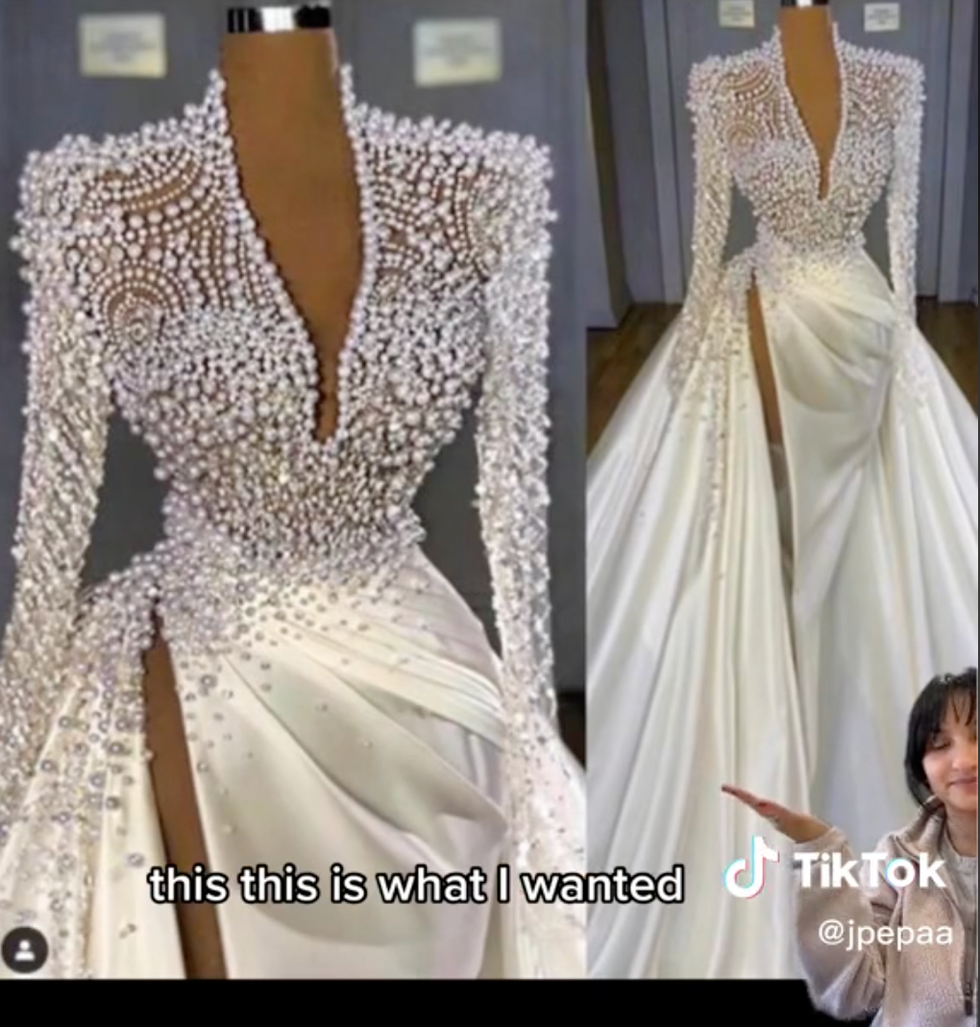 @jpepaa/TikTok
The end result was far from the vision she wanted.

She detailed her "legit trauma" over the dress debacle.
@jpepaa

Its okay, u can laugh along with me #greenscreen #weddingtiktok #weddingdress #weddingfail
Jos seemed hesitant to share the photo from her final fitting revealing the custom dress in its supposedly finished state.

"First, I have a kangaroo pouch"
"I'm having pearls hot-glued onto my bodice because I said, 'hey, I don't really like that the cups show.'"

"Okay that's literally me smiling through the pain."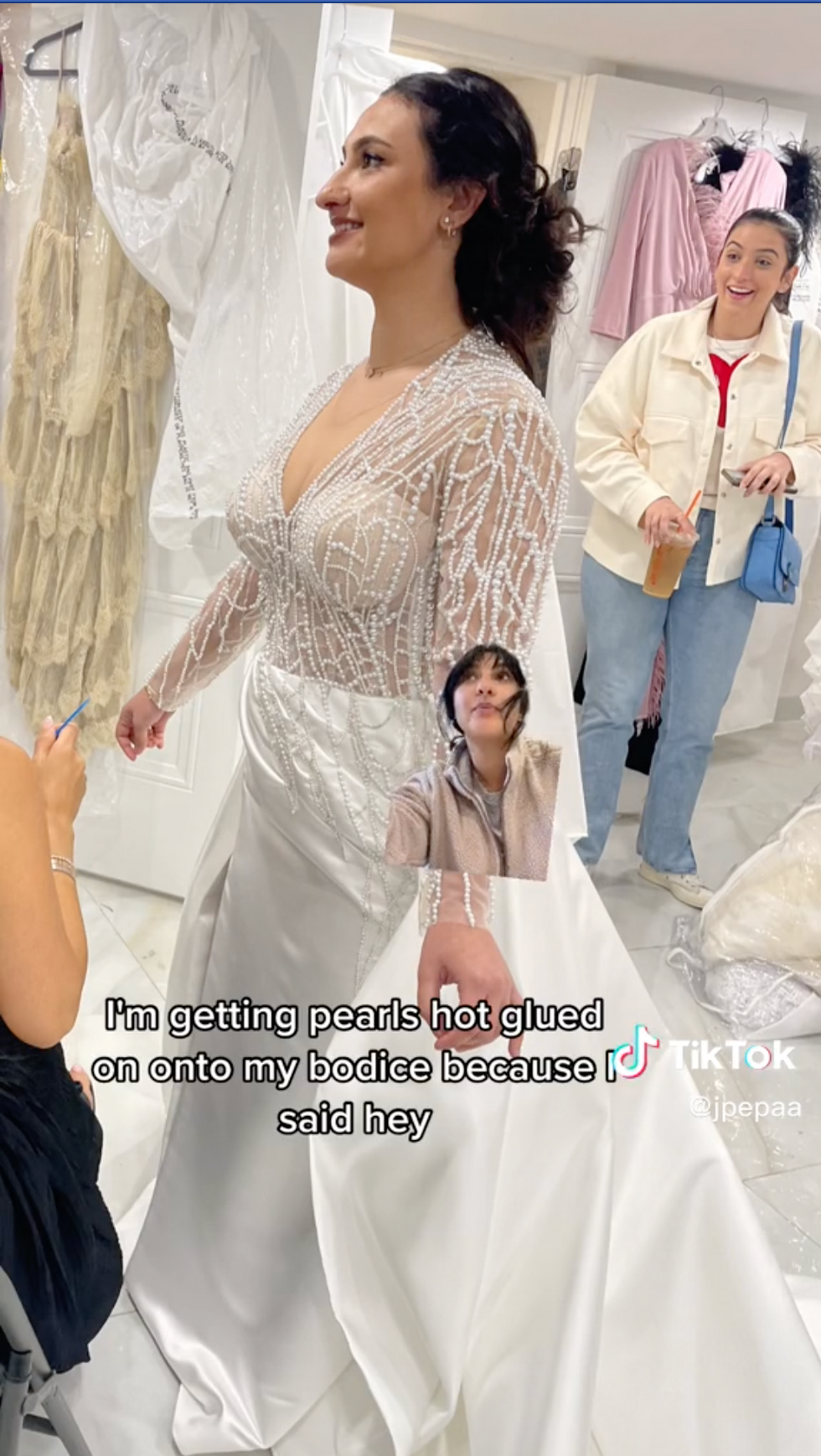 @jpepaa/TikTok
Jos said she got berated by the designer when she asked, "what is this?"

With only two months left until her 500-person wedding, things got worse.
She said the pearls kept popping off, and when she asked why, the designer told her:
"Oh, they're supposed to, I'm sorry."

When confronted by Jos about her dissatisfaction, the designer apparently got offended and explained the picture Jos sent her of the dress she wanted was "just an inspiration."
"I was like, 'oh, when were you gonna tell me it was, like, just for inspiration?"
"You were just gonna, like, go ahead and do it–what you thought was sick? cool."

Jos concluded the clip, saying:

"I didn't need therapy for that so this is my venting."

@jpepaa/TikTok

@jpepaa/TikTok

@jpepaa/TikTok

@jpepaa/TikTok

@jpepaa/TikTok

@jpepaa/TikTok
In response to a TikToker who inquired about the wedding dress she ended up with, Jos said in the caption "the lord had a plan!"

That's one way to look at it.

Jos explained after the "atrocity" of her custom wedding dress, she didn't care if she got her deposit of thousands of dollars back.
She made an appointment at a bridal store two days later and wound up getting a one-of-a-kind Marchesa dress and a Vera Wang gown for her reception.
While it did come at a major cost, at least Jos got the wedding dress that made her happy.