Conspiracy theory-endorsing Representative Lauren Boebert (R-CO) is facing major online backlash for a tweet she posted and subsequently deleted about how to conquer the highly contagious delta Variant of the virus.
She even made an extra effort to make the already insensitive tweet worse, by ending it with "And vote Republican."
"The easiest way to make the Delta variant go away is to turn off CNN. And vote Republican."
It would seem that Boebert quickly realized the error of her tweet, as she deleted it a mere hour after posting.
The internet is forever, though, and the now deleted tweet was archived on ProPublica's "Politiwhoops" page.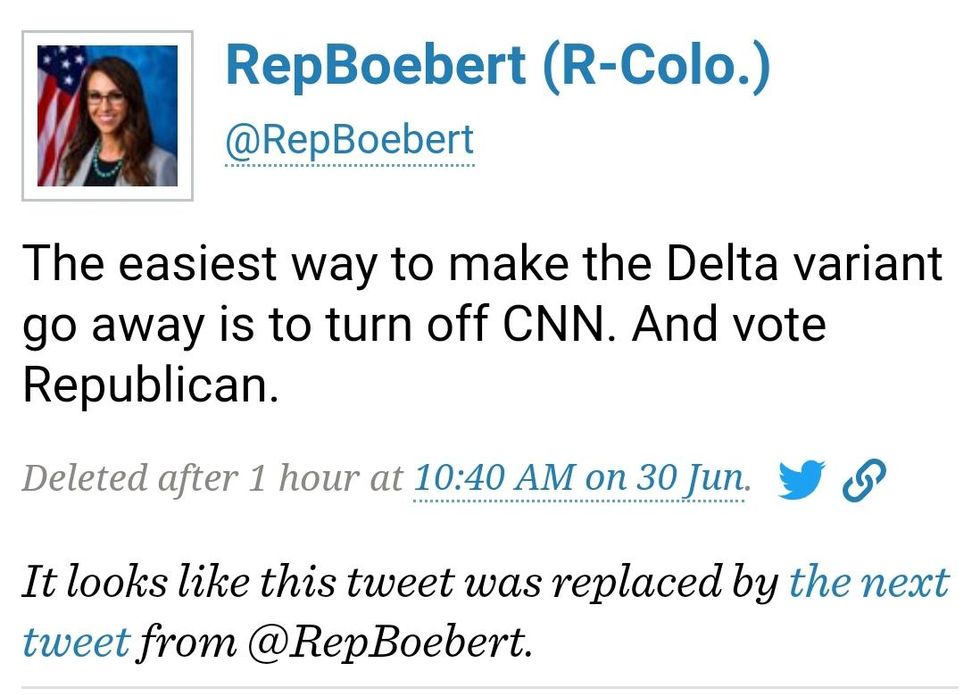 @RepBoebert/ProPublica
It didn't take long for the rest of the internet to latch on to her archived tweet. Deleting it didn't save her like she thought it would.
Many pointed out that the delta Variant of the virus is the Variant responsible for most new cases of the virus in Boebert's own district.
It would seem that Boebert does actually believe in the virus, as she tweeted a strongly worded, if not particularly nuanced, criticism of Dr. Fauci in May.
Nice try at being clever, but if reactions are any indication it clearly missed the mark.