Unless you've been living under a rock, you already know Beyoncé released a new song.
The Beyhive have been obsessed with the NOLA—that's New Orleans Louisiana for the uninitiated—bounce sounds brought by underground legend, LGBTQ+ icon and longtime Bey collaborator Big Freedia...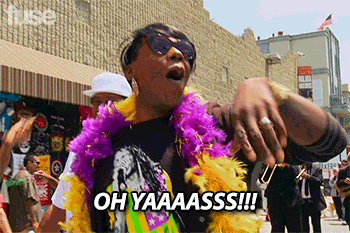 Giphy
...while Gen X has been schooling the TikTokers about the origins of house music—it's Black, it's queer, get used to it—and the samples of "Show Me Love" by Robin S.
Check it out:
But there's another, larger message for Beyoncé fans if you believe the Internet.
It's the message of quitting the job that's bound to "break your soul."
You can listen—and read—for yourself here:
And it seems the lyrics are to blame.
Beyoncé sings in the instant summer banger:
"Now, I just fell in love, and I just quit my job"
"I'm gonna find new drive"
"They work me so damn hard"
"Work by nine, then off past five"
"And they work my nerves, that's why I cannot sleep at night"
Naturally, it took no time at all for enterprising Twitter users to turn it into a meme.

@LoLoVonZ/Twitter
For some, quitting their job seems like a good idea—until they realize their bills aren't going to pay themselves.
For others, Beyoncé's lyrics were open to interpretation—maybe she doesn't want you to quit your job, per sé, but to have a life outside the job you have.

And for others, quitting their job means they'll get their situation handled by none other than Mrs. Knowles-Carter herself.
Jokes aside, Beyoncé has a certified banger on her hands, with nearly 6 million views on the official lyric video as of this writing.
"Break My Soul" is currently the No. 1 trending song in music, according to the YouTube charts, and is showing no signs of slowing down.
If nothing else, the success of this song is already adding to Beyoncé's most impressive net worth, meaning she can afford to quit her job any time she wants to.
Unfortunately, though, you cannot—as another user hilariously pointed out.
So, guess it's back to the daily grind for most of us.