Tony winner Ben Platt spoke out after antisemitic demonstrators protested outside a New York City theater where he and the Broadway revival cast of Parade were performing their first preview.
Parade is a musical dramatization centering on the real-life 1913 trial, imprisonment and 1915 lynching of Jewish American Leo Frank.
Frank–played by Platt–was wrongly accused of raping and murdering thirteen-year-old Mary Phagan who worked under his employ at a factory in Georgia.
His capital punishment was commuted to life imprisonment two years later by Georgia Governor John M. Slaton after a detailed review of the 10,000 pages of testimony revealed discrepancies in addition to problems in the trial.
As he was being transferred to a prison in Milledgeville, Georgia Frank was kidnapped by a lynching party and hanged from an oak tree in Phagan's hometown of Marietta.

On Tuesday, the neo-nazi group of demonstrators outside the Bernard B. Jacobs Theatre pushed their false claim the musical featured a pedophile.
According to Broadway World protesters were chanting:
"[Leo Frank is] a Jewish pedophile."
Jake Wasserman, an engagement editor for The Forward–a Jewish digital publication–shared a clip taken by his friend who was attending the performance.
It showed one of the protesters in a mask telling patrons waiting to go inside the theater they were seeing a show featuring a pedophile.

"You want the truth about who you're going to see tonight?" asked the protester.

"You're paying $300 to go f'king worship a pedophile, you might as well know what you're talking about."

Another was heard saying of Platt's character:
"Romanticizing pedophiles, wow, Leo Frank."
Twitter user Sean O'Connor posted another video of the protest outside the theater.

Following the revival's first public performance after midnight, Platt took to social media and addressed the scene outside the Jacobs Theatre.
Platt admitted he didn't usually address social media in this manner because he was "afraid of it."
"But I felt compelled this evening because I just got home from our first performance of 'Parade' ... and it was so so wonderful and special and I'm so proud of every member of our cast and our wonderful crew and our creative team."
He mentioned it was a particularly special evening for members of the cast who were making their Broadway debuts.
Platt continued:
"Then I got offstage and was looking at social media, and naturally the news of the fact that there were some protesters at our show has spread a lot, and that has kind of [been] the stamp on the evening, in terms of the public perception of the evening."
Here is Platt's statement.

He added:
"For those who don't know, there were a few neo-Nazi protesters from a really disgusting group outside of the theater, bothering some of our patrons on their way in and saying antisemitic things about Leo Frank, who the show is about, and just spreading antisemitic rhetoric that led to this whole story in the first place."
"If you don't know about it, I encourage you to look up the story and most importantly encourage you to come see the show."
The 29-year-old singer/actor noted the current fractured state of the country was a compelling enough reason for audiences to visit the Jacobs Theatre.

"It was definitely very ugly and scary but a wonderful reminder of why we're telling this particular story and how special and powerful art and, particularly, theater can be."
"And just made me feel extra, extra grateful to be the one who gets to tell this particular story and to carry on this legacy of Leo."
He thanked the theatre staff for keeping everyone in the production "super safe and secure" and assured future patrons they should also feel the same level of comfort and safety.
He emphasized:
"Now is really the moment for this particular piece."
An outpouring of love from both industry colleagues and fans flooded his video post.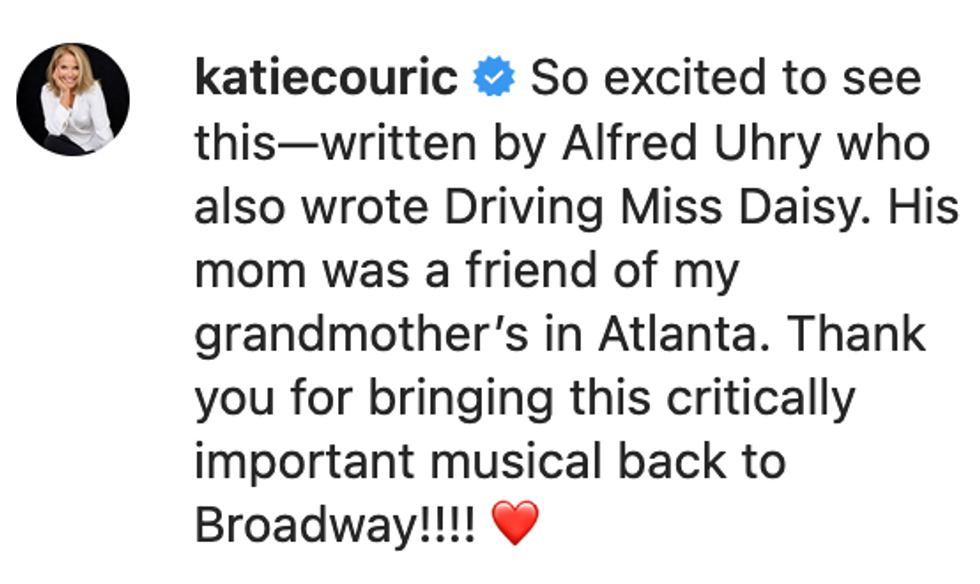 @bensplatt/Instagram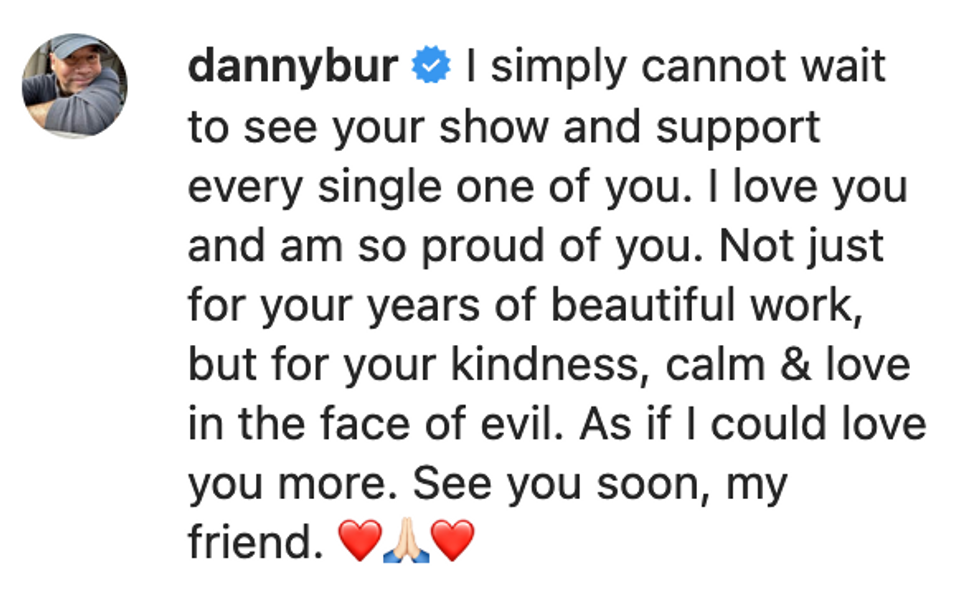 @bensplatt/Instagram
@bensplatt/Instagram

@bensplatt/Instagram

@bensplatt/Instagram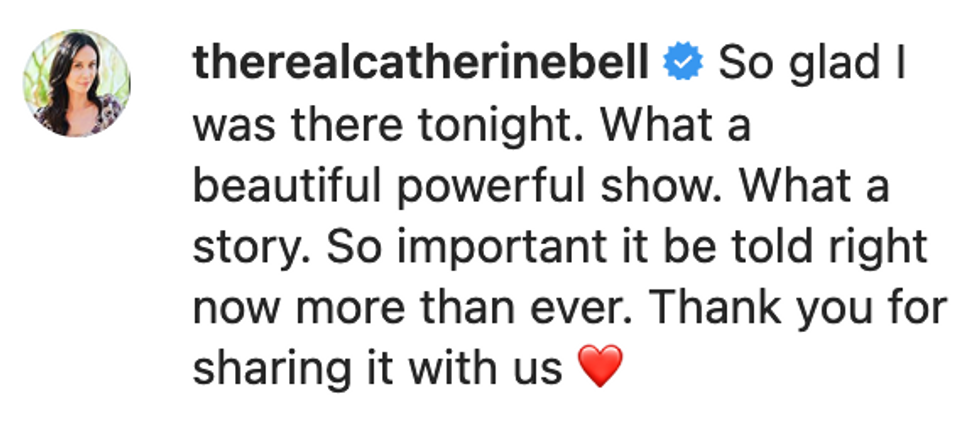 @bensplatt/Instagram

@bensplatt/Instagram
Producers of Parade also issued a statement which read in part:

"If there is any remaining doubt out there about the urgency of telling this story in this moment in history, the vileness on display tonight should put it to rest."
The Anti-Defamation League–which was founded after Frank's murder conviction in 1913 and endeavors to fight antisemitism and bias–noted antisemitic attacks reached an all-time high in 2019.
The ADL surveyed "a representative sample" of over 4,000 Americans from September through October of 2022 and found 85% believe at least one antisemitic trope.
The international Jewish organization also responded to the protest.
CEO Jonathan Greenblatt issued the following statement.

"The vile anti-Semitism on full display outside the Bernard B. Jacobs Theatre last night during a premiere performance of Parade underscores the importance of telling Leo Frank's story."
"The irony should not be lost on anyone that these anti-Semitic extremists decided to protest a play that details the true story of the lynching of an innocent Jewish man by an anti-Semitic mob, and used it as an opportunity to spread conspiracy theories and hate."

Greenblatt continued:

"ADL locks arms in solidarity with the entire cast and wants to especially thank the producers of the play and Ben Platt for their poignant statements speaking out in the face of hate."

"Despite the presence of a half-dozen neo-Nazis, New York City will continue to remain no place for hate."
Wasserman followed his ealier thread with historical facts pertaining to Frank–who maintained his innocence throughout the trial the New Georgia Encyclopedia called a "miscarriage of justice."
The original Broadway musical of Parade premiered in December 1998.

The show won two Tonys–one for Best Book for a Musical by Alfred Uhry and another for Best Original Score written by Jason Robert Brown.
According to the revival production, Leo and Lucille Frank are:
"A newlywed Jewish couple struggling to make a life in the old red hills of Georgia."
"When Leo is accused of an unspeakable crime, it propels them into an unimaginable test of faith, humanity, justice, and devotion."
"Riveting and gloriously hopeful, 'Parade' reminds us that to love, we must truly see one another."
This production followed a successful run at the New York City Center starring Platt and costar Micaela Diamond–who also reprised her role for the Broadway revival.
Diamond joined Platt in denouncing antisemitism with her own social media post in which she said the situation was a "reminder of how important this story is," adding:
"We will speak for you Leo."

The show will officially open on March 16 following preview performances.