The Harrisburg Senators—a Minor League Baseball team of the Eastern League and the Double-A affiliate of the Washington Nationals—had social media users in stitches with their hilarious response to a MAGA fan's voter fraud tweet.
On September 28 the team's official Twitter account posted a simple tweet praising its grounds crew, who it cheekily said is "cooler than yours."
Pretty innocuous for Twitter.
A few days later, a MAGA fan hit the Caps Lock button and fired off an incoherent and unrelated tweet in which they complained about voter fraud.
The Twitter user—who tweets using the account @etheldaylily—suggested individuals should force election officials to provide either a receipt for or a copy of cast ballots immediately after voting.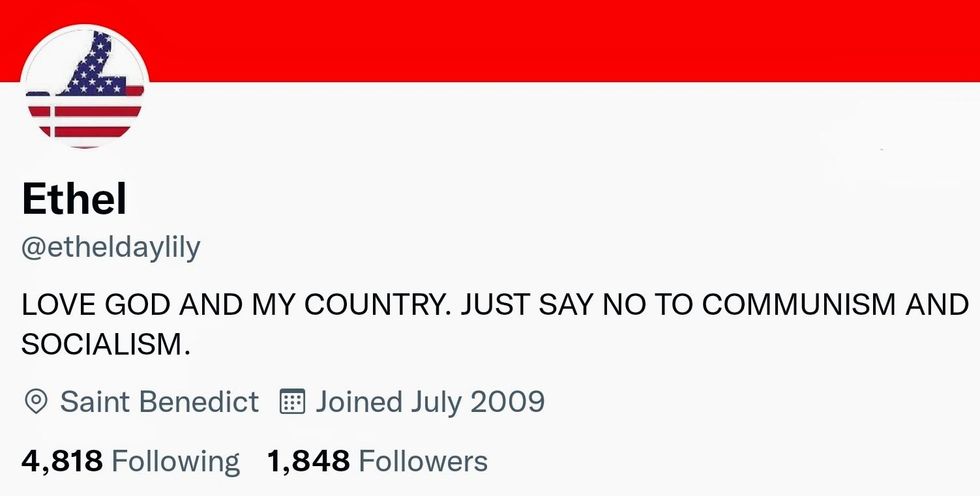 @etheldaylily/Twitter
"Ethel" also addressed the matter of mail-in ballots, suggesting election officials should "SEND A RECEIPT THROUGH THE MAIL" after those ballots are cast.
Her response to the groundskeeping shout out can be seen here:
What did this have to do with baseball?
Absolutely nothing.
However, it's likely Ethel thought the Twitter account she was raging against was actually operated by Senators in Harrisburg, Pennsylvania where the team plays its home games. Harrisburg is the state capital of Pennsylvania.
Which is why it's all the more appropriate the Harrisburg Senators issued the following short and sweet response.
"Ma'am, we are a baseball team."
The team's response immediately had Twitter users cackling.
Many mocked Ethel as a result.

Many of former Republican President Donald Trump's supporters continue to parrot his Big Lie about the integrity of the 2020 election despite all evidence to the contrary.

They have also repeatedly backed the insurrectionists who attacked the United States Capitol on January 6, 2021 in a failed bid to overturn the electoral victory of Democrat Joe Biden. The attack left at least five people dead and resulted in over 100 injuries to law enforcement and millions of dollars in damages.
Claims the election was stolen essentially ignore the findings of Trump's own intelligence agencies, which have long determined the election was both free and fair.

In fact, a statement from the Trump administration's own Cybersecurity & Infrastructure Security Agency (CISA), part of a joint statement from the Election Infrastructure Government Coordinating Council and the Election Infrastructure Sector Coordinating Executive Committees, affirmed the agencies found "no evidence that any voting system deleted or lost votes, changed votes, or was in any way compromised."