The lead singer of Brass Against, a brass rock cover band, has apologized for peeing on a fan's face during their concert at a festival in Daytona Beach last week.
During their set on Thursday night, singer Sophia Urista pulled down her pants and peed on a seemingly willing fan.
The following day, the band posted an apology to Twitter.
"We had a great time last night at Welcome to Rockville. Sophia got carried away."
"That's not something the rest of us expected, and it's not something you'll see again at our shows."
"Thanks for bringing it last night, Daytona."
According to The Wrap, during the show Urista told the audience she would pee on someone during the last song when she finished her bottle of water.
Urista at one point said:
"Get my man with the cam on his head ready, 'cause we're going to bring him onstage and I'ma piss in this motherf*cker's mouth."
Later, Urista points to the man with a camera strapped to his head in the crowd and tells him to get on stage. He gets up from the crowd and others cheer him on.
He laid flat on his back and Urista straddled his head and relieved herself.
As Urista walked away pulling up her pants, the man scooped up some of the liquid and threw it at the crowd.
That's when she called for security to help get him off the stage.
"Security, get him the f*ck out of here!"
"Get the f*ck out of here, you're done!"
The band finished their show shortly after.
If you're curious, someone did post a video of it to YouTube.
The band apologized, but comments left on Urista's Twitter account don't seem too angry with the stunt.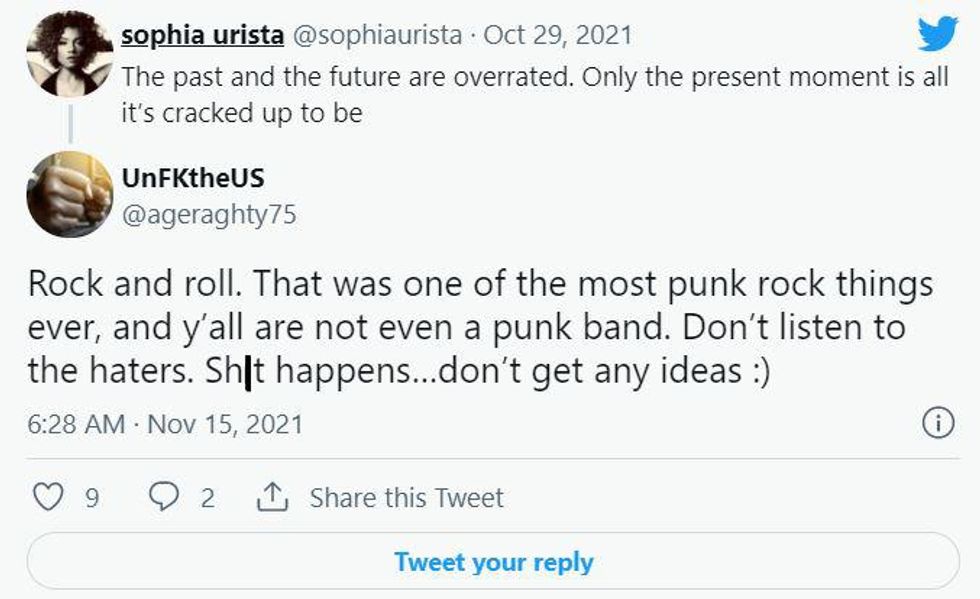 @ageraghty75/Twitter

@alanmadlane/Twitter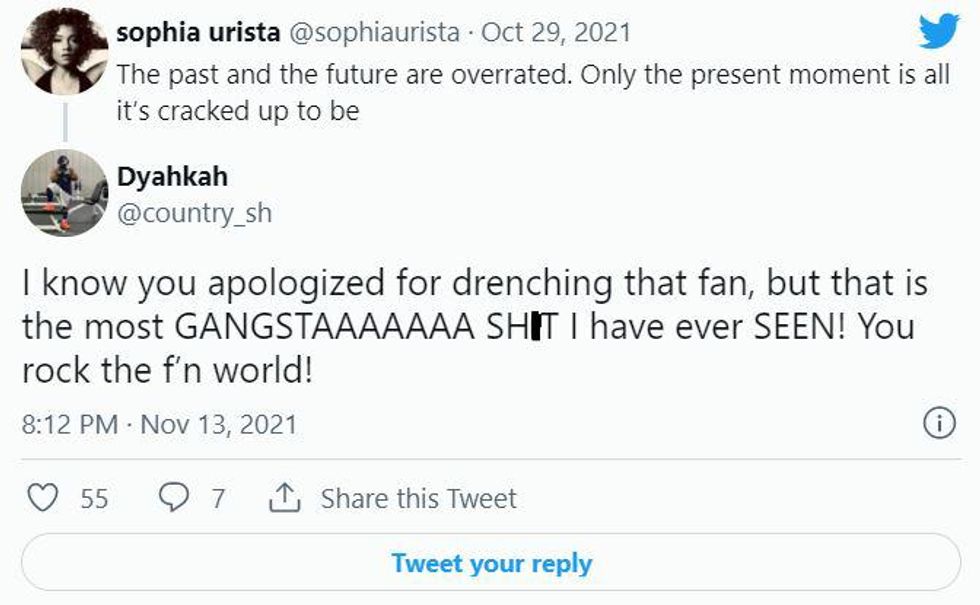 @country_sh/Twitter
Of course, not everyone was as excited about the stunt.
There may be many comments that disapprove of the band leader's actions, but many fans came to her defense.
More than a few want her to do it again.