Joining the ranks of Kristen Bell and Jenny Slade, Alison Brie now says she "wish[es] that I didn't voice the character of Diane Nguyen," a Vietnamese-American character from the adult animation show Bojack Horseman.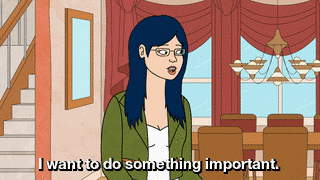 Giphy
Brie, who is also known for her role as Trudy Campbell in Mad Men and currently stars in the Netflix series Glow, put out an Instagram post in which she apologized for taking the role.
"I now understand that people of color should always voice people of color. We missed a great opportunity to represent the Vietnamese-American community accurately and respectfully, and for that I am truly sorry," she said.
"I applaud all those who stepped away from their voiceover roles in recent days. I have learned a lot from them."
While Brie's apology comes at an opportune time, and is getting attention across the internet, many are looking further into the apology, noting that it's been a point of controversy for years and that Brie's money from the character is already made.
Bojack Horseman creator Raphael Bob-Waksberg shared a lengthy Twitter thread on Brie being cast as Nguyen, calling hiring Brie a "mistake," and acknowledging fault behind the scenes of the show as well.
In addition to misrepresenting a Vietnamese woman on screen, the writer's room failed to back up the character with any mirroring representation.
Bob-Waksberg's acknowledgement of fault highlights something important in conjunction with Brie's apology: this conversation is not limited to the actors themselves.
Will this conversation continue past the current moment?